15 Dallas Bars Open on Christmas Day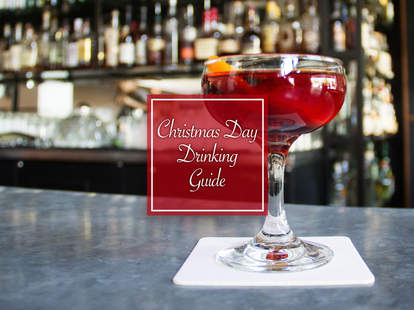 No matter how you spend your Christmas, you'll likely find yourself with a bit of cabin fever a la Jack Nicholson in The Shining. Okay, maybe not that severe but you will want to get away from your family for a drink. But where ever shall you go? Surely nothing is open, right? Wrong. These 16 Dallas drinking establishments that will be open. Merry Christmas, ya filthy animal!
Greenville Ave
A proper dimly lit pub with an amazing selection of whiskey and beers. Doors open at 7pm, and on the off chance that you're still hungry, the kitchen will be in full swing. Resolutions are for 2016.
Uptown
The doors open at 6pm and like ancient Spanish tales of the seven cities of gold, behind them reveal an array of shimmering local beers and an enormous patio. You've conquered Christmas now it's time to pillage on beers and the featured special, homemade tamales. Enjoy my friends!
Uptown
This bar is as beautiful as the drinks they craft and lucky for you it's open. Take a seat by the crackling fireplace and procure one of their talented bartenders to concoct a drink tailored just to you. Even if you didn't get what you wanted for Christmas you are surely to get what you want here.
Henderson
This cozy pub is a Dallas staple and great anytime but especially when it's actually open on Christmas Day. Gather around one of their many large wooden tables friends, order a few pints and talk about how much you love being around your family (or not).
Lakewood
This is the kind of place Humphrey Bogart would've enjoyed after Christmas festivities. It's located just above the old Lakewood Theater (hence the name Balcony Club), and it's also one of the best jazz bars in Dallas. Sink into one of their boat-sized, cherry-red lounge chairs, order something on the rocks and enjoy some live music.
Uptown
Guinness lovers unite! This pub pours one of the finest pints in town, starting at 8pm. Feel free to walk across the street to their sister bar, Blackfriar Pub, as it will also be open -- this makes at least one sister you can actually get excited about visiting during the holidays.
Uptown
So, you weren't able to go out of town for the holidays. That's okay -- you can pretend you're on vacation in NOLA at this French Quarter-style bar (just be sure to keep your top on). Doors open at 6pm. Again please keep your top on.
David Maez/Thrillist
Downtown
Sometimes all a good dive needs is a jukebox and excellent bartenders. The Windmill has all of these things. It also has a huge windmill out front. Doors open at 7pm.
Downtown
This Downtown fixture is always open, and Christmas day is no exception. Grab a seat at the bar, order one of the many local brews on tap, and enjoy this joyous day on your terms.
Lakewood
There's just something about this place. Maybe it's the vintage jukebox tucked away in the corner, or the excellent food and friendly bartenders. Whatever it is, be glad they're open at 8pm.
East Dallas
This divey Lakewood bar will obviously be open. Just don't try to order craft beer. Order a Lone Star and a shot of whiskey and enjoy this day like a real Texan for once. There will even be some live entertainment by General's Army.
Lakewood
Some bars claim to have a lounge, and some bars invented the concept. This is the latter kind. Navigate yourself through the dim lighting and sink into one of the many couches, preferably by the fireplace. Doors open at 5pm.
Addison
It may take Sherlock to figure out who thought socks would be a Christmas winner for you again this year (prime suspect: your mom). Luckily, his services will not be required for you to find your way here at 7pm.
Addison
More than 100 draft brews on tap will help ease your cabin fever. Doors open at 5pm, and just for Christmas they are tapping Dogfish Head Higher Math. Grab a glass and enjoy.
Plano
Thankfully, the Holy Grail of pubs will be open in Plano. Doors open at 6pm. If you need an excuse to leave the house, just omit "pub" in the name and you'll be excused. You're welcome.
Downtown Plano
This Downtown Plano corner pub will be open, so if you live in the 'burbs you don't have to trek to Dallas for a good drink. Doors open at 7pm. Order a Snakebite (Guinness and Strongbow), or if the holidays have you in the dumps, a Black & Blue (Guinness and Blue Moon).
Sign up here for our daily Dallas email and be the first to get all the food/drink/fun DFW has to offer.
David Maez is a freelance writer at Thrillist, coffee junkie, entrepreneur, and Porsche enthusiast who enjoys a nice pair of slacks. Follow him here: @davidfmaez