Turning 30 means different things to different people. Maybe it means you can finally start planning that Senate run. Maybe you're so busy with two kids and a mortgage that you forgot your birthday was even happening. But it DEFINITELY means you shouldn't be going to these bars anymore...
Upper Greenville
The long-standing SMU student hangout is exactly what every 21-year-old college kid looks for in a hangout. The beer is cold and affordable. There are TVs literally everywhere, all showing sports. There are arcade games and darts in the back. And the staff is well-equipped to handle the lightweights who get in over their heads.  
Oak Lawn
When you describe this place as a "beer garden" that makes it sound quaint and low-key. If you were to more accurately describe it, you would probably say it's a "corral pen for Uptown twenty-somethings who want to pound pitchers and cornhole until their fingers bleed."
 
East Dallas
It's an unwritten Dallas law that every single young person new to the bar scene in Dallas must go through their "church phase" before being considered a full-fledged adult. The weekly Sunday goth and industrial night is a rite of passage, yet one that need not carry into your 30s, lest you find yourself on the wrong side of 35 wearing a leather diaper.
Addison
If you have ever attended a bachelorette party, wacky girls night out, or ten-year class reunion, you've probably been to Pete's Dueling Piano Bar. Who knows, you might have even sat there wearing a dong-shaped balloon hat. But that's in the past and you're going to be okay now.
 
Lower Greenville
This Henderson Ave bar and dance club mixes kitsch with glamour and the place is always packed on weekends. Then one night, you'll be there and you'll realize that your feet hurt and you just want to sit somewhere and be able to hear yourself think. Thus ends your time at Beauty Bar.
Deep Ellum
Beer in cans! White-trash-themed cocktails! A graffiti-covered courtyard with toilets as seating options! A cowpunk band playing at ear-shattering levels on the venue side! Black t-shirts and tattoos! Is anyone else exhausted yet?
 
Uptown
Every young Uptown dweller should experience Kung Fu Saloon once, if only to see what it would look like if a bar ever had a Tight Shirt and Too Much Cologne contest. Just don't bring up that messy business about the door policy.
 
Lewisville
This bar, located on Lake Lewisville, features paddle boats, sand volleyball, and a swimming pool. So what that basically means is that if the thought of being sunburned and doing those things in public while drinking and wearing only a swimsuit appeals to you, knock yourself out.
 
Upper Greenville
Another SMU student favorite, Milo's is known for those two precious words that mean everything to a college student: "drink specials." If you are under 30, $2.50 wells seems like a gift from Baby Jesus. After 30, it seems like the quickest way to answer the question, "How can I feel the most awful tomorrow?"
Lake Highlands
To be honest, it's hard to rationalize hanging out at Sherlock's. Just ask Josh Hamilton. But for the time being, we will allow you to claim naive innocence or being stuck in a far-flung suburb where it was the only "cool" bar as an excuse. Just learn from your mistakes.
 
Arturo Dr
Sure, it sounds like a lot of fun on paper to hang out at this East Dallas mainstay, catching rays and enjoying the always ice-cold pool. And there's a bar so... bonus! They sell jello shots. Jello shots are not for people with mortgages.
 
Uptown
Hey guys, remember that whole Coyote Ugly, "girls dancing on bar tops with Daisy Dukes and cowboy boots on" thing? Well, that dream is still alive and as well as it's ever been at Uptown's Concrete Cowboy. If you prefer your cowboys to have popped collars and drive leased BMWs, welcome to your very own Road House.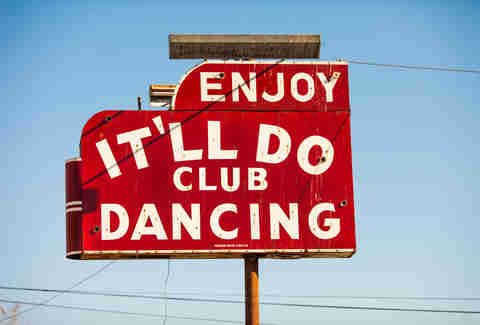 East Dallas
Kudos to this bar for breathing EDM life back into this East Dallas neighborhood. And don't worry, if you're over 30 and have kids, they have kid-friendly disco parties regularly, when the little ones can enjoy the majesty of It'll Do's lighted dance floor. But leave the Saturday nights to the young whippersnappers.
 
Uptown
A Dallas bar in Uptown named after the main party drag strip in Austin? You gotta give them points for truth in advertising. Close your eyes and say the phrase "Sixth Street in Austin after a Longhorns game." See that mental picture? Well, that's Uptown's Sixth Street in a nutshell.
 
Lower Greenville
Lowest Greenville may have been swallowed up by high-concept restaurants and ultra lounges, but Stan's is still the working class bar for people who like to walk from the M Streets and do things like anchor down on St. Patrick's Day. However, once your St. Paddy's Day Parade itch has been scratched, Stan's becomes like looking at pictures of your college crushes.
Sign up here for our daily Dallas email and be the first to get all the food/drink/fun DFW has to offer.