In just five scant years, Dallas went from the largest from US city without a microbrewery to the home of a thriving beer scene. Hooray progress! In fact, many places on Dallas' growing roster of breweries will happily let you come in for an afternoon of tours, samples, and glorious nerding-out on all-things-beer. While there's an ever-growing number to choose from, these six breweries do it best:
Recommended Video
This Brewery Is Hiring a Professional Beer Drinker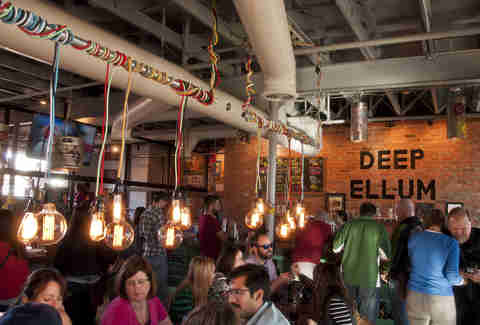 Deep Ellum
Hours: Saturday, 12-3pm; tours at 1pm & 2pm (taproom open daily, 3-10pm)
Cost: Tours are $12 online, $15 on-site (Includes a logo pint glass + three samples)
Year-round beers: Deep Ellum IPA, Dallas Blonde, Double Brown Stout, Dream Crusher
Since its days as a blues and jazz hub, Deep Ellum has been a cultural fulcrum for Dallas. It's fitting that the first craft brewery within the city limits would sprout from this historic neighborhood. Come in for a Saturday open house, and the entire space is teeming with energy. It could be the vibes wafting over from the music venues... but more likely, it's a caffeine buzz from their Oak Cliff Coffee Ale. If you happen to need a shave while you imbibe, don't worry, they have a straight-razor barber on hand, which many of the breweries do not appear to utilize.
Design District
Hours: 1st & 3rd Saturdays, 1-3pm
Cost: $10 (includes logo pint glass and three wooden nickels for samples)
Year-round beers: Velvet Hammer Imperial Red, Royal Scandal English Pale Ale, Golden Opportunity Kolsh
Step into Michael Peticolas' court and prepare to get served; he is bar-certified, and at 9% ABV, his Velvet Hammer will to put you away. Indeed, he traded his career as a full-time lawyer to serve brews instead of justice. Lucky for us, he spared society another lawyer and brought Dallas one of its favorite breweries, all in one swoop. This Design District outpost has a range of areas to congregate, from a game loft with ping pong and air hockey, to an appropriately damp tank room. That's where you'll find the brewery and it's adoring fans. Count on an English Premier League soccer game being on the TV, that'll pair nicely with the Royal Scandal English pale ale.
Trinity Groves
Hours: Tours every Saturday, noon and 1:30pm; taproom open daily.
Cost: Free! But reserve your spot online.
Year-round beers: El Chingon IPA, El Super Bee, Celebracion, Notorious O.A.T Stout
The founders of Four Corners Brewery felt that the intersection at Davis St & Llewellyn Ave perfectly embodied their culturally diverse area of Oak Cliff. While that intersection has changed over the years, Four Corners has stayed true to it's roots and continues to be inspired by it's neighborhood. Their tour is welcoming (free) and the whole place has a certain whimsy about it, emanating from the tire swing installed in the middle of the canning floor. Go for a swing, they won't mind. On a nice day enjoy the patio that boasts the best view of the skyline from any brewery in Dallas.
Garland
Hours: Saturday, noon-3pm
Cost: $10 (includes souvenir glass + four 8oz samples)
Year-round beers: Lakewood Lager, Rock Ryder Wheat, Temptress Stout, Hop Trapp IPA
Lakewood Brewery sits among unassuming warehouses just within Garland city limits. You might miss it, except for the telltale fermentation tank outside and the stained-glass window of a beer chalice. Once inside, there's no doubt that you've found a first-rate brewery, serving some of the boldest beers in the Dallas. You never know what they might brew up next for their adventurous Legendary Series of beer, inspired by local legends. After a few hours, you may find yourself muttering "Schol" without any clue what it means. For your sanity, it means "cheers" in Belgium, where head brewer and founder Wim Bens was born (not a bad trait in a brewer).
Farmers Branch
Hours: Saturday, noon-3pm
Cost: $10 (includes samples)
Year-round beers: Lakefire Rye Pale Ale, Monarch Wheat, Sir Williams English Brown Ale, Night Watch Oatmeal Stout
 Grapevine Craft Brewery just celebrated it's first anniversary, and they've already outgrown their current brewery. Come next spring, they will move into their new home in Grapevine (the brewery is currently in Farmer's Branch). It's a casual, friendly atmosphere where the love for Texas is on full display. Make it to the original location while they're still there. Then you can say you went to Grapevine Brewery back before they hit the big time.
Design District
Hours: Saturday, 2-5pm; first Wednesdays, 5-8pm; taproom open Thurs-Sat, 5-10pm
Cost: $5 (includes two samples)
Year-round beers: Mosaic IPA, Vienna Lager, Witbier, Pale Ale, Public House, Legion Russian Imperial Stout
If you ask the folks at Community Beer Company why they decided to open a brewery, they won't say it was to make the best beer in the city (although they very well might). The brewery was founded on the idea that beer brings people together and builds a community -- hence the name. During their Saturday open house you can expect to find any number of local vendors selling their crafts, representing everything from beer-inspired paraphernalia to hot sauce. And if you feel the urge to write some words of encouragement on the Community Wall in the tank room, just grab a marker and unleash your inner toddler.
Sign up here for our daily Dallas email and be the first to get all the food/drink/fun DFW has to offer.