Getty Images
Getty Images
Mockingbird Station
Best for: Die-hard soccer nuts from all over
Trinity Hall is hands down one of the best places in Dallas to watch not just World Cup matches but any soccer game. Here you'll meet supporters of teams from around the world -- you'll meet French people, Germans, Italians, and even fans of smaller teams like Leeds United. If that's not enough, they have more than 250 beers and more than 300 whiskeys (the whiskey menu is seriously eight pages long). Come early because this place fills up fast.
Richardson
Best for: Fans of Brazil, but also steak
You're probably thinking: A steakhouse for a soccer game? Blue Charcoal used to go by a different game, but it's still a popular place for the Metroplex's Brazilian population (and we mean people actually born in Brazil). So in addition to hanging out with Brazilians, you'll also get to eat some delicious meat, or churrasco, while you watch Neymar on game day. Come hungry.
Downtown Dallas
Best for: Spacious lounging through the games
If you don't like being at crowded bars for big sporting events, then this is the place for you. Located on the first floor of the Dallas Omni Hotel, the Owners Box is incredibly spacious, so you'll never feel like you're fighting for space. They have tables, couches and more than a dozen screens to watch the action. This watering hole attracts fans from all teams, so be sure to wear your team's jersey and be ready to make some new friends. (Pro tip: Try the wings.)
Far northwest of Dallas
Best for: Fans of Central and South American teams
Ojos Locos is essentially the Hooters of the Spanish-speaking crowd, so you'll find plenty of fans of Mexico, Costa Rica, Panamá, Argentina, Colombia, Uruguay, and Peru here. They have cervezas served at 29 degrees, and they also serve beer towers (they're called "the Balon"), so it's a great place to bring your squad. You can get $5 off a 100-ounce Balon or $2 off a 60-ounce Balon. And you have to try the Elote Loco served on the cob with cream, cheese, and chile.
Plano
Best for: Fans of Germany and schnitzel  
When it comes to German fare in the Dallas area, Bavarian Grill is the place you need to be. It's actually been voted one of the best German restaurants in the US. As they put it, they're best known for "the very best schnitzel this side of the Atlantic Ocean." They have huge party rooms and more than 60 different types of German beers on the menu. If you want to class things up a bit, they also have more than 20 German wines, too.
Northwest Dallas
Best for: Good drink deals and plenty of screens
Formerly known as the Staggering Irishman, this pub is known for attracting a big soccer crowd. They have a projector and TVs all over the place, and they have dozens of beers on draft. Depending on the day and the happy hour specials, you can get drinks for at little as $3. Keep an eye out for drink specials here as the games approach.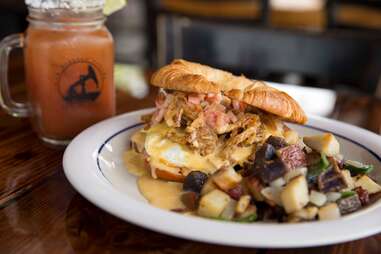 Uptown
Best for: Sipping drink specials on a patio
The Nodding Donkey is a solid go-to to watch any sporting event from college basketball to the Kentucky Derby and everything in between. So it makes sense that this would be a great place to watch some soccer, too. They change up their drink specials every day ranging from $4 Crown on Mondays to $4 mimosas and Bloody Marys on the weekends, and you can probably expect some specials for World Cup matches.
Addison
Best For: Fans of a traditional English pub
In 2016, NBC Sports voted The Londoner as the No. 1 pub for watching English Premier League soccer -- not just in Dallas or the state of Texas but in the whole United States. If that ringing endorsement isn't enough than their specials should be. They boast $18 domestic buckets on the weekends, $4 off of Texas drafts on Tuesdays during happy hour, and happy hour all day on Mondays.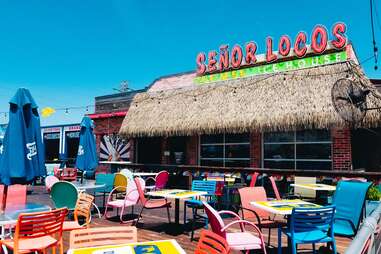 Plano
Best for: Fans of delicious Tex-Mex
Sometimes good drink specials aren't enough. You've got to have great food, too. At Señor Locos, you get the best of both worlds. An addition to 29-degree cervezas and margaritas with the perfect mix of tanginess and tequila, they also have incredible food to chow down while you watch the games. Some highlights include the chipotle shrimp tacos and the Nacho Libre nachos (bring a friend to split these).
Lower Greenville
Best for: Fans who want to party all summer long
Ireland didn't make the World Cup this year, but this joint will still have the World Cup party going all summer long. The pub is owned and operated by Peter Kenny, a native of Dublin, Ireland, so you know it's legit. Also legit are their happy hours, which include $2.50 domestics. Come ready to cheer your team on, but don't mention Ireland's absence from the tournament.
Sign up here for our daily Dallas email and be the first to get all the food/drink/fun DFW has to offer.