"You down with BYOB? YEAH YOU KNOW ME", said Naughty by Nature every time they had to settle for something less than the perfect pairing at an otherwise great resto with a lousy booze selection. And THAT is why we're hooking them (and you!) up with the ultimate Dallas BYOBing guide, complete with five of Dallas's best bring-your-own spots.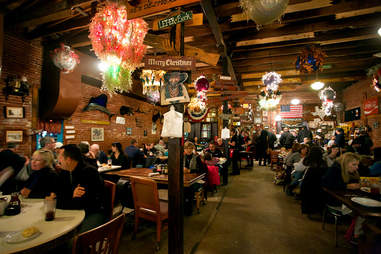 Smith & Ratliff
Babe's Chicken
Why it's great: Some of the best damn fried chicken in the Metroplex.
What to bring: Bud or Miller, or any session ale(s!).
Aaron Miller
Peak & Elm
Why it's great: It's got history, with a nearly century-old trolly line running next to it, and it's got three generations' worth of crazy-good tamales.
What to bring: That beer the really interesting guy with the beard doesn't always drink, but does prefer. Unless you're there on a Friday, of course, when the play is to bring nothing at all, because they roll out FREE MARGARITAS, because they love you. And can't legally sell them to you (but mostly the love thing).
Qariah
Qariah
Why it's great: Great Lebanese food on a kickass patio full of live music, a comprehensive list of hookahs & hookah accoutrements, and it's just a couple minutes' walk from The Bottle Shop. Just make sure to go on a weeknight if you wanna avoid any corkage or bottle fees.
What to bring: You're gonna want something hoppy like DEBC IPA. Or, if you're in the mood for liquor, pick up a quality blended whiskey, for which they'll gladly ply you with club soda.
Aaron Miller
20 Feet
Why it's great: Brilliant lobster rolls from Marc Cassel's East Dallas seafood ode to the Northeast. Drink your BYOs in the ocean-themed indoors, then when you're out, head outside to Goodfriend's patio.
What to bring: Wheat beers work best. Our pick: Franconia.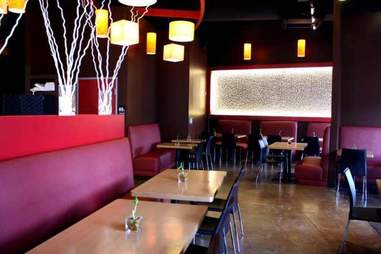 Aaron Miller
Pho Crimson
Why it's great: Nosh on banh mi in a classy interior, or hit the patio and slurp on some legit pho while staring across at West Village.
What to bring: A sixer of Armadillo Ale Works' Greenbelt Farmhouse Ale; it might be one of Dallas's new kids on the block, but it pairs amazingly well with Sriracha.