There are bars, and there are beer bars -- the ones that know the difference between an IPA and a stout, and can recommend something that doesn't have Lite at the end of it. But in today's craft-crazed world, it seems these bars are popping up daily. How do you distinguish the good from the bad? Thankfully, we have done that job for you -- poor us -- and gathered a list of the very best beer bars in DFW to quench your unrelenting thirst. Whether you're looking for craft, local, or just a properly poured pint of Guinness, we have you covered.
Recommended Video
The Definitive Eggnog Recipe You Need for the Holidays
Downtown Plano
This neighborhood bar is nestled in Downtown Plano, and just like its sister location in east Dallas, there are some serious beer offerings. There are 12 taps, six of which are rotating, and if you just can't decide, it has beer flights. There are also over 100 cans and bottled beers ranging from European to local offerings, and every first Tuesday of the month is a specialty beer tapping.
 
Uptown
The Common Table is in a renovated craftsman-style home that blends so well into the neighborhood that if you're not careful, you might miss it. The ambiance almost makes you feel like you're at a friend's house to drink beer, only without the fear of having to go out to restock. The beer menu boasts over 24 rotating taps, special bottles, and beer flights. The food menu is just as impressive, so make sure you not only come thirsty, but hungry, too. We assure you it's much better than "said" friend's house, plus, drinking and eating as much as you like is not only welcomed here, it's encouraged.. responsibly, of course.
Fort Worth
Funny name, impressive beer menu -- including over 30 taps rotated often, and over 200 craft bottles and cans to choose from. Inside Fort Worth's quirky Magnolia District, this unique neighborhood tavern is aptly named; just take a seat on the patio, and you just might see an actual bearded lady. In all seriousness, Bearded Lady is a great place to people-watch, drink great beer, and snack on some delicious grub.
 
Trinity Groves
If you're looking for a good beer selection in the Trinity Groves, you're in luck! (Sorry.) There are over 40+ rotating local crafts on tap, not to mention growler fills. But the beer isn't the only reason LUCK is a go-to when you're in "the Groves." There's also the Texas-style smoked pastrami sandwich. It's good on its own, but best when paired with an ice-cold beer, so you really shouldn't have one without the other.
Uptown
This Irish pub isn't named after the cookie, or Conan O'Brien, but instead, after the 1955 novel about an American enjoying the spoils of Dublin, Ireland. Great name. Better bar. Try one of over 100 specialty beers on draft and in bottles, or stop in on Thursday Night Brewery Nights and try something new. If you can't get enough of the Uptown location, there are seven other Texas locations.
 
Design District
Everyone has that one friend who has been drinking the same beer since college. It's time to have a serious talk with him, so take him to The Meddlesome Moth. Sit him down, look him in the eye, and introduce him to what is arguably the city's best beer menu -- featuring 40 drafts, two live ales, and more than 85 bottles. He will be overwhelmed at first, and then immediately thank you.
Henderson
Frequently shortened to just "The Monk", this spot houses more than 100 different brews to choose from, including a couple of taps devoted to limited-release or new-to-market beers. But it's not all about the beer list. It's a Dallas fixture and neighborhood favorite. When you walk into The Monk, it's like walking into your own kitchen... well, aside from the huge turn-of-the-century altar entrance, and a back bar taken from a chemist's shop in England. Fine, it's nothing like your kitchen, but it's comfortable as hell and a must-visit for beer drinkers. 
 
Downtown Plano
Sometimes the hype of craft beer is just too much, and you crave a properly poured pint of Guinness in a proper Irish pub. At The Fillmore Pub, which is tucked away on a cobblestone street in downtown Plano, you can get just that. They can also pour you one of 13 taps, rotating brews (often seasonal), or you can choose from a bottle list just shy of 70 options. But what you really want to order here is a Guinness, then take a seat at the bar and snicker at all the bitter-faced IPA drinkers who look like Ray Liotta in that tequila commercial...
 
Mockingbird
It's no wonder this pub was named after Trinity College in Ireland; if you want to get an education on crafting (!) a proper beer list, consider yourself schooled. There are 200+ beers on the list, plus additional seasonal offerings, so if you're bad at making decisions, you may struggle here. Speaking of bad decisions, this is an authentic Irish pub, which means that on any given day, you might be sitting next to a sweet couple on their date night -- or a group of soccer hooligans watching the match. Make a good decision and don't mess with the TV.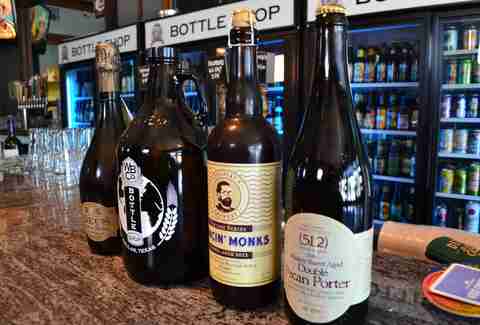 Greenville Ave
This quirky beer shop sells both on- and off-premises. Translation: purchase a growler and retreat to your abode to be alone with it, or drink it there. There are a variety of local and regional craft beers, as well as international favorites, among the 22 taps. But as fun as it is to take your beer home with you, don't pass up: Free Pizza Mondays; Texas Tuesdays with half-priced selected Texas bottles and drafts; Glass Night Wednesday (keep your pint glass); Beer Bottle Cap Bingo Thursday (bingo and beer); and $3 Can Sunday Funday (enjoy most cans for only $3).
 
Deep Ellum
Let's face it: sometimes your favorite beer isn't bottled. This is a problem. Craft and Growler has the solution. Choose from more than 40 rotating taps, fill a growler, and enjoy your pick at home. Don't have a growler? Not a problem -- it happens to carry the largest selection of growlers in the world, and a huge assortment of other kick-ass beer-related stuff. To top it off -- literally -- it has a super-cool beer gun that injects CO2 into the growler before the first drop of beer flows. This keeps your brew fresh for at least two weeks, unopened. If you just can't wait to guzzle your growler, you have 24-48 hours after opening. Choose wisely.
 
East Dallas
The name comes from The Smiths' last album (Strangeways, Here We Come). But one visit to this East Dallas gem and you will want to answer Morrissey's question, "How Soon is Now?" Well, it's now... time to go to Strangeways again. Why? Because owner Eric Sanchez and his sister Rosie have created one amazing beer bar. As you pull back the front door, you'll notice the eclectic crowd -- some folks fresh out of work in suits and ties, others pierced and inked -- but all gathered around the long, cement bar. All will be watching Rosie hurriedly move back and forth, changing the list on the huge blackboard of more 40 rotating drafts. No two days in Strangeways are the same.
 
East Dallas
This is a neighborhood bar, a place where, on any given night, locals, and even whole families, will be gathered around the horseshoe-shaped bar. Goodfriend takes pride in its comfortable atmosphere, just like it does with the beer list, which features hand-selected offerings from the best American craft breweries. The rotating drafts often feature rare, limited-availability brews, including some local favorites. With 16 taps and more than 60 bottled beers, Goodfriend always has something new to taste.
Sign up here for our daily Dallas email and be the first to get all the food/drink/fun DFW has to offer.
David Maez is a freelance writer at Thrillist and real estate broker who loves crafts, but prefers a properly poured pint of Guinness. Follow him on Twitter at @davidfmaez.