In Dallas, you'll find bars to celebrate any occasion while filling every possible niche. Want to impress your friends with bottle service and a $300 liter of booze? Big D's has you covered. Craving some patio day drinking with your dog and a giant Jenga set? No problem. But sometimes all we want is a place we can show up in cut-off shorts and a T-shirt, slink into a booth in a dark corner, and toast the good life with friends over stiff, simple, and cheap drinks. This is the glorious allure of dive bars and all the kitsch and colorful characters that come along with them. In Dallas dives, you're just as likely to rub elbows with a millionaire as you are to sidle up next to Mae-Mae, the barfly who's been glued to her preferred red vinyl bar stool since time immemorial. If that sounds like heaven to you, then read on for 11 of the best dives Dallas has to offer.
Park Cities
If daily happy hour until 7 pm sounds like your idea of a good time (and a great value with drinks starting at only $2.50), then Inwood Tavern's bargain bevs will help you understand why this has been a staple on the edge of the Park Cities for nearly six decades. In fact, it's the oldest continually operating bar in Dallas. The inside definitely represents the dive side of the operation, but the great dog-friendly patio complete with live entertainment forms the perfect backdrop for all sorts of al fresco shenanigans.
Northeast Dallas
Tucked inside a nondescript strip mall, this spot has everything you could possibly want from a dive bar. There's a jukebox, shuffleboard, a dartboard, and a pool table, plus really cheap drinks, and random snacks ranging from chips to microwave pizza in case you need to counterbalance all that bargain booze. On weekends, live music bounces off the wood-ensconced walls with an infectious energy that can't be beat.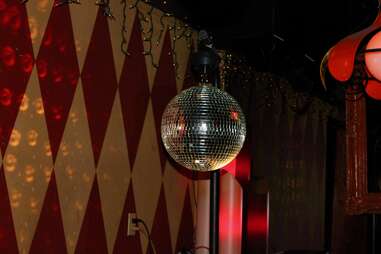 Lakewood
At the edge of luxury-minded Lakewood, there's an intersection that's home to not one, but two fantastic dive bars making it easy to create your own mini pub crawl between Lakewood Landing and this joint boasting a faux fireplace and vintage furnishings. What truly makes the brother/sister-owned Cosmo's stand apart from the rest of the homespun pack is the chef-driven Vietnamese dishes sharing menu space with fried chicken skins and pizza by the quarter-pie (because, of course). Cocktails tilt classic with prices that veer closer to those in non-dive bars, but they're so well made that the higher price can be forgiven—especially after a bowl of chef Tran's oxtail pho.
Lowest Greenville
When you're in the Lowest Greenville Avenue entertainment district, you'll find lots of bars and restaurants, but the diviest spot among them is Single Wide, a tiny hole-in-the-wall and rowdy little sister of Double Wide. The signature cocktail list, like any younger sibling, mimics that of its older kin, including a standout spinoff of the classics to end all classics, the Old Fashioned. One sip of their Old Timer, and you'll start contemplating adding Tang powdered orange drink to all your craft cocktails—the surest way to prevent taking anything too seriously.
Oak Lawn
The moment you walk into the darkened front room of the Grapevine Bar, expectations are set. However, the experience often far exceeds what a dive bar typically promises thanks to a true everyone's-welcome attitude that draws patrons from the nearby LGBTQ+ entertainment district, along with service industry workers, professionals, and just about anyone looking to unwind on a sofa with the springs popping out, or on the back patio after a game of hoops with total strangers. Sip an insanely strong Tangarita, a frozen margarita made with Tang, which according to Wikipedia was created by a food scientist back in the 1950s (likely the same era that birthed the mismatched glass you're drinking from).
Oak Cliff
In a somewhat hidden, less-traveled section of Oak Cliff, Barbara's Pavilion welcomes Dallas' LGBTQ+ community and allies to its cozy environs. It's one of the friendliest bars anywhere, gay or otherwise, and on any given night you're as likely to see the pool table covered with potluck dishes in celebration of someone's birthday as you are a bearded man in a pink wig and feather boa belting out some Whitney Houston or Dolly Parton (or the holy intersection of the two that is I Will Always Love You). And just like any good dive, the drinks are affordable, strong, and primed to make you smile.
SMU
At one point this popular Southern Methodist University student hangout was—due to legal issues over the name for a brief period—renamed Dr. Beard's Leather Ball Saloon. Kinda wish we'd been around for that era. Yet no matter what you call it, Milo's plays a key role in introducing each new generation to the glory of the dive, something it's been doing since 1971 (nearly 40 years in its current location). Due to its unique, lowbrow charm, it's been featured in everything from Tom Cruise movies to Chuck Norris TV shows. Make sure to get an autograph from their signature pulled pork carnitas sandwich, a superstar in its own right.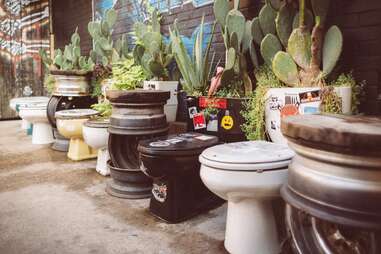 Expo Park
Kitsch rules at Double Wide, a trailer-themed bar complete with a spinning tornado on the roof. Sandwiched between Deep Ellum and Expo Park, it brings to life every cliché about the rural south—all with a healthy dose of humor and a little self-deprecation. Live music goes down every Friday and Saturday, but the eclectic playlist on other nights will always put you in a happy place. Try their signature drink, the Yoo-Hoo Yee-Haw, which recreates a White Russian with the cocktail's namesake synthetic chocolate milk, before moving on to something a little less, well, let's face it: trashy.
Lakewood
Stationed a few doors down from Cosmo's, the Lakewood Landing has been living up to its "upscale dive" claim for more than 50 years and counting. Honestly, we're still not sure where the upscale designation factors in, but it sure looks great on a sign. Grab a spot at the bar or cozy up inside one of the booths for a pitcher of beer, a mixed drink (two ingredients only, please), and one of the best burgers in town accompanied by onion rings or loaded cheese fries. Filled with mostly locals, many of whom opt to walk over so they can stumble home later, the bar gives off a friendly vibe via the patrons and no-nonsense, efficient bartender often found pouring drinks solo for a packed house.
Lakewood
By night, the Goat's an energetic blues bar with live music every Saturday, karaoke hosted by a guy named Snake on Wednesdays, and jukebox nights the rest of the week. By day (except on Sundays), however, you can belly up to the bar starting at 7 am for what could easily be the coldest bottled beer in town or a gin and juice (because those are breakfast hours, after all). Wake up and smell anything but the coffee.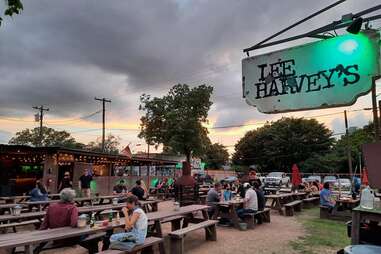 The Cedars
Dallas hasn't been able to shake its connection to the JFK assassination for nearly 60 years, so we might as well embrace it, right? Named for our 35th president's murderer who was arrested at nearby Texas Theater in Oak Cliff, this wood-paneled watering hole beckons passersby with the warming glow of neon beer signs and other similarly unflattering lighting. Grab a picnic table on the patio near a fire pit (though not during Texas summers for obvious reasons) and kick back with a rib-eye steak, some hotter-than-hell chicken wings, and a tall cocktail to quench your thirst while discussing all your favorite conspiracy theories.