Is responsible dog ownership keeping you from enjoying quality time at the bar? If the answer is "yes", then you're in luck. And if the answer is "no", it's still more fun to drink when there are dogs around, right? We've put together a rundown of the best places to bring your best friend (or in this case, a Boston Terrier named Alfie) along with you. Because dogs like to party, too.
Downtown
Why will your dog love this place? Because there's an enormous gated outdoor patio, so once they're inside they can run free. There are even scattered water bowls in case they want to wash down that burger and fries they just snatched from an unsuspecting table. Just keep them away from the cold ones.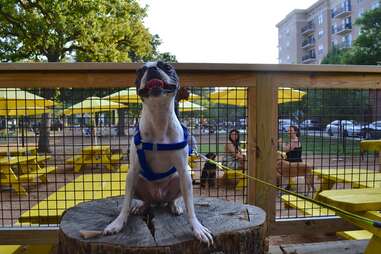 Uptown
The name says it all. This place is for dogs. But that doesn't mean you can't enjoy it too. Grab a seat in either of the two large, gated dog parks -- one for small dogs and one for big dogs -- and order a cold beer. You can get access via membership or pay per visit. Just a disclaimer, both you and your dog will likely get dirty, but that's what the large dog bathtub is there for.
Klyde Warren Park
After enjoying the park all day long, you and your pup probably need some shade. But why wait until you get home? Mosey on over to Relish (connected to Klyde Warren Park), grab a table, and order an adult beverage and a hot dog. Oh, and about the other hot dog panting by your side -- get him some water too, while assuring him that "hot dog" is just an expression. If you have a pot-bellied pig, don't bring him here.
Uptown
This Austin transplant makes ridiculously good burgers and shakes, and also happens to be dog friendly. After you order your food, you and your pet can take a seat on the patio. If your dog is thirsty the servers will even give them a bowl of ice water (seriously). Just remember to tip, and guard that milkshake.
Uptown
Bread Winners is already well-known for their food, but not many know that they have a dog-friendly patio, too. Now you know! But be warned, this location can be super-busy on weekends, especially in the morning. Wednesdays after 5pm can be a fine time to go, with half-price bottles of wine for when you and your dog are feeling classy.
Sign up here for our daily Dallas email and be the first to get all the food/drink/fun DFW has to offer.