A boozie playground for grownups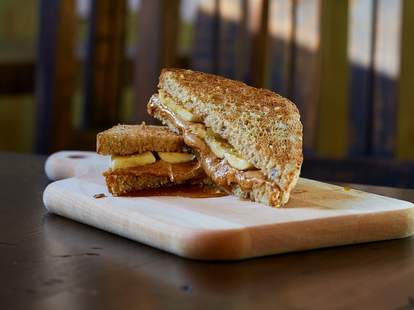 Not just where you go to talk about hot lifeguards and the fact that Rodriguez is totally gonna play for the Dodgers some day, The LOT's also an adult playground-cum-bar-cum-restaurant now open in East Dallas
From the grandson of the dude who started El Fenix, this sprawling spot was designed by the same peeps who did Sissy's and FT33. Check out the foosball-equipped bar, clearly designed to get you spinning
Weirdly, there are two garage doors in the middle of the place that separate the bar area..
… from a main dining room that's both modern and rustic (mustic?)
Step out back for a trio of heater-equipped patios, or sit in this mini beer-garden built over a filled-in pool that still has the "No Diving" markers
Also: they've got two playgrounds NOT owned by Marcy, both filled with sand and games like cornhole
The menu was designed by the kitchen-minder at oft-remembered York Street, and includes ish like this Wagyu beef tongue sammy (w/ melted Swiss, red onion & a fried egg), Buffalo-style buffalo (blue cheese & bison meatballs in hot sauce), and The Chicken -- a rotisserie'd whole bird chopped on the bone with garlic, charred lemons, and a never-ending bloodlust for Peter Griffin
And then there's the booze: 'tails like this classically modern 'rita, originals like a Lakewood Lemonade (w/ ginger and Maker's), plus 16 drafts (Lakewood, Rahr, Franconia, Real Ale…). Try them all and chances are good someone starts calling you The Beast.