Texas Motor Speedway wants to be known for things beyond allowing drivers to shoot past 200mph, so this year they've rolled out a bunch of bacon-laden numbers to help you shoot past 200... pounds. The most recent is a beer/bacon/ice cream monument to gluttony called the Shake 'n Bacon Brew. Never one to back down from an arterial challenge, we headed over to TMS to see what it was all about.
Things get started with the liquid base. After "experimenting" with a bunch of different beers in what must have been the greatest research project ever, they settled on Ugly Pug Black Lager, 6oz of which gets combined with an equal portion of vanilla ice cream...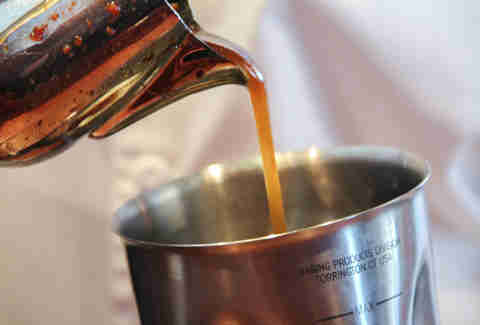 ... then they tossed in a couple of ounces of bacon-infused maple syrup, AND a couple of teaspoons of candied bacon bits. Your move, Bac-Os.
To finish it -- and your cholesterol increase -- off, it's topped with a mountain of whipped cream and more candied bacon bits (of course). So now that we've covered the construction, how does it taste?
One taster found it to be all over the map, but in a good way: "There's cream, then there's definitely Ugly Pug. With bacon chunks. After that it gets bacony. Really, really bacony."
Another taster's take: "It's smooth all right. I was expecting it to be more carbonated, like a Coke shake, but it's more refined than that. If you're a dark lager fan you're gonna like it."
Our tester then went back for more of the whipped cream and bacon topping (sexily!), because, well, whipped cream and bacon.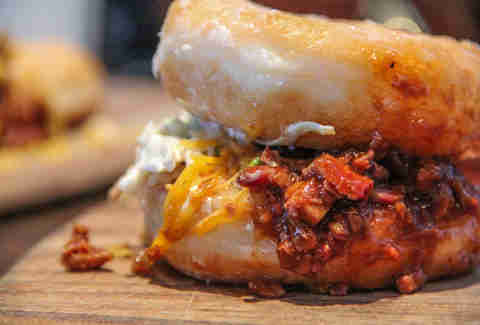 Need something to pair with all that smooth, creamy, beer-y, bacony goodness? Presenting the Smokin' Hubcaps. More than just an awesomely crass name for an irreputable strip club, it's a BBQ brisket sandwich topped with cheddar, onion straws, and coleslaw. Oh, and it uses donuts for bread. According to one taster who apparently hadn't defiled himself quite enough, "the onion straws and the coleslaw counteract the sweetness of the donut, and it all goes perfectly with the brisket. This is great."
So, in summary, Texas Motor Speedway is here to make sure you move really, really slowly for the foreseeable future.