All Photos: David Maez
All Photos: David Maez
Spring means many things to many people, from young love, to the return of baseball, to "a twisted or coiled piece of metal". But most importantly, it means you're much more likely to find yourself drinking during the day, outside, on a patio. Here's your guide to doing so in Dallas, from the well-established classics to new and upcoming spots you should keep your eye on.
The Old Favorites
Ozona Grill & Bar (info and address)
Greenville
This much-celebrated patio feels more like your parents' back yard than a restaurant. Large trees greet you at the entrance, providing just the right amount of shade to shield you from the Texas heat (at least partially). Throw in specials like $1.50 domestic drafts on Wednesdays and an order of jalapeño fries and you have everything you need.
Hotel ZaZa (info and address)
Uptown
When celebrities visit Dallas, you're likely to find them at the glitzy Hotel ZaZa. And even though no one cares that you're there, you don't care because you're drinking near a gorgeous pool and staring (through sunglasses, because you're subtle like that) at equally gorgeous women.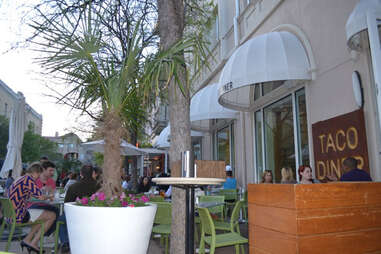 Taco Diner (info and address)
Uptown
Stop by this patio any weekend in Spring or Summer and you will see beautiful people sipping on cold margs, colder beers, and eating savory Tex-Mex. Try the infamous Mambo Taxi, a frozen white sangria concoction. Disclaimer: you can only have two. Because, well... just remember, only two.

Blackfriar Pub (info and address)
Uptown
This Irish-owned neighborhood favorite has a a beer garden as sizable as its beer list, along with a central location that keeps it in close proximity to just about anything (though, why would you leave?). You have short rib sliders to eat, and pints of Belhaven Wee Heavy to chase them with.
Newer Favorites and Coming Attractions
The Rustic (info and address)
Uptown
The Rustic's patio is as big as Texas itself (roughly). It's nicknamed "Pat's Backyard", because of its large oak trees, picnic tables, live music, and a kitchen that serves up Texas-inspired favorites (mmm, cactus fritters). There're also two large bars stocked with local beers, so prop your boots on one of the picnic tables, pop open a beer, and listen to some local twang under the stars.
Sisu (info and address)
Uptown
From the exterior it doesn't look like much, but once inside you'll feel like you're on the set of Miami Vice. There're two stories, three bars, and a large pool with cabanas that's open until 2am (in season). White Don Johnson suit optional, but encouraged.

Mutts Canine Cantina (info and address)
Uptown
Your buddies want you to meet on the patio because the weather is perfect, but there's only one little problem: you and Doogie Bowser have a dog park date that can't be cancelled. In comes Mutts Canine Cantina -- it's a restaurant, a dog park, and a beer garden. You have amazing problem solving skills. You deserve a beer.
Truck Yard (info and address)
Lower Greenville
So, there are patios, then there's the more than 15,000sqft of shaded outdoor perfection that is the Truck Yard. There's also an indoor bar with 24 taps (including four draft cocktails), and even a treehouse bar with hand-bottled cocktails. For sustenance, there's everything from pizza to sliders to cheesesteaks on hand, and they take credit cards and supply pagers so you can grab a brew while you wait for your food.
Back Yard at the Social House
(
info and address
)
Uptown
The Back Yard calls itself an "adult outdoor playground" because well, that's what it is. There's giant
Jenga
, beer pong, cornhole,
Twister,
and even a soccer field. If you get thirsty after all that activity, there're more than 100 beers on tap.
HG Sply Co. (info and address)
Lower Greenville
This newly opened rooftop patio is enormous and overlooks Greenville Avenue. So order one of their classic mixed or frozen drinks and stare at the locals schlepping groceries from Trader Joe's, or better yet, the Dallas skyline.
Henderson Tap House (info and address)
Henderson
Like drinking local and local sports? It's Texas, of course you do. Tap House boasts a huge selection of local brews, a welcoming patio, and TV screens aplenty so you don't miss having the Rangers disappoint you.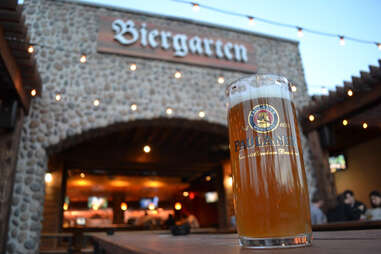 Glass Boot Biergarten (info and address)
Henderson
The German-themed biergarten is just a few months old in the Henderson neighborhood, and it's already a local favorite. From free-flowing Teutonic brews to a spacious patio, you'll want to channel your inner Hasselhoff and head here on "beer and brat" nights.

Pecan Lodge
Deep Ellum
Set to open this Spring, the nationally celebrated Dallas BBQ purveyor is moving its unbelievable 'que from its Farmers Market location to a much bigger space in Deep Ellum. The new digs will not have a covered patio, but there will be plenty of outdoor seating so you enjoy the fresh air as you inhale your brisket.

Knife
Mockingbird
Nationally acclaimed and James Beard-nominated Top Chef contestant John Tesar (that's a mouthful) will open Knife, a reinvention of the modern steakhouse, late this Spring. The restaurant will be located in Palomar Hotel, and is set to have an action-packed outdoor patio and a late-night menu that'll be available until 1am on weekends.