Because sometimes you open up a regular-sized beer and you're all "man, I really wish there was more beer in here", they invented growlers. The glorious vessel for lugging home greater quantities of your favorite brew is increasingly pervasive in Dallas, much to the delight of beer enthusiasts and those who dislike drinking among the unwashed masses. Here are six great Dallas spots where you can super-size your brew to-go.
Recommended Video
Hopsy Gives You Fresh Beer From the Tap in the Comfort of Your Own Home
Craft and Growler
Fair Park
The Beer: They've recently added 10 more taps to an already strong, steadily rotating 30-tap lineup that leans heavily on Texas brews (Deep Ellum, Lakewood, Franconia, Peticolas, and Rahr & Sons are all well represented) with a mighty minority of out-of-state standouts as well. Their high-tech, two-trigger "beer gun" system uses carbon dioxide to keep the beer fresher longer, in case you're a procrastinator.
The Cost: For a standard-size growler you're looking at $9.49 & up. Real Ale Highlander (a barrel-aged Scotch Ale) was recently going for $41.19 per growler, but for the most part you'll find your brew for $15 and under. They also stock a bunch of different-sized growlers, so prices will obviously vary.
The Bonus: Aside from the aforementioned variety of growlers, they stock carriers and accessories -- like a spigot for smoother pouring or a bulb attachment to turn it into a lamp once it's empty (assuming you are single and still in charge of decor at your residence).
The Bottle Shop
Lower Greenville
The Beer: TBS (The World Beer Company Bottle Shop, if you want to be all formal) has been pouring some of the best and hardest-to-find beer for two and a half years now from its 22 taps, where a relatively small but welcoming space welcomes a knowledgeable set of regulars downing goodness like Goose Island Lolita and Deschutes Chasin' Freshies.
The Cost: Typically between $9.99 and $14.99, occasionally higher with extra-special releases.
The Bonus: They have free pizza on Monday nights to supplement your beer-centric diet.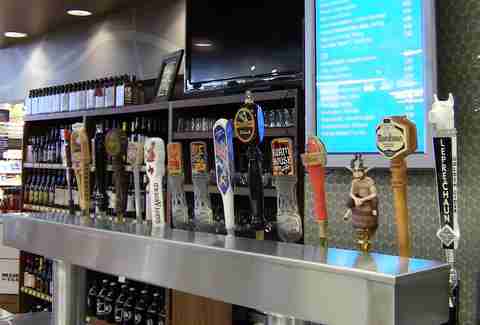 Whole Foods Park Lane
Lake Highlands
The Beer: Yes, you aren't a soccer mom sporting a crazy-huge two carat diamond. Yes, Whole Foods is still well worth your growler-filling attention with 18 taps pouring a strong local lineup plus non-Texans like Alaskan Smoked Porter and Oskar Blues Ten FIDY.
The Cost: As low as $9, as high as $20 for particularly strong stuff (like that Ten FIDY).
The Bonus: Besides ogling said soccer moms as they stock up on fair trade quinoa? They'll also help you with special orders for craft kegs if you're having a party/ self control issues.
3 Stacks Smoke & Tap House
Frisco
The Beer: Their 41 beers on tap say "sorry Baskin Robbins, your number of flavors impresses no one". There's also an on-staff cicerone (aka certified, paid beer nerd), so you know you'll be able to seek out good advice if you're stumped.
The Cost: Their growlers top out at 32oz, which means your beer tops out at an economical $8.50.
The Bonus: Um, how about that you're in a BBQ place that employs a dude nicknamed "The Rib Whisperer". He does not know The Horse Whisperer. Promise.
Dallas Beer Kitchen
Lower Greenville
The Beer: This relatively new kid on the block (open just a few months, not helmed by Joe McIntyre) is run by a couple of beer nerds who make sure the 30 taps stay fresh with the likes of Ballast Point Dorado and Firestone Walker Wookey Jack.
The Cost: They're strictly BYOG for now, so basically take the cost by the pint and discount 20% and that'll be the rate per 16oz. So, if it's $5 a pint, a 32oz growler will run you $8. Math!
The Bonus: They're working on designing some "not your average" growlers right now, but in the meantime, did you notice the word "kitchen"? Said kitchen turns out to be a little something called "fried biscuits and ice cream". You're welcome.
Zio Carlo Magnolia Brew Pub
Fort Worth
The Beer: If you head over to the "FW" side of DFW, you'll find Zio Carlo and its 16 beers on tap (which rotate at a seriously rapid clip). Four to six of said taps will usually consist of worth-your-time offerings brewed in-house.
The Cost: Typically $12 to $20 for a standard 64oz growler, with the house-brewed offerings typically representing the least expensive options.
The Bonus: If you want to sample some of that house brew before you buy, pints are just $3.50 on Tuesdays all day and during happy hour from 3-5p the rest of the week.
Lakewood Growler
Lakewood
In the "you'll be drinking here soon" category, Lakewood Growler is aiming to open in the coming weeks with 36 taps and a deep-cut, heavily Texan selection. Keep tabs on their Facebook for updates as you enjoy some cold beer from the other fine establishments.