Spring has unleashed its allergens and crazy rain/tornado weather mix upon North Texas. But happily, there is a silver lining. We're in that precious sliver of the year where temperatures are gorgeously mild enough to sit outdoors and enjoy a patio to the fullest -- you know, before the sun remembers to broil everything it touches. So while the time is ripe, grab some drinks (and, of course, some food) on some of DFW's great new patios.
Lower Greenville
It's hard not to feel a bit of escapism as you're sipping craft drinks outside this farm-to-fork restaurant's esteemed bar program. Leafy vines drape around wood and brick pillars as strings of light twinkle from the wooden rafters and candles flicker at each wrought-iron table. It's like hanging out on the patio of your rich friend's manse in Northern California: lush, breezy, and bright.
Downtown
Sitting on this expansive patio right in the shadow of the Omni Hotel in Downtown Dallas, one comes to realize, "Damn, who knew how breathtaking the convention center was at night?!" This sizzling spot from one of Dallas' royal families of Tex-Mex has Latin-inspired cocktails -- yes, including margaritas -- perfect for pondering such deep thoughts amid the high energy of its Downtown location.
Preston Hollow
Preston Hollow barflies have been flocking to this modern American eatery's rustic wraparound porch dotted with high-top tables, cushy sofas, and mini-fireplaces scattered throughout. It's also fun to chill on the outside portion of the double-sided bar, perusing foot traffic through the North Dallas shopping village with a matchbox mule in hand, thinking, "So, this is how the northern half lives."
Frisco
Old-school glamour veritably seeps from this clubby Italian-American hot spot that's been wowing with a cocktail menu that focuses on the classics. Think Pimm's Cups, Negronis, and sidecars, then think about ordering the patio-perfect signature Pineapple Express, served in an actual golden pineapple. That should turn some heads your way.
Downtown
Easily one of the biggest new patios in town, Mudhen's space is decked with water features and garden decor, and should have no problem getting butts in every seat during outdoor-lounging season. The eatery, which skews healthy, has a cocktail menu that is similarly fresh and produce-filled. Down a bell pepper-adorned Lakenvelder or a lemongrass-y Plymouth Rock guilt-free on the patio – even more so if you get your drink whipped up with house-made stevia syrup.
The Cedars
The main patio atop the newest local outpost of Alamo Drafthouse now boasts arguably one of the best new views of the Dallas skyline. Toast the scenery with a flight of beers, or any one of Vetted Well's boilermakers -- a shot of whiskey paired with the perfect brew.
Uptown
Diners have come to expect casual elegance with a touch of funk from Top Knot, and the airy sunroom off the main dining room doesn't disappoint. Neon-green wire chairs brighten the landscape of white tables. You'll surely be ordering expertly mixed cocktails, like the peach bitters-tinged Birdhouse Bramble, or a course of sakes from the curated menu.
The Cedars
Casual and approachable don't begin to describe the homey, lived-in feel of this neighborhood bar. If you can pull yourself away from the pool tables and arcade games, picnic tables outside await for passing time and enjoying a Miller High Life or any mixed-beverage fantasy the talented bar staff can fulfill.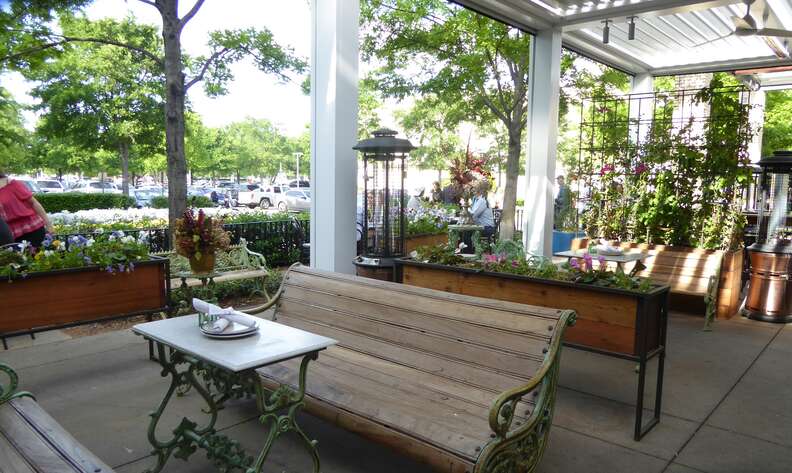 Park Cities
You'll forget you're at the mall as you knock back drinks from the unbeatable bar menu at this quaint and quirky destination. The inspiration here is a cross between Teddy Roosevelt and Wes Anderson, and the patio is a cool mix of style (dainty wrought-iron tables from your grandma's backyard) and strength (rugged wooden high-top tables). Cocktails are also fully presidential, with names like Badlands and Yosemite.
The Colony
The Northern 'burbs are getting mucho lounge love with the arrival of this lively social club. Alongside the scratch kitchen serving elevated bar food, the drinks take a similarly thoughtful approach, evidenced by the cucumber-minty Lower East Side and the agave-laced Marshall's Mezcallica. Sip and savor the swank suburban atmosphere...
Sign up here for our daily Dallas email and be the first to get all the food/drink/fun DFW has to offer.
Farah Fleurima is a Dallas-based freelance food writer whose superpower is withstanding Dallas patios straight through August. Read her sizzling musings at her blog, The Dallas Diva, and follow her on Twitter at @TheDallasDiva.