As if finding the perfect bar isn't difficult enough, there are some bars that go to great lengths to remain anonymous and, quite frankly, downright mysterious. Being the crafty (and thirsty) detectives we are, we have tracked down seven spots in Dallas that are worth the lengths of seeking out and drinking in. While the degree of hiddenness varies, rest assured you're not going to run into any margarita-filled tourists.
Recommended Video
Thrillist's Best (and the Rest): What You Actually Need to Know About Natural Wine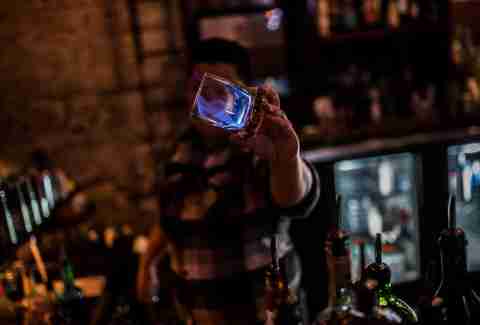 Deep Ellum
The creators of High & Tight were hankering for a place where you could not only get an excellent tailored haircut, but also have some good conversation over drinks. So, that's exactly what they did, placing a hidden bar in the back of the shop behind velvet curtains. While the talcum powder is still fresh on your neck and your hair is "John Stamos" perfect, ask to saunter to the hidden bar and order yourself a drink. The 1920s-style décor and ambiance gives you the feeling that you've stepped back in time, so brush the microhairs off of your collar and order one of their vintage cocktails.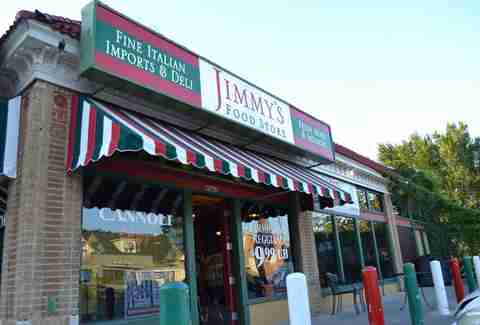 East Dallas
Since 1966, this Italian Grocery has been a Dallas favorite. Everyone knows that. What they don't know, is that if you purchase a bottle of wine and ask the cashier for a couple of glasses, you can enjoy them in a secret back wine room. Just like the iconic scene in Goodfellas, you'll walk past the kitchen and hang a left to the dimly lit room, the ideal place to enjoy your Chianti and possibly some organized crime. Whatever you decide.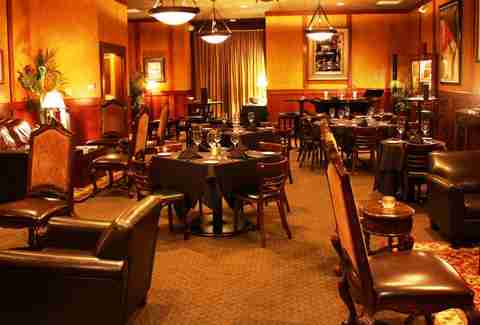 Addison
At first glance Chamberlin's looks like any high-end steak restaurant. There's lots of mahogany, dim lighting, but after you're done enjoying your bone-in filet mignon, ask the server where the cigar lounge is. They will kindly guide you to the back of the restaurant, past the double doors, and into a separate bar (and full cigar lounge, not a misnomer). It may feel like you've stumbled upon an illegal card game, but don't be frightened. Light your cigar, sink into your chair, and be sure to pop-in Tuesday through Sunday to enjoy live music.
Knox-Henderson District
Located inside Henry's Majestic is a hidden, two-story cocktail den. Here's how to find it: first, eat at Henry's because it's delicious. Then, when you're nice and full, step into the alley and hang a right. You'll see a large beige door, knock on it, and be greeted by a doorman who will give you access. Once inside, you might be skeptical and think you've stepped into a historic bar or *ahem* brothel off Bourbon Street, but that's all part of the charm. Open Thursday through Saturday 8 pm-2 am, the bar offers creative concoctions, and you can let the mixologist craft you a unique drink of your choice as well.
Downtown Fort Worth
Books are more fun when there's alcohol involved, the science checks out on that. In comes Thompson's Bookstore, where walls are lined with bookshelves, and one particular book opens into a hidden staircase leading to the downstairs bar. There's more leather-bound books than Ron Burgundy's collection -- the furniture also smells of rich mahogany -- and you can also enjoy some killer cocktails. Most importantly, when your boss asks you where you were last night, you can tell him the bookstore without shame.
Uptown
This snug speakeasy (all 350sqft of it), is housed in the Montaigne Club, formerly a private members-only club. It's the pink building next to SISU, known for its scantily clad patrons and summer pool parties, so you're in good company. From the outside, the Montaigne Club just looks like a residential building offering next-to-no clues to the drinking den hidden inside, The Kennedy Room, a cigar lounge converted into a JFK cocktail bar. Search the first floor to find this atypical Uptown spot where you can actually hold a meaningful conversation while sipping a nice Scotch on a vintage church pew.
Deep Ellum
50 Cent jokes aside, this secret bar and lounge is located in a nondescript storefront of a fake candy shop. The Deep Ellum Candy Company was not, in fact, established in 1921, it was created in 2014 to house Truth and Alibi (though the bouncers may have tipped you off). Visit their Facebook page each weekend to find the secret password. Once you enter the candy shop, give the password to the doorman and be escorted into the concealed bar where a shortlist of stiff standard cocktails awaits. Just remember not to act like a wanksta.
Sign up here for our daily Dallas email and be the first to get all the food/drink/fun DFW has to offer.