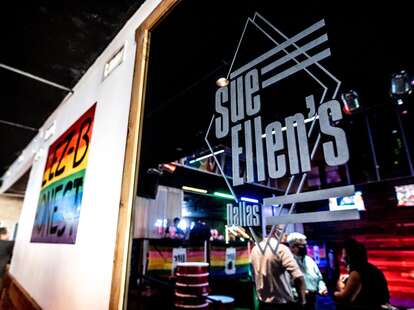 Photo by Bret Redman, courtesy of D Magazine
Photo by Bret Redman, courtesy of D Magazine
Welcome to
We're Out Here
, your year-round hub for LGBTQ+ travel and experiences! Here, you'll find everything you need to plan your next great gaycation, including queer-centric travel stories, nightlife guides, profiles, pride event roundups, and ways to give back to local queer communities.
"I CAME in Sue Ellen's" glows in pink neon lights affixed to a wall of faux shrubbery. It greets you as you walk into the two-story bar off Cedar Springs Road in Dallas. It dares you, even. Some might find it raunchy, but Sue Ellen's didn't survive three decades, a pandemic, and prejudice both past and present by being quiet or coy. One of the many LGBTQ+ drinking dens in Dallas's queer district, Oak Lawn, Sue Ellen's is the only lesbian bar in Dallas and one of only two lesbian bars in all of Texas. (Pearl Bar in Houston is the other.) Of that shrinking category, Sue Ellen's is the oldest lesbian bar in the state—and plans to stick around for a good while longer.
Kathy Jack has managed Sue Ellen's since it opened in 1989 and only recently stepped away from daily operations. "Nobody gave me more than five years," Jack says of her early days as one of the first women to manage a bar in Dallas. As the face and heart of a storied lesbian bar, talking to Jack is like getting an overview of queer history for the past 30 years.
Jack remembers visits from Belinda Carlisle and Melissa Etheridge, who even performed in the original Sue Ellen's space —a shotgun bar, not far from its current space— a couple of times before she hit it big. "It was a real different vibe back then—where almost everybody had a mullet," Jack recalls. "It was very Miami Vice." As the 1990s morphed into the early aughts, the community in and around Sue Ellen's cheered on gay rights milestones.
"I was there the night that the marriage equality act passed," says Jack. "I saw people that I hadn't seen for 20 years and all they wanted to do was come to Sue Ellen's and celebrate." The mayor of Dallas came to the neighborhood that day. "I'll never forget [because] you finally felt welcome in your city."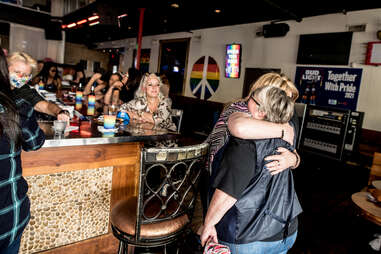 It wasn't all parties, queer icons, and hair of a certain cut, though. Sue Ellen's has, in its 34 years, outlasted the AIDS epidemic, a recession, and, more recently, the COVID pandemic.
"Back in the day we were all about, fight for this and fight for that, and get through HIV/AIDS," says Jack. The battle for LGBTQ+ rights hasn't ended though. From banning gender-affirming healthcare to restricting gender identity education in schools to penalizing drag shows, Texas lawmakers have drawn up dozens of bills that will affect LGBTQ+ Texans.
Targeting drag performers especially hits home for Jack, who remembers how crucial they were in fundraising during the height of the AIDS epidemic. "We couldn't get any federal funding to help, the government wasn't doing anything, and we literally were going to two and three funerals a day," she says. "The only people we could call on to help us were the drag queens, and that was how we made most of the money to get through, to get people the help they needed."
It's this unwavering support from the queer community that's ensured Sue Ellen's longevity. That, and the tenacious way Jack has protected this bar from day one. "So as long as I have breath in my body, this will always be a lesbian bar," she says, adding that it always has and will continue to welcome every stripe of queer patron. Jack recalls, when Sue Ellen's reopened in 2021 (in June, just in time for Pride), "the first person that was standing at the door… was a trans woman that said, 'I haven't had a place to go since you closed.'"
Mindy Robbins has been working for Jack for 30-something years off and on. Now she's the new general manager of Sue Ellen's. It was a daydream of Robbins when she was "young and dumb," but now that she's taken the torch from Jack, she's "very passionate about how that continues to grow and to love and not the other way." These days people love singing karaoke upstairs a few nights a week. Drag on Wednesday.
Pride 2023 will be bigger this year and it'll be bigger next year, predicts Robbins, who will be preparing for the crowds. "I love this place. I've always loved this place," she says. "I came here and this is where I found family."
Photography originally shot by Bret Redman for D Magazine.
Rosin Saez is the senior Local editor at Thrillist. Currently based in Dallas, Texas, Rosin was previously the online dining editor at D Magazine and, before that, an associate editor at Seattle Met magazine in Seattle, Washington where she grew up digging for clams and smoking wild-caught salmon.