In a city where near-$20 cocktails have become the norm, ice-cold beers remain the go-to for beating the summer heat, and stiff margaritas are downright revered (the frozen margarita machine was invented here, after all), we've still managed to become a haven for wine lovers, too. And we argue that when it comes to planning a romantic date night or hanging out with a group of friends, wine bars rise above many other drinking destinations because their intimate coziness creates an ideal setting for lively conversation over leisurely sips of bargain bottles and fine vintages alike. We've uncorked 16 of our favorite wine bars across North Texas, so next time you're looking for "rosé all day" or to celebrate "wine o'clock somewhere," we've got you covered.
Grapevine
It should go without saying that this wine-growing North Texas town has more than its fair share of great wine bars and tasting rooms (and it does), but two of our favorites can be found in (and on) the same building. Downstairs at Hotel Vin, Bacchus Kitchen + Bar offers a bright, airy, modern interpretation of the wine bar with solid snacks and a great weekday happy hour with $6 wines. Upstairs on Friday and Saturday nights, Rioja Rooftop Terrace overlooks historic Grapevine with a focus on sangrias and sparkling wines, as well as music from a DJ all night.
How to book: Stop by for first come, first served seating at the bar at Bacchus Kitchen + Bar or make reservations via OpenTable. Or reserve a seat on OpenTable for Rioja Rooftop Terrace.
Henderson
Walking into the rustically beautiful space off Henderson Avenue and it might come as a surprise that this authentic spot for Spanish tapas and wines hails from Connecticut and not from the gorgeous countryside of España itself. Dallas boasts the chain's only Texas location and has a food menu created almost entirely by the local chef. Plus, you'll find several dozen wines and sherries available by the glass in as small as three-ounce pours, allowing you to try several in one sitting—and still be able to stand when it's over.
How to book: Reserve a table via Wisely.
Oak Lawn
You'll find several small-production wines from all over the globe handpicked by the owner-sommelier at this quaint spot at the edge of Oak Lawn. They specialize in wine flights for newbies and adventurous tasters alike, but the main focus is the unpretentious enjoyment of fine, high-quality wines you won't find everywhere. Join one of their wine clubs for complimentary tastings during the month, as well as discounts on bottles to enjoy at home, too.
How to book: Stop by for first come, first served seating, or call 214-559-8910 to reserve a spot.
Design District
Tucked away in the Dallas Design District, this intimate, gorgeously appointed 60-seat space offers a modern interpretation of a classic steakhouse menu, but it's also one of the city's hidden gems for enjoying some fine wines—with or without food (but trust us, you'll want at least a lobster corndog and some steak tartare). They specialize in wines by the glass you won't find elsewhere, and the goal is to take the pretense out of the wine experience while still offering a setting equally worthy of special occasions or after-work drinks with friends and colleagues.
How to book: Book a table with Resy.
Deep Ellum
You've gotta love a bar whose motto is "Drinking wine at lunch is not a crime." But Postino WineCafé is as good a place for after-sunset experiences as it is day drinking. With more than 30 wines by the glass (all only $6 until 5 pm every day), you can explore different regions and styles without breaking the bank. Create your own bruschetta board and you've got a party at the ready, even if it's a party of one.
How to book: Stop by for first come, first served seating. Order takeout online; or order delivery via Grubhub or Uber Eats.
The Cedars
As Dallas-Fort Worth's only Black-owned wine bar, Distinctive Vines fills a need in the Cedars neighborhood for a laidback spot to enjoy wonderful wines by the glass or bottle. It also offers wine slushies for a refreshing hot-weather treat. Set in an old Piggly Wiggly building, there's a distinctive sense of history in the space, which pairs nicely with the modern furnishings and friendly service for an anything-but-snobby wine experience. Live jazz on Fridays is an added bonus.
How to book: Stop by for first come, first served seating.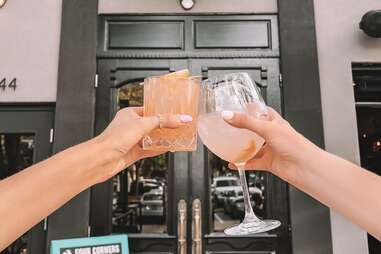 Addison
Hailing from California, District opened its first Texas location in Addison to give guests globally inspired shareables, which can each be perfectly paired with a selection for their expansive list of wines (and whiskies). The wine list progresses from light and fruit-forward to full-bodied and dry, making it easy to quickly find something to please your particular palate. Happy hour is an awesome time to pop in, too, because you can find wines by the glass at $3 off, plus $1.50 oysters on the half shell, and $5 - $7 appetizers.
How to book: Stop by for first come, first served seating at the bar, or book a table via Resy.
Uptown; Plano
With more than 60 wines on tap, it's clear that Sixty Vines has one of the most robust programs for wines by the glass. Plus, the keg experience delivers a true "from the barrel" tasting profile, while each keg prevents 1,560 bottles from ending up in landfills. Visit during weekday happy hour for half off certain wines, plus $5 bar bites.
How to book: Make reservations via OpenTable for Uptown and Plano.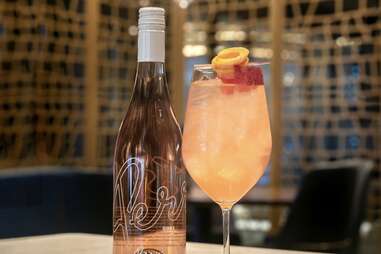 Uptown; Frisco; Grapevine
Steakhouses have long been among the best places in town to find impeccable wines, often in leatherbound volumes the size of phone books (remember phone books?). But Perry's Steakhouse offers its guests a true wine bar experience that's completely separate from the main dining room for a sophisticated but more casual way to kick back with a glass of fine wine, many of which can be enjoyed for only $9 during Sunday - Friday social hour.
How to book: Stop by for first come, first served seating at Bar 79, or make a reservation in the dining room via OpenTable.
East Dallas
Who doesn't need a little wine therapy now and again? When it's time for a sip session, Phillip Nikpour (the Wine Therapist himself) can help you find the perfect pour in his Napa-style tasting room. You can order takeout from one of the nearby neighborhood restaurants and make an evening of it, especially on weekends when live music fills the space. Grab wines to-go from the bottle shop, too.
How to book: Stop by for first come, first served seating.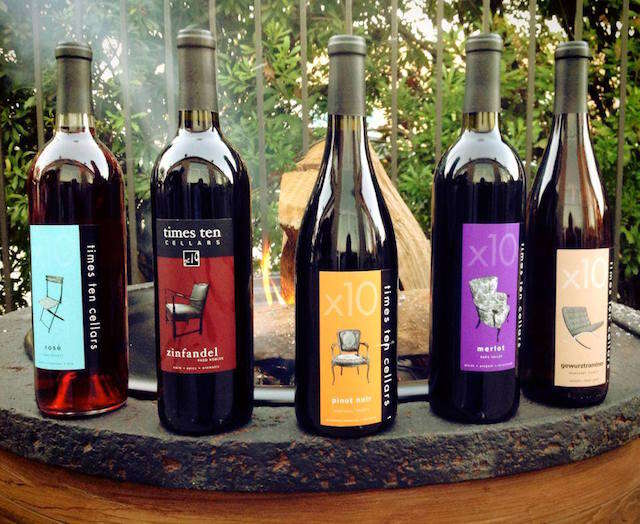 Lakewood
Housed in an old post office building, this East Dallas staple has been making its own wines from Texas and California grapes, as well as serving carefully curated bottles from other wineries. A menu of small plates makes it easy to nosh with friends or enjoy a light meal, while seated wine tastings for groups of six to 24 are a great way to experience several varietals with a little wine education thrown in for good measure.
How to book: Stop in for first come, first served seating.
White Rock Lake
If your outdoor adventures lead you to White Rock Lake for walking, biking, sailing, kayaking, or standup paddleboarding, make sure to plan time at Urban Vines Wine Bistro to unwind afterward. The charming space on the lower level of a large apartment building often features live music and, in cooler months, has one of the best fireplace-warmed patios in the area.
How to book: Stop by for first come, first served seating.
Henderson
Settle into a seat surrounded by hundreds of bottles of wine on the wall in a cool, darkened room that's incredibly inviting. An ever-changing selection of 30 wines by the glass allows oenophiles to sample a wide variety on one visit, and discover an entirely new roster of bottles on the next. If you need a reason to celebrate Mondays, stop in for half-price by-the-glass options from open to close.
How to book: Stop by for first come, first served seating, or book reservations online for parties of six or more.
West Village
When Cork opened in 2007, it was one of the first wine bars in the city to offer high-tech ordering through kiosks, as well as state-of-the-art pour systems that keep wines fresh from first drop to last. Wine lovers can work their way through 48 wines-by-the-glass from around the world, and more than 350 wines by the bottle for takeout.
How to book: Stop by for first come, first served seating.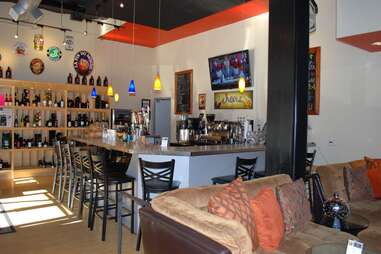 State-Thomas
Since 2009, this storefront in the historic State-Thomas neighborhood has been a walkable hangout for local residents, but also a destination for anyone seeking a more chill Uptown experience. Offering several wines by the glass (starting at only $8 during happy hour) and a sidewalk cafe-style patio, it doesn't get much more unpretentious than Alcove.
How to book: Stop by for first come, first served seating.
Sign up here for our daily Dallas email and be the first to get all the food/drink/fun DFW has to offer.
Steven Lindsey is an enthusiastic eater who's never turned down a craft cocktail, glass of wine, or cold beer. He thinks dogs are the greatest creation ever and anxiously awaits his Covid hair growing long enough to finally donate to a children's charity. But when it comes to travel, he prefers people leave their kids at home and that's why he founded Travel Like An Adult.