Big D hop-heads tell you the top beers to drink in the sun
Summer in Dallas means intense heat, which generally means an equally intense thirst. The smart thing to do? Stay hydrated. And even though drinking beer dehydrates you (shhhhhh), we still asked five of Dallas's beer mavens for their favorite thirst-quenching (?) Summer brews
Jack MacDonald, Jack Mac's Swill & GrillPeticolas Golden Opportunity (Kolsch, 4.6)Jack says: "The time and care that Mike puts into his beer is evident in this very simple brew. It's light, crisp & refreshing and everything that is good about Summer. And at only 4.6% ABV, you can drink it all day.
Franconia Wheat (German Hefeweizen, 5%)Jack says: "Traditional German Hefeweizen with slight hints of clove & orange. Dennis crafts traditional brews that make you want more. This wheat screams Summer. Drink it at the pub, in your back yard, on the boat, just drink it. And again, only 4.8%.
Revolver Blood & Honey (Wheat Ale, 7%)Jack says: "Blood and honey zest and local honey, need I say more? But be careful, at 7%, it will sneak up on you.
Sam Wynne, Meddlesome MothDogfish Head Festina Peche (Berliner Weisse, 3.5%)Sam says: "When I think of Summertime beers, the first thing to pop into my head is the elusive Berliner Weisse, which is a low alcohol wheat based German style that is great for the summer heat. What really set these beers off for me is the addition of lactobacillus, a bacteria that produces tart, sour flavors when combined with the soft pillowy wheat base, results in a refreshing contrast that you can drink all day without over doing it. 3.5-4.5% abv, true session beers. Often I reach for Dogfish Head's Festina Peche. Festina Peche also used peaches to help integrate the tart flavors with the fluffy almost sweet wheat base." Community Beer's Mosaic IPA (IPA, 7.5%)Sam says: "For those that are looking for a bit more punch from their hooch, some of the local brewers are doing some great things with the new Mosaic Hop. Community Beer Company just released a Mosaic IPA that is insanely drinkable for a 7.5% brew. The Mosaic Hops bring a complex fruitiness that blends tropical fruits with a touch of what I think tastes and smells like blueberry. I love it, not only because it's brewed right here in DFW, but also because it breaks the standard trends and show that hops can bring more to the table than Grapefruit and Pine bitterness.
Kevin Afghani, Craft & GrowlerCommunity Witbier (Belgian White, 5.1%)Kevin says: "This is a wit so good, you'll be amazed it is made right down the street in Dallas' Design District. Orange peel and coriander seed perfectly balance the unmalted wheat for a perfect poolside refresher." Lakewood Till & Toil (Saison, 6.4%)Kevin says: "Farmhouse Saisons are perfect for the Summer, and the Till & Toil is perfect for me. Crisp and thirst-quenching, with notes of grapefruit, pineapple, and peach.
Corey Pond, The Common TableCorey says: "For Summer beer drinking we always recommend beers that are lighter bodied and lower alcohol. But we don't want to give up the fun of having something interesting and full of flavor. The two I plan on consuming on a regular basis are Victory Summer Love and Founders All Day IPA.
Victory Summer Love (American Blonde Ale, 5.2%)Corey says: "Summer Love is both a beer the casual beer drinker can enjoy but also maintains some bitterness and a wonderfully dry finish perfect to drink in the heat. It's even got a baseball on the label -- this beer was made for the heat -- now that's 'Merican for ya.
Founders All Day IPA (American IPA, 4.7%)Corey says: "All Day IPA is brand new to the market and is a mind-boggling beer. While the ABV is only 4.7%, the flavor rivals that of some of the best 7.0% IPAs out there. It's floral and citrusy with a dry, crisp finish. Rumor has it this beer will be hitting Texas in cans this Summer. These will both be in my fridge & cooler all Summer and on tap at TCT most of the time from now until September.
Matt Tobin, Goodfriend Beer Garden and Burger BarFour Corners El Super Bee De Saison (Saison, 7%)Matt says: "Light and refreshing, yet still has a kick at 7% ABV. Great Belgian yeast nose!
Boulevard 80-Acre Hoppy Wheat (American Pale Wheat Ale, 5.5%)Matt says: "Light and refreshing, but still gives you a nice hop kick."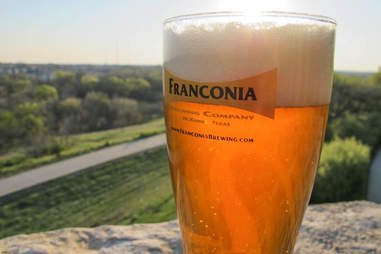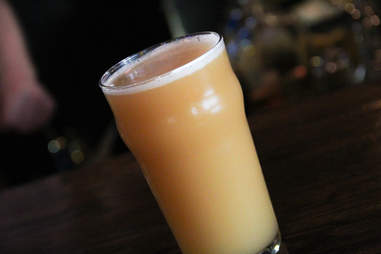 Dogfish Head