I'm pretty sure Ronald Reagan, the actor, once said, "Government's first duty is to protect the people, not run their lives." However, in an odd twist of Texas being quite gung-ho about Ronald Reagan, we still want to make sure all ye sinners aren't buying and drinking alcohol on the day that the Lord hath made. Taking a lesson from the end of Prohibition, perhaps it's time to look at repealing some of our state's more archaic blue laws. In the on-demand days that lay ahead, it's worth ditching the hoops the bigwigs in Austin make us jump through in order to get our hands on our vice of choice whenever and wherever we'd like.
The SparkNotes of what you need to know about Texan Blue Laws pertaining to booze:
Beer and wine cannot be sold until noon, at off-premise consumption locations, on Sundays.
Places with bars, or "on-premise consumption" licenses, can sell beer and wine starting at 10am until 2am only with a food order.
"Package stores" (liquor stores) can't be open past 9pm Monday through Saturday, and are completely closed on Sundays and Thanksgiving, Christmas, and New Year's Day. If Christmas or New Year's Day falls on a Sunday, say goodbye to buying liquor on Monday, too.
Beer and wine can be sold at places with off-premise consumption licenses, from 7am to Midnight on Monday through Friday and 7am until 1am on Saturday and Sunday.
Alcohol sales vary county to county; some dry counties have banned alcohol sales (fun fact: Willie Nelson had his friend, Carl Cornelius, establish a city in Central Texas just for the sake of Willie and the rest of the Highway Men to be able to drink. It's aptly named "Carl's Corner.")

Eradicating these outdated laws would be great, but even a few tweaks to these existing restrictions would mean progress: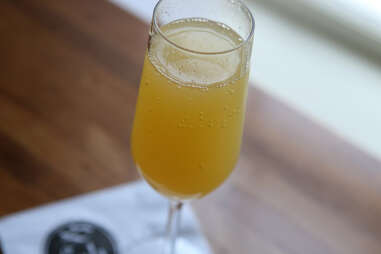 No purchasing of beer or wine before noon on Sundays
Changing this to even the standard 10am that is used Mondays through Saturdays gives you plenty of time to pregame the anticipated Cowboys disappointment. Shouldn't every American be able to go on an emergency morning champagne run for the sake of hosting a boozy brunch?

Liquor can only be sold in specialty stores
While going to a liquor store can make any adult feel like they're the kids in a Willy Wonka factory, driving to the "closest" one can be a hike. Having liquor sold in convenience stores would be awfully... convenient. Sometimes a Walgreens run for toilet paper would feel more successful with a handle of Jameson.

Liquor stores can't be open at all on Sundays
Even Amy McCarthy, editor for Eater Dallas, thinks these laws are dumb: "They don't make sense for a modern, secular Texas." Times have changed, and people are going out more on Sundays. It's not like you can't drink at all on Sundays. It just means that you have to go to a bar to do it. Businesses have higher traffic and government shouldn't make the decision of what businesses get to stay open and when!
You can't even buy a car? Seriously?
Even if you don't care about the alcohol-related blue laws, there's also the matter of car dealerships not being allowed to stay open on either Saturday OR Sunday -- dealer's choice (pun intended) on which day of the week. I have no damn clue as to how this one could make sense for moral reasons or be of any help to the integrity of the Lone Star State. Solution, let people sell cars whenever they please? I can understand the need to keep Troy Aikman away from his dealership on Sundays, in hopes he'd suit-up one more time. That's not the world that we live in anymore. Until 1985, you couldn't even buy pots, pans, or washing machines on Sundays. Household items are higher necessity than transportation?
Keeping these restrictive laws in the books isn't just political, it's archaic. Former Texas Representative, Doyle Willis, said in '85, "It's time to move into the 20th century." Well, Doyle, it's now time for us to move into the 21st century.
Sign up here for our daily Dallas email and be the first to get all the food/drink/fun DFW has to offer.
Lucas Buckels is a freelance writer at Thrillist and owns every Reagan movie. Follow him for off-the-cuff realizations: @lcsbckls.