When you live in the FW part of DFW, a few things are likely to be true. You'll be the butt of cowboy jokes. You'll get tired of just getting lumped in with Dallas. And you'll never be lacking good drinking options. With that in mind, here are Fort Worth's 11 most essential libation stations, from crafty new cocktail dens to well-worn dives.
Southside
The Owl's 16 taps always have something new from local breweries like Rabbit Hole and Martin House, and the crowd is an all-over-the-place mélange of service-industry peeps and desk jockeys, cyclists and Hummer enthusiasts, slacktivists and military vets, and every skater, lawyer, drummer, doctor, dork, and hipster in between. With its carefully curated jukebox, the Owl offers plenty for those who pride themselves on their impeccable tastes. If Zeppelin and PBR are your bag, there's plenty of that, too. If you want the bar's signature shot, order a Pink Drink (passion fruit rum, pineapple juice, OJ, cranberry juice), or a Raining Blood (Jack, Jim, Jager, Coke, and Sriracha).
 
Western Hills/Ridglea
One of the best parts of A Great Notion is that many of its regulars have been drinking there since they were 21; most of them are in their 50s and 60s now, but don't let that vintage scare you away -- the Notion's one of Fort Worth's best-kept secrets: a lovable dive where you're practically guaranteed to make a new friend over a couple gin & tonics, especially if he or she likes your jukebox picks. If you want to see what your parents were like before you came along, this is great place for them to have a few and relive the memories, because the bar looks about the same as it did during the Reagan administration.
Arlington Heights
Besides being the best spot in the city to catch both local and touring bands, Fort Worth's perennial live-music favorite is also pretty great for grabbing a drink and shooting the breeze with an interesting collection of weirdos -- its regular crowd is a good cross-section of what makes Funkytown funky. You'll find live music most days, but there's also cornhole, plenty of local brews and cold Lone Stars, and a cheap happy hour on weekdays.
Downtown
Poag Mahone's owners William Wells and Glen Keely will always appreciate the value of a busy beer-and-shot bar, but their latest project is considerably more sophisticated, seeing as how its walls are lined with bookshelves, one of which opens into a hidden staircase to the downstairs bar. Housed in (and named for) what used to be an actual Downtown bookstore, Thompson's leather furniture, fireplace, unfinished brick, and walls of literature provide a setting that smolders like a Raymond Chandler novel. Thompson's cocktails appropriately allude to classic lit, but even if you're not a reader, you can lose yourself in the Killing Pablo, a sweet and spicy whirlwind of Tequila Cabeza, maraschino liqueur, fresh lime juice, and house-made jalapeño simple syrup.
Southside
From the folks behind the Chat Room Pub (aka the self-nominated "eighth-best bar in Fort Worth"), the Usual is an elegant counterpart to its sister bar's rowdy, neighborhood bonhomie. Specializing in Prohibition-era cocktails made from top-quality ingredients, the Magnolia Ave spot is the place to go if you're in the Fairmount and crave a craft cocktail in a smoke-free environment -- the outdoor patio has plenty of shade and the Holy Frijoles truck in the parking lot makes killer quesadillas.
 
Arlington Heights
Like the Dallas original (and its sister bars in New Orleans and Baton Rouge), Fort Worth's Barcadia is loaded with games and craft beer -- if Teenage Mutant Ninja Turtles, Street Fighter II, Burgertime, and a host of other arcade classics don't distract you, maybe you need a beer; with over 30 taps, you're bound to find something to sip on, especially if you're into the Texas craft brew scene. Next to beers from Dallas' Community, Conroe's Southen Star, Fort Worth's Rahr, and many other Lone Star State breweries, you'll find favorites from Brooklyn, Maredsous, Oscar Blues, and more. Games are free on Mondays and Tuesdays, and there's also giant Jenga, skee-ball, billiards, and air hockey.
Downtown
By virtue of its sheer acreage of TV screens, there is no better place to watch a game in Fort Worth than Frankie's; there are even screens embedded in the bathroom mirrors, so the only way to miss the action is to show up too late or wear a blindfold. But even without a zillion TVs, Frankie's offers a wide variety of high-end pub-grub, plus a build-your-own Bloody Mary Bar on the weekends. Pro tip: get the King Ranch sandwich, a mighty tower of meat piled with top sirloin, pulled pork, bacon, fried jalapeños, cheddar, jack, and barbecue sauce.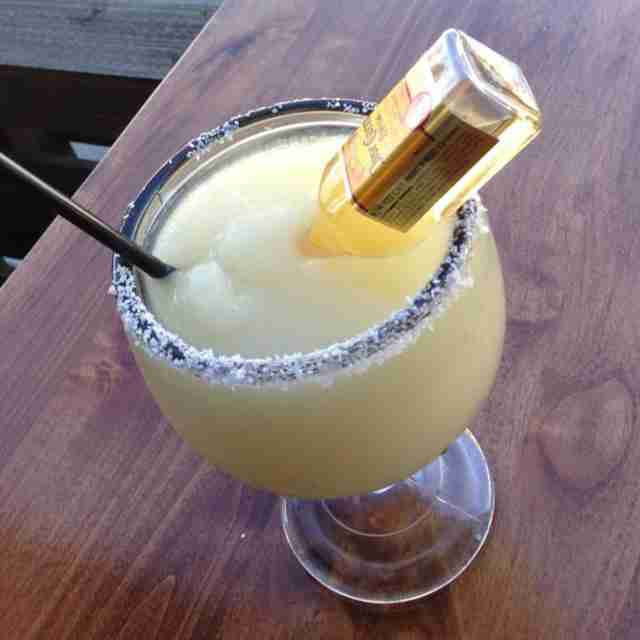 Arlington Heights
Dive bars and arcade games are fun and all, but sometimes you want something a little classier. Enter Reservoir, the West Seventh corridor hub of short dresses, bumping jams, and chef-driven noshes, brought to you by the people behind Downtown ultra-lounge Vice. If you can take your eyes off the highly attractive scenery, there are 38 flat screens hanging around, making it a pretty sweet spot to watch TCU get edged out of another championship. Get yourself a plate of the Captain's Tenders, strips of Cap'n Crunch-crusted chicken tenderloin, and wash it down with Bushwacker, a chocolate frosty made for grown-ups with Feckin' Irish whiskey, Don Q Cristal rum, and coffee liqueur.
Eastside
Bring a date to this East Fort Worth dive, and there's a good chance of her heart getting melted by a 70-year-old crooning "Blue Velvet." Tucked into a strip mall just inside the corner of I-30 and I-820E, Corporate Image is one of those hidden gems you pop into because you don't have anything better to do and then end staying there for the next twenty years. Karaoke and pool are practically national pastimes here, but Corporate Image's vintage vibe and affable bartenders are what keep people coming back night after night.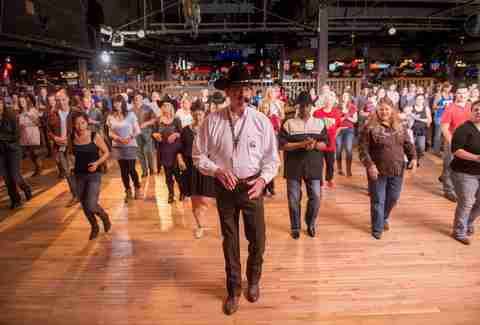 Northeast
As if the self-proclaimed "World's Largest Honkytonk" needed any introduction -- the iconic Stockyards dancehall is a must on your Cowtown drinking itinerary, whether you're there for a show or merely just to shoot pool, eat popcorn, and watch people in Wranglers manage to line-dance to "The Wobble." Also, you'll be knocking back a Three-Legged Monkey because for whatever reason, the old hands at Billy Bob's love those things. Bonus points if you can toss one back with entertainment director Robert Gallagher. Rumor has it he's the shot's inventor.
 
Southeast
Fun fact: long before the owners of Arlington's Caves Lounge added Ozzie's to the family, it was called the Tattoo Bar and co-owned by none other than Pantera's late, great Dimebag Darrell. And while the wild days of the Tattoo Bar are history, this Eastside lounge still carries the ghosts of late-night dodgeball parties, rooftop sex, and other types of '90s-era metal magic mischief, as evidenced by a rowdy blue-collar crowd that matches the punk rock and country on the jukebox. With stuff like bingo nights, a shot wheel, and patio cookouts, there's something for everyone.
Sign up here for our daily Dallas email and be the first to get all the food/drink/fun DFW has to offer.