10 Things You Didn't Know About Dr Pepper
Did you know there's a ghost tour at the museum?
In Texas, it's not uncommon for some to ask for a "Coke" but actually mean a Sprite, root beer, or any number of sugary fizzy drinks besides Coca-Cola itself. But despite the flagrant misuse of the trademarked term to request a cold, carbonated beverage, true Dr Pepper lovers will always ask for the soda by name. Once labeled the "King of Beverages," it's one of many great inventions to come out of Texas, but not everyone knows all the many things that make it such an icon. So, read on for 10 things you may not have learned about Dr Pepper in your "Welcome to Texas" orientation. And once you hear the jingle from the 1970's, you'll never get it out of your head.
1. Dr Pepper was invented in Waco, Texas in 1885 by a pharmacist named Charles Alderton
While working at Wade Morrison's Old Corner Drug Store, Alderton noticed how patrons loved the sweet smell of the soda fountain and decided to create a drink that tasted like the familiar smell. Lucky for us he didn't work on a cattle ranch.
2. It's the oldest major soft drink brand in America
Dr Pepper was created one year before Coca-Cola (1886) and eight years before Pepsi (1893). Score one for Texas (and dentists the world over)!
3. The origin of the name is disputed
Before it was given the name Dr Pepper (with no period after the Dr), patrons would simply order a "Waco" at the soda fountain. But the soda's official name is said to come from Dr. Charles T. Pepper, a doctor who gave Wade Morrison permission to marry his daughter (even though they never went through with the wedding). Maybe he preferred to play the field with his newfound carbonated celebrity status.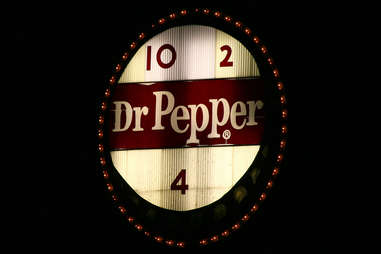 4. The "10, 2, and 4 o'clock" slogan stems from an academic study on human fatigue
... which found that a person's blood sugar is lowest at the hours of 10:30 am, 2:30 pm, and 4:30 pm. "Drinking a bite to eat" at Ten, Two, and Four would thus help avoid those midday sugar crashes (by drinking more sugar).
5. The "Dr Pepper Capital of the World" isn't in Texas
The Roanoke Valley in Virginia was given the designation back in 1957 because it broke records for mass consumption of the beverage during the 1950's.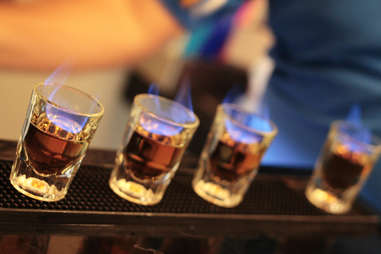 6. The "Flaming Dr Pepper" cocktail is a shot of amaretto topped with 151 rum, lit on fire, and then dropped in beer
If you manage to avoid setting yourself and/or the bar on fire, it actually does taste a lot like Dr Pepper. Minus the caffeine, but who cares. Here's how to make it if you care.
8. Dr Pepper has ties to paranormal activity
Want to see where the magic first happened? Take a trip to Waco for an all-things-Dr-Pepper adventure. Among the options, you can have a VIP Make-A-Soda experience, buy tickets to the Extreme Pepper Experience that comes with a glass bottle of Dr Pepper and a large Dr Pepper ice cream float. Or ready for this? Go on a ghost hunt in the museum after dark in the Paranormal Experience. Yep, you get access to the off-limits basement and other places where strange things have been known to happen.
9. Congress once classified it as a food
When sugar was rationed in WWII, Dr Pepper petitioned Congress to reclassify soda as a food. They created a booklet called "The Liquid Bite" that proclaimed the energy boost from the sugar in soda was essential to the war effort. We won the war, so they must've been right. Right?
10. The 23 flavors that make up the unique taste of Dr Pepper are...
... literally locked in a vault at the Dr Pepper Snapple Group headquarters in Plano, though the internet community speculates they are amaretto, almond, blackberry, black licorice, carrot, clove, cherry, caramel, cola, ginger, juniper, lemon, molasses, nutmeg, orange, prune, plum, pepper, root beer, rum, raspberry, tomato, and vanilla. Plenty of people have tried to recreate it, but nothing will compare to the original.
Steven Lindsey is an enthusiastic eater who's never turned down a craft cocktail, glass of wine, or cold beer. He thinks dogs are the greatest creation ever and anxiously awaits his Covid hair growing long enough to finally donate to a children's charity. But when it comes to travel, he prefers people leave their kids at home and that's why he founded Travel Like An Adult.