This is how you crush Oktoberfest 2013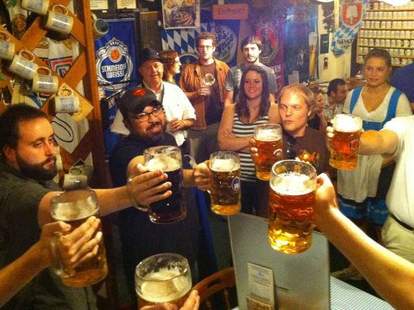 Since UT, SMU, and TCU aren't exactly blitzkrieging anyone this season, you haven't been able to use the word "blitzkrieging" nearly enough. Luckily, Oktoberfest is underway, giving you plenty of opportunities to remedy that, plus get in on tons of pretzels and beers. And because we consider it our life's mission to make sure you're eating the right pretzels and beer, we're breaking down DFW's absolute best 'festing options.
Kuby's
Best German Sausage: Kuby's Sausage House
If you know of another sausage spot in the Metroplex that can be traced back to an original location opened in Kaiserslautern in 1728, by all means, go there instead.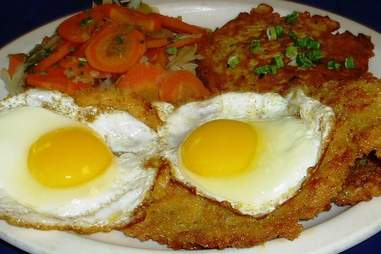 Bavarian Grill
Best Schnitzelfest: Bavarian Grill
It's one thing to love schnitzel enough to have an entire month-long fest about it, but to also love German beer enough to have more than 50 different selections takes things to another level. Bonus: Drink every single one of their Oktoberfest beers and you'll get a free schnitzel!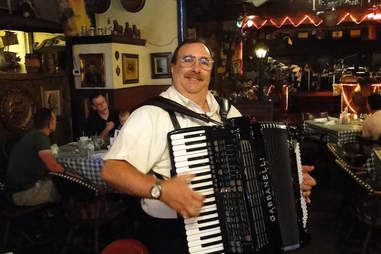 Edelweiss German Restaurant
Best Accordionist: Edelweiss German Restaurant
As one of Fort Worth's oldest German restos, Edelweiss is a pretty traditional German restaurant, both because they "annexed" the adjacent Italian Inn, but also because they've been hosting nightly traditional accordion music for over four decades.
Franconia Brewing Company
Best Local German Beer: Franconia
Franconia's history's kinda like Kuby's; their founder's from Bavaria, holds a masters degree in brewing (seriously) from the Doemens Brewmaster School in Munich, and comes from a long line of brewers dating back to his great-great-grandfather's Franken Bräu, which was a monster of a beer. That's why every brew they do is German. And tasty. Prost.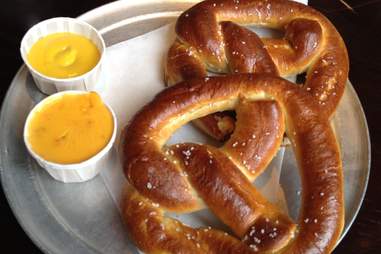 Fort Bend Food Blog
Best Pretzel: Flying Saucer
Honorable mention here goes to Jorg's Cafe Vienna, but the Saucer really does have a good pretzel. It's warm, soft, and bread-like, and goes great with cheese sauce, mustard, bratwurst, and beer. There's literally nothing not to like about that.