Renato Rimach Photography
Every average Joe drinker out there has a handful of Dallas bars and lounges that they think are sorely underappreciated. But do you know who REALLY has an incredible mental list of them? Bartenders. After all, they're not just your friendly server behind the stick -- they're logging mileage at bars all over town. Our 10-bartender panel is familiar with a wide cross section of what's out there, especially the uber-cool favorites of the service industry that don't get enough love.

His pick: The Holy Grail
Plano
This unsung pub right near the Frisco city limits may be underrated for... being right near the Frisco city limits. Those who don't mind the far northerly location cheer for the bar food and stellar beer selection, as well as a packed calendar of craft beer tappings and special events.
Austin says: "The Holy Grail in Plano is my choice. Personally, this is my favorite bar in my hometown of Plano, but I think all of DFW should be aware of it. Fantastic whiskey, beer, food, and an awesome educated staff. Its whiskey prices are also very on point. Not exactly a place for a Knickerbocker, but if a dram of Lagavulin, a Bourbon Barrel Imperial Stout, and some kick-ass chili is what your looking for, then you'll fall in love."
His pick: the bar at Tei-An
Arts District
This swank Japanese dining destination is the go-to for eaters wanting pricey, rare breeds of beef & seafood, and standout sushi. But the open secret is that the restaurant has an insane bar program, not only turning out inventive cocktails, but stocking some prime sake and Japanese whisky.
Kyle says: "The bar at Tei-An would be my pick for the most underrated bar. The bartender, George Kaiho, not only always gives some of the best service in Dallas, he is also one of the most knowledgeable bartenders I know. He is both a wine and sake sommelier, which makes him both a student and a teacher of his craft. I would recommend his honey-infused kumquat Bee's Knees, an extremely refreshing cocktail to pair with sushi."
His pick: The Libertine Bar
Lower Greenville
Belgium meets Big D at this Euro-styled bar that's been every hophead's go-to since wayyy before local craft breweries started popping up. There's still that magnificent beer list, simple, delicious cocktails, and bistro food to enjoy alongside all of it -- all with a great view of the hubbub on the street that's exploded all around it.
Eddie says: "Great rotating selection of beer, laid-back pub atmosphere, and solid food. One of my favorite places to drink whiskey."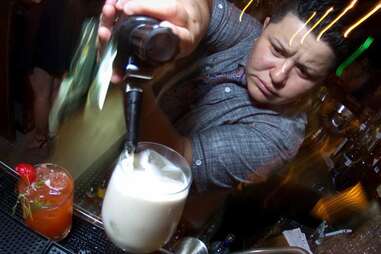 Her picks: Dallas Fraternal Order of Eagles 3108 and Strangeways
East Dallas
Once the mercury starts rising, the local branch of FOE turns into a hipster hot spot, with its convivial pool, old-school feel (and equally old-school FOE members hanging about), and lively bar. Meantime, the neighborly vibe and comfy patio of Strangeways keep as many people coming back as its out-of-this-world beer list.
Fernanda says: "Two bars that pop up in my mind as underrated are FOE and Strangeways. FOE has the cheap prices, Solo cups, and nice, cool pool keep it interesting during the hot Texas summer. Second, but first in my heart, is Strangeways. Not only am I forever impressed by its beer list, but the food menu is on point! Chili-dusted fries, pork loin tortas, and a take on street-style elotes that will blow you away. Tell Jose that Cubby sent ya!"
His pick: Double Wide
Deep Ellum
Double Wide is the name, trailer park chic is the game at this dive that straddles Exposition Park and Deep Ellum. From its blink-and-you'll-pass-it corner, it draws die-hard regulars who dig the live music, kitschy décor, and the aptly named Cheap A$$ Happy Hour. And where else are you going to find boozy beverages anchored by Tang and YooHoo? Yes, that YooHoo.
Phillip says: "One of my favorite bars that doesn't get enough love is Double Wide. One of the best vibes in the city, bartenders are awesome, and you can't forget the shot specials every time the General Lee makes a jump. They also have my favorite mural in Dallas (Barry Manilow at San Quentin). Just writing this makes me wish I was sitting under the [bar's year-round] Christmas lights now."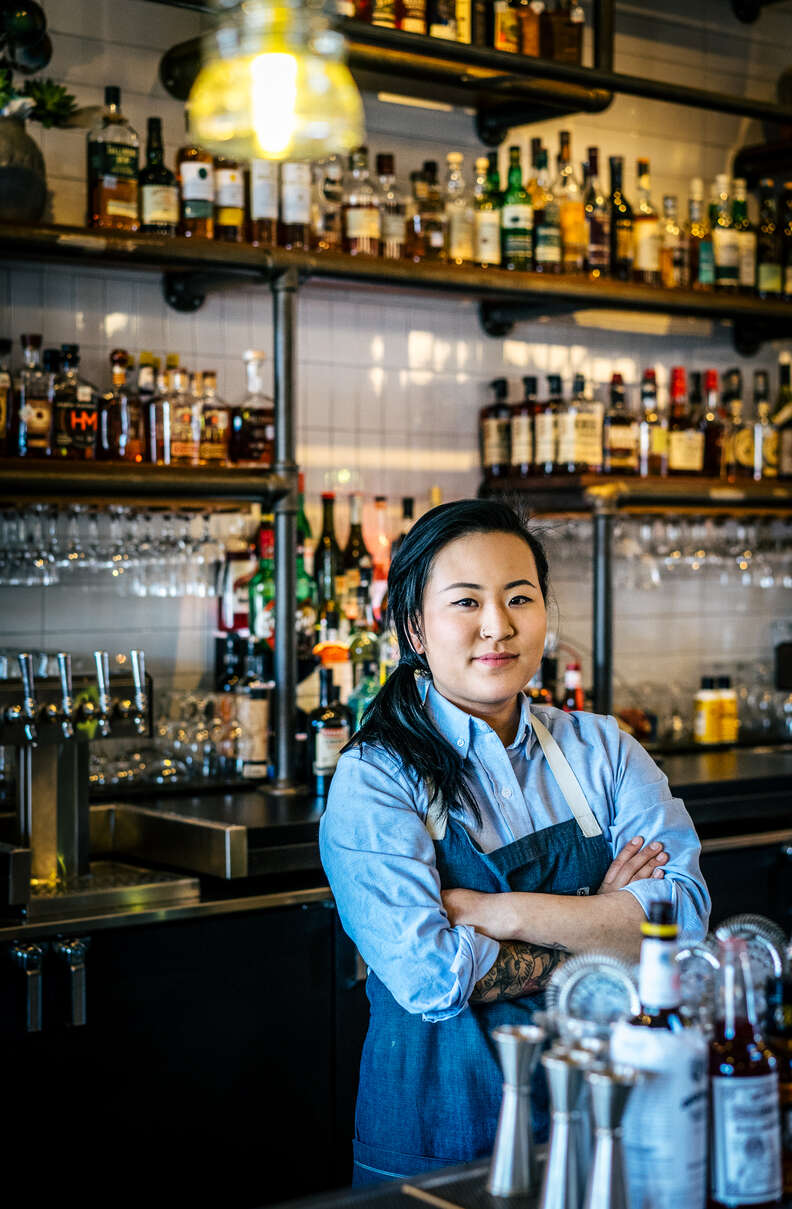 Her pick:Black Swan Saloon
Deep Ellum
Unassuming is a great way to describe this Deep Ellum gem popular for its expert craft cocktail program hatched from the brain of bartender Gabe Sanchez. Despite the fanfare surrounding the drinks, Black Swan still manages to maintain a low-key air. It's that place that hasn't blown up so huge that it doesn't still feel like it's yours, all yours.
Jenny says: "Not much has changed since I first stumbled in there with a first date many years ago while exploring Deep Ellum... except for the crowd (it's grown). The drinks have always been consistently great, whether it be a classic cocktail or an original creation. The bartenders and staff are always friendly, and I love the neighborhood atmosphere. There is still no signage of what kind of establishment it is on the outside of the building, and I'm sure I've walked by it while looking for it before. A true hidden gem, if you will."
His pick: Blind Butcher
Lower Greenville
Who would've thunk a sausage emporium would also boast a fantastic bar program? Hey, beer and sausage are besties, so it's not that much of a leap to round out the drinks menu at this bespoke restaurant with fine cocktails. Just don't forget to quaff a local brew or a mixed drink while you're knee-deep in meaty links and poutine.
Brad says: "They definitely have an old-school bar staff, so there is never any shortage of epic terrible jokes, bad advice, and stimulating conversation. I usually have a beer and a shot of bourbon when I am there, but there is a great all-around selection of libations to be found there. The bar itself is a black hole. It is impossible to know what you are walking into when you open the door, or, better yet, what's coming in. The possibilities are infinite!"
His pick: Industry Alley
Cedars
The boozy baby of Dallas bartending icon Charlie Papaceno, this low-lit bar, a stone's throw from South Side on Lamar, is true to its name: a service industry favorite. On any given night, you can find mixology luminaries all over the joint. For the rest of us, there are great drinks, an intimate patio, and pool, pinball, and arcade games to fuel an evening.
Spencer says: "I know it's popular within the industry (obviously), but to the normal consumer, I don't think it gets enough cred! You have everything you love about a dive and everything you love about a cocktail bar in one place! From the smoky patio filled with familiar faces, laughing over a smoke and a Miller, to the expert bar staff, stirring up world-class cocktails, Industry Alley just feels like home."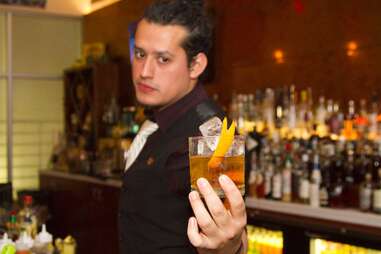 His pick: T.B.D. Kitchen
The Colony
You'd best Uber on up the road if you're planning on hitting this Latin American restaurant, because one cocktail from the bar team here will have you wanting more. Expect nuanced drinks with hefty influences from far south of the border, perfect for marrying with the authentic street food on the menu.
Christian says: "T.B.D. Kitchen is not frequented enough due to the distance. It's a little bit of a drive, but worth it every single time. Nothing pretentious about [it]. Innovative and inviting."
His pick: Nova
Oak Cliff
Nova's that one eye-catching restaurant on Davis -- away from buzzy Bishop Arts -- that many of us seem to forget is there. No worries -- the neighborhood regulars who populate the place seem to like it that way, filling seats at the bar for chef-driven food and well-spun cocktails. It's like the best of all things Oak Cliff: down to earth, with the right touch of fashion sense.
Angel says: "It's the people's bar, especially if you're ever there between 12 and 2[am] -- just a good neighborhood bar. Like an Applebee's, but with better food and better drinks. The bartenders there are awesome!"
Sign up here for our daily Dallas email and be the first to get all the food/drink/fun DFW has to offer.
Farah Fleurima is a Dallas-based freelance writer who does her damnedest to avoid overrated Dallas bars. Follow her boozy musings at her blog, The Dallas Diva and on Twitter at @TheDallasDiva.