Beer garden, meet dog park. Dog park, beer garden.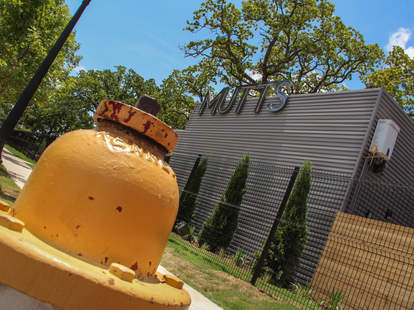 Tired of going to the dog park and then to the beer garden and then home to definitely not watch Project Runway? Well, now you can save yourself a shload of time at Mutts Canine Cantina, Uptown's snazzy dog park-slash-beer garden from the folks behind Bowl & Barrel.
The 200 (human)-seat beer garden's situated on Hank Haney's old driving range and's stocked with six local taps (DEBC, Peticolas...), plus cheap cans of PBR, Brooklyn, and Oskar Blues.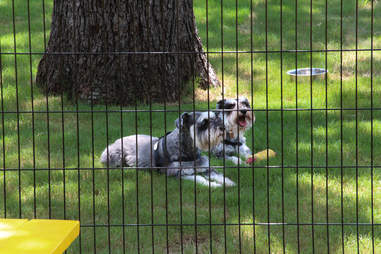 They've actually got two different dog parks -- one for big dogs and one for, well, not-big dogs -- where Fido can run, play, and do his business like crazy, since they've also got professional pooper scoopers (!) running around with the sole purpose of making you feel better about your job.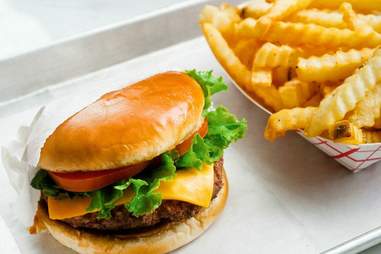 Joy Zhang
Food-wise, your dog will stare at you with hopeful eyes as you gorge yourself on natural, steroid-free burgers that're definitely not invited to Victor Conte's next Cards Against Humanity party.
Joy Zhang
Or go for aptly named hot dogs, like this Jessica Biel loaded with peppers (so hot!), or the beer-soaked Randy Travis, which comes with a free PBR.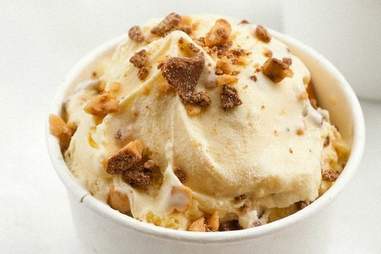 And finally: dog-only vanilla custard mixed with peanut butter; a treat he's likely been waiting his entire Lifetime for.