11 Under-the-Radar Denver Taprooms to Add to Your Rotation
Go to any city in America, and it might feel like there's a Starbucks on every corner. In Denver, it's pretty much like that with breweries. Beer has a long history in the Mile High City, as it's been home to the Great American Beer Festival since the mid-'80s, and OG's like Great Divide, along with relative newcomers like Crooked Stave, have helped cement the boozy liquid as one of Colorado's most valued exports.
But inside Denver's still-thriving craft beer scene, there are plenty of beer makers that deserve more attention. These are breweries that not only make great beer, but pour pints in lively watering holes worth hanging out in. If you haven't visited every brewery in this rundown, there's no time like the present -- not all of these places are going to stay local gems forever. They may become the next big thing in beer, and you could say you knew 'em way back when. Consider these 11 breweries Denver's must-visit under-the-radar-taprooms.
The three guys behind this brewery all used to work at legendary Boulder brewery Avery, where they learned how to brew high-quality beers of basically any style, from goses to chili beer. And that they do. The brewery has an Old-World pub feel with modern touches (digital tap lists! garage door-style windows!), but the beer is the reason to visit. The brews rotate so frequently that what's on tap one day might never show up again. But if you put your taste buds in their hands, you won't be steered wrong. 
While many Colorado breweries have ambitions to ramp up production and ship beer far and wide, that's never been CTA's mission. Outside of a few kegs of its beers available at bars and restaurants in North Denver, you must go to the taproom to imbibe their liquid. The brewery also doesn't take itself seriously, from Wednesday comedy nights to the yearly Catalina Wine Mixer bacchanal, where they pour wine-barrel-aged beers they've been working on over the previous year. It's a playful event highlighted by some outrageously well-made beer -- in other words, it's what Call to Arms is all about.
This City Park brewery might have a name that sounds smart, and a logo that resembles a brain made out of hops, but it's a decidedly unpretentious beer maker. Cerebral Brewing's taproom is an easy hang, with long, communal tables and a crowd of loyal locals. That's not to say that fans from all over don't flock to the brewery for its limited-release tallboys filled with a mix of glorious New England-style IPAs, including Scam Likely and Secret Chat Room. Can releases are hyped up on their Instagram, letting you know when you can be the first to try mind-blowing brews like the tiki sour IPA Forbidden Idol. But even if you don't have the fridge space to get a four-pack to go (or the ability to plan to be there for a can release day), the brewery often has many of its sought-after brews on tap. So grab a stool, soak in the atmosphere of the bustling taproom lined with barrels, and order a pint paired with anything from an empanada to a bowl of ramen from the rotating suite of food trucks parked outside. If you're looking to down a sour or an IPA with an experimental hop bill, you won't leave unhappy.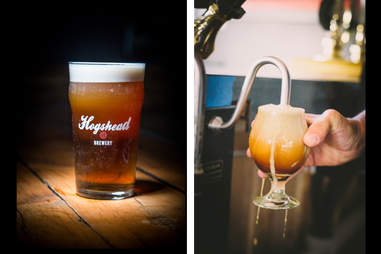 Dustin Hall of the Brewtography Project
It seems improbable that someone could move to Denver and think, "I can't get a real beer here," but that's exactly what ran through the mind of one of Hogshead's founders. To be fair, he's from cask ale-obsessed London. In fact, the SloHi-based brewery is one of the few places in America to regularly feature the unfiltered, way-less-bubbly beer that's common across the pond. The cozy, brick-walled pub that is lined with bottles has seven beers on cask at all times, and an additional 12 handles of keg beer. The Hog Wild IPA is a bestseller, but so is the extremely British-sounding Chin Wag ESB, along with a Denver Pride pale ale and the Gilpin Black Gold London porter. And if you're fearful of drinking a pint of beer that's served much warmer than beer typically is in the US, fear not. Most of Hogshead's beers are available both on cask and on tap -- allowing you to truly taste the difference of a beer that's pulled from a barrel without forced carbonation or filtering. When you do, you'll have the pleasant experience of drinking a fresh, smooth, aromatic brew that the UK has enjoyed for hundreds of years.
Though a brewery made specifically for dogs would absolutely crush it in the pup-crazy Denver market, Alpine Dog is not that. It's a homey Colfax brewery with about 60 seats, and its name is based on slang for an outdoorsy person, a label that applies to many people living and working in the Mile High. Because the brewery's owner (and many of its patrons!) identify as Alpine dogs, the beer makers give you plenty of opportunities to get involved in athletic pursuits. There's a weekend yoga class every couple of weeks, as well as a very active weekly run club that hosts an extended happy hour for anyone willing to sweat through a couple of miles first. Popular beers include the best-selling New England-style IPA Thunder Puppy (there goes that dog theme again); the new, smooth-sipping Mexican lager Chico Crujiente; and bourbon-barrel-aged goodies like the Russian imperial stout Dyatlov Pass Incident. At Alpine Dog, you're equally as likely to find a climbing buddy as you are your new favorite beer.
Breweries everywhere have been wise to partner with local food trucks, which serve every cuisine imaginable, in an effort to keep their customers happy and drinking. And then there's Grateful Gnome, which says "screw all that" and just serves up 55 freshly-made sandwiches with an East Coast bent -- where else in Denver are you going to find Taylor ham & cheese or pastrami sandwiches at a brewery? A hippie vibe pervades the space, from the Grateful Dead-inspired artwork, to the "Be Nice or Leave" signage, to the jam bands playing through the brewery's speakers. So soak in the tunes, order a sandwich filled with Italian meats, and sip on the house's Hibiscus Saison, ESB, or DIPA Double Giggity. Then go ahead and strike up a conversation with the person next to you -- chances are they're also psyched about the Oysterhead reunion. 
Intrepid Sojourner Beer Project was a bit of a mouthful, which is why the good folks behind the travel-themed brewery rebranded as Next Stop. The brewery is co-founded by a guy who went to school for classical archaeology and spent time in the Eastern Mediterranean, and who would love it if the beer they make gives you a serious case of wanderlust. Next Stop's 58-seat taproom will get you in the right headspace, what with its impressive collection of antique suitcases, repurposed USGS maps on the bar top, and travel books lining the walls. The brewery's fantastic, adjunct-heavy beers are inspired by flavors from around the world and named after cities worth the long flight, including the Bangkok (a kolsch with lemongrass and ginger), Rome (a sweet Italian basil IPA), and Istanbul (a Turkish coffee stout). Plus, the sushi spot next door will happily swing by with your dinner order so you can continue sipping on a beer and planning your next trip, maybe to the city your beer is named after.
Dustin Hall of the Brewtography Project
In 2019, robots aren't capable of being brewmasters. Even the robotic-themed brewery Little Machine -- with its gorgeous, stunningly-lit bar, two patios, and robot artwork on the walls -- has a human brewer with 15-plus years of experience. The bar's circular shape makes it tough to not strike up a conversation with the person next to you, and if you're looking for a good icebreaker, we'd recommend the beer. The fourteen taps of rotating brews include plenty of lightly-soured fruit beers, though there's something for everyone, like the newly released gluten-free suds. You can't go wrong with the award-winning tart raspberry Razz Against the Machine, the West Coast IPA YAFI (which stands for You Asked For It), and the easy-drinking Sir Veza Mexican-style lager served with a lime. It's also the perfect place to pregame when you have a ticket to see Von Miller and the Broncos play -- food trucks serve the brewery's hungry patrons every day of the week, and the stadium is a quick walk away. 
Many brewery taprooms feel like car assembly plants with a bar in the middle. Grandma's House -- as you might have guessed from the name -- is a bit different. The owner's a rabid thrift store shopper, which explains the formica tables in the taproom, and beers often being served in cartoon-themed pint glasses straight outta 1985. More than 10 taps pour a variety of styles, including the hazy, hop-filled Foggy Memory IPA and the purple, berry-flavored Barney Kool Breeze sour. And while you don't have to be a grandma to hang out at Grandma's House, you'd be silly to pass up on granny-approved activities like sewing, knitting, and cross-stitching classes that are fun for all ages. Make sure to keep an eye on the brewery's calendar for monthly events that partner with a local assisted living center, as they offer you the unmissable opportunity to have a beer with actual grandmas and grandpas. 
FlyteCo Brewing
Two beer-loving pilots teamed up to start this brewery, which they hope inspires patrons to get psyched about becoming pilots (what with the looming pilot shortage and all). Whether you'll want to earn your wings after visiting is debatable, but it's hard not to be charmed by the spacious taproom, which features a 737-sized fuselage you can chill inside, a bartop made from temporary runway material cargo planes used to land on in World War II, and beer, of course. The New England-style Fog Delay Hazy IPA and the organic Oh My Guava! pale ale are worthy choices for your first two pints, though make sure to save room for Barbed Wire Reef exotic sausages. Four tubed meats -- including buffalo, alligator, and wild boar -- from the neighboring restaurant can be paired with a flight (!!) of FlyteCo's beers and enjoyed right there in the taproom. 
Plenty of breweries offer a ton of different beer styles and loads of taps to choose from. Bierstadt Lagerhaus is not one of those places, but it shouldn't stop you from going. While the German-style-lager-only brewery is usually only making three to four beers, they're making them exceptionally well. One of the must-drinks is the Slow Pour Pils, served in a tall pilsner glass, which features a head that looks like a fluffy, drinkable cloud. It's only around 5% ABV, so feel free to order another. You'll also find a Helles and select seasonal beers when the time is right -- thus, should you love bocks, you'll love wintertime treats like the Doppelbock or Eisbock. While you're there, take advantage of the game room and play a round of giant beer pong or cornhole. After you've worked up an appetite, there's schnitzel along with New American fare. Don't worry -- unlike the beer selection, the food menu has plenty to choose from.
When Jason Buehler, the head brewer for Denver Beer Co., took a trip to Puebla, Mexico, to help judge a beer competition, he had no clue he'd come back and start a brewery focused on Mexican beers. But the friendships he struck with brewers south of the border and his enchantment with the country's bountiful, unique ingredients spurred him to open Cerveceria. Located a hop, skip, and a jump from his DBC stomping grounds (he remains head brewer there, and Cerveceria shares the same owners), the 100-seat taproom is decorated in brightly colored murals by Mexican-American artists. The 10 taps often pour beers brewed in collaboration with Mexican breweries, including a Rosita schwarzbier made with Cerveceria Itañeñe and brewed with cacao flowers. Other popular choices include the Mexican lager ¡Venga!; the pineapple blonde ale Señor Piña; and the Churro Stout, made with actual churros in the mash. Whenever they're open, it's a party, what with the rotating food trucks parked outside (including the El Gallo Blanco taco truck), salsa dancing lessons, loteria (a bingo-like game popular in Mexico), and lively crowds.