Just because we're doing our part to stay at home so we can get through this lock down as quickly as possible doesn't mean we can't drink well. Thanks to Governor Polis' announcement approving the sale of to-go booze from restaurants, you're just a safely-distanced pickup away from some of the Mile High's best cocktails. Virtual happy hours are even better when you know that the drink you're sipping is supporting local eateries, so let the pros mix up something delicious for you. Breweries are in the game too, with everything from six packs to sixtels -- and there are even delivery options from local liquor stores, so you can stock up on Denver-made booze without setting foot outside your front door. You're gonna drink anyway, so go forth and drink locally, Denver.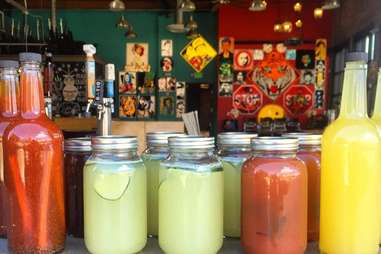 Wine & Cocktails
White Pie
City Park West
The oak-fired oven is still burning at White Pie, where perfectly charred pizzas are available along with a new pack for 2-3 that includes homemade rosemary focaccia, burrata, house Greens and pizza, and cannolis for $39, with the option to add a bottle of uncorked wine for $25. The batch cocktails, though, are the perfect thing to keep on hand since they're available in a variety of sizes, up to 10 servings. Options include three variations of margaritas, basil limeade, a negroni, and a Manhattan. If you prefer Mexican fare, including a build-your-own taco kit, White Pie's nearby sister restaurant Dos Santos is offering the same cocktail selection.
How to order:Online through ChowNow daily from 12-8pm
Run for the Roses
Dairy Block
This bar is also keeping the cocktails flowing for their staff, with 100% of the proceeds from batched cocktail sales going toward covering employee wages. Cocktails will be available for a limited time so if you see something you're into, don't wait to order. Cocktail choices range from the classics like a boulevardier and a paloma to some of their more creative libations like the Demon Be Gone (fitting) with Bank Note scotch, Batavia Arrack, Del Maguey Vida mezcal, ginger honey syrup, and lemon juice.
How to order:Online via their website with delivery options available and pickup on Tuesday and Fridays
Noble Riot
Five Points
Forget fast food: this natural wine bar is bringing those same cravings to you, to-go, along with the natural wines they're known for. Grab a bucket of chicken or a double riot burger and fries, and pair it with three and six packs of wine specially selected by their team. Meat and cheese boards are also available for that extra special touch. All you need to add is a little candlelight, and this is an ideal date night at home.
How to order:Pre-order online, or call 303-993-5330 for pickup from 3-8pm, Tuesday through Sunday
Barolo Grill
Cherry Creek
Even fine dining establishments are jumping into the take out game, including this award-winning upscale Italian classic that's been serving Denver for over 27 years. Known for their wine collection, Barolo is offering their full wine list at a discount along with wine three-packs. While you're stocking up on vino, grab one of their four classic cocktails to go or a cocktail kit like the spritz kit for four for $30.
How to order: Pre-order online or call 303-393-1040 by 3pm for curbside pickup from 4pm-8pm Tuesday through Saturday
The Preservery
Five Points
Located in the Backyard on Blake, The Preservery is not only churning out all-day eats and a selection of grocery items (including eggs, toilet paper, and paper towels), they've also got a hell of a to-go cocktail selection. Have brunch cravings? Get a briny Bloody. Loving the springtime vibes? How about a Pollinator with rosemary infused vodka, lemon, honey, bitters, and ginger beer. Choose to have any of the options made for two, four, or six services, and if you need a little extra relaxation, add CBD to any cocktail for $5/serving. Beer, wine by the bottle starting at $16, and daily specials like batched sangria are also available.
How to order: Call (303) 298-6821 to place an order for pickup or free delivery
Q House
City Park
This Colfax spot for modern Chinese is giving its takeout food selection at lower prices than normal, but is also making it extra easy to pair a boozy beverage with your meal. Tack on beers like a $2 Montucky, wine by the bottle starting at $15, mixed drinks, and two of the signature cocktails available in two ($10) or four ($20) servings. Choose from the lychee martini or the squash old fashioned with bourbon, delicata squash demerara, Lapsang Souchang tea, and cardamom bitters.
How to order: Call 720-729-8887 Tuesday-Sunday from 3-8pm
The Bindery
Highland
Along with all-day eats including breakfast pastries, fresh baked bread, market sandwiches and salads, indulgent dinner entrees and much more, Linda Hampsten Fox's Highland culinary destination has made the foray into batched cocktails. The latest selection includes a vibrantly colored lineup of prickly pear margaritas, calamansi vodka gimlets, Earl Grey Manhattans, negronis, and milanese mai tais. Wine and beer are also available.
How to Order: Call 303-993-2643 for curbside pickup; they are closed on Mondays and hours vary the rest of the week, so check their website for the latest
Beer
Station 26 Brewing Co.
Park Hill
Along with cans and crowlers, Station 26 is upping the beer to-go game, literally, with sixtels. Right now, they've got their Juicy Banger IPA and Tangerine Cream available so you can keep your kegerator pouring for a long time to come. They've also got food trucks on site so you can grab some eats when you pick up your brews.
How to order:Use this form and check their website for the latest hours
Woods Boss Brewing
Five Points
Their taproom may not be open for a pint, but Woods Boss is still open for pickup and recently added a free delivery option for select zip codes near the brewery. All selections are available in crowlers. If a little day drinking is in your future (if you haven't already been doing that), their Start'n'Early Lager is literally made for that. Other options include their Hisolda, an Irish cream stout (for that belated St. Paddy's celebration) and Fruity Flash kettle sour.
How to order:Online via their store for delivery and pickup available 7 days a week from 2-7pm
Ratio Beerworks
RiNo
Ratio's known for hosting rad events at their taproom, and while they can't do that at the moment, they do now have pickup and delivery within 3 miles of the taproom available. There's a $30 minimum for delivery, but that shouldn't be hard to hit with choices like their Genius Wizard Bourbon Barrel-Aged Stout, Loveless Raspberry Blackberry Dark Sour, and Sparks Fly Juicy IPA.
How to order:Via their website
The Post Brewing Co.
Rosedale, Lafayette, Longmont, and Boulder
No one does fried chicken and beer on the Front Range as well as The Post, and they're still open and bringing you both of those things at all four of their locations. From fried chicken family packs to plates, sandwiches, and their house-made desserts (get a whoopies pie), everything here tastes better with a brew. Get beers and Stem Ciders by the can, wine by the bottle, and 6 or 12 packs of Howdy, their Western pilsner. And heads up, service industry workers: Whether you're currently still pulling shifts or were recently laid off, you can get a two piece fried chicken meal with slaw or fries, and a biscuit for $13.
How to order: Order online or call 720-466-5699 from 11:30am-7:30pm daily
Delivery
Argonaut Liquor
Capitol Hill
A popular spot for all things booze in normal times, Argonaut's seeing plenty of business right now. They're currently open from 8am-8pm, seven days a week, but they are not currently taking pre-orders for pickups. They are, however, taking a limited amount of orders daily for same-day delivery with a five mile radius. The delivery fee starts at $10 and increases depending on your zip code.
How to order:Via their website
Bonnie Brae Liquor
Washington Park
This neighborhood store with a huge selection is still open for regular hours, and is offering pickup for pre-orders along with delivery throughout the Denver metro area. The delivery minimum is $20 with a $5 delivery fee (though that's subject to change, since they're updating their delivery area as needed).
How to order: Via their website
Molly's Spirits
Lakewood & Greenwood Village
This liquor store has a huge selection including some of their own branded wine, beer, and spirits. Both locations have new limited hours, but they're also both offering curbside pickup and delivery via Drizly.
How to order:Via their website
Handoff
Online
This recently launched alcohol recommendation and delivery service platform is stepping up to support local booze makers right now. All of the beer options listed are made in the Mile High and they've also partnered with two local liquor stores, Bonnie Brae Liquor and Mayfair Liquors, so you're supporting those businesses with every order too.
How to order: Handoff is available on the App Store, Google Play, Alexa, and Google Assistant
Sign up here for our daily Denver email and be the first to get all the food/drink/fun in town.
Molly Martin is a Denver-based freelance writer who's already finished off one large batch of to-go margaritas. Follow her @mollydbu on Instagram and Twitter for more updates from The Mile High.