Happy hour: that most pleasurable time of day, when work is over and cheap drinks are flowing like the mighty Colorado River. We know, you can go almost anywhere in Denver around 5:30pm on a weekday to catch a discount. But let's face it: not all happy hours are created equal. Don't waste any more time downing mediocre drinks for $1 off alongside easily forgettable food. In honor of every year you had to wait before legally drinking, we have the 21 Denver spots that will truly make you the happiest, with deals that go far beyond the basics.
Ballpark
Ophelia's is Justin Cucci's eclectic ode to this location's former life as a brothel. Even on a weeknight, it can be tough to score a table. But head in from 4-6pm Monday-Friday and you'll find a relaxed atmosphere and an expansive happy hour menu where everything is under $7. Options include select specialty cocktails (which are normally $10-$11) for just $5, along with an array of eats, like wagyu beef sliders ($5) and mushroom flatbread ($6).

Masterpiece Deli Lowry
Two words: Royal Rooster. When Justin Brunson started serving up these dreamy fried chicken sandwiches during a weekday, lunch-only pop-up at his meat-centric spot Old Major, they were immediately a hit. But now, there's no need to take an extra long lunch break to enjoy them, because you can score the sandiwches for just $6 during happy hour (Monday-Friday, 3-5:30pm) at Brunson's newest venture. Or maybe you'd rather pair this bar's specialty Manhattan with some chipotle wings ($5 each). Or, how about a burger plus a $3 PBR tallboy for only $8? Yeah, we'll see you there.

Five Points
Since opening in 2014, Work & Class has earned plenty of local and national recognition for its Latin & American comfort food. But even regulars will love the happy hour here (Tuesday-Friday, 4-6pm, Saturday-Sunday, 5-6pm) because it gives you exclusive access to items not found on the regular menu, PLUS drink options for every price. Don't skip the chile relleno ($5) paired with a $2 Utica for an early dinner that you can afford no matter how small that last paycheck was.
Highland
There's no need to rush to this happy hour, since it runs all day on Sundays and Tuesdays, as well as from 2-6pm Wednesday-Saturday. Spend an evening on the patio, scoping out the Downtown views and sampling anything (and everything) off a menu that includes zesty Baja shrimp tacos ($3) and some of the best mussels you'll find in town ($9). All the drinks on special are $5 or less, and include well spirits, cocktails, beer, and a selection of wines by the glass that rotate seasonally.

South Broadway
This small spot is easy to miss, but inside, you'll find a great place to enjoy after-work drinks and eats. Happy hour specials run 4-7pm Tuesday-Sunday, giving you plenty of time to sample $4 drinks like the Georgia Old Fashioned or a glass of wine. The food options for happy hour are simple, but they change regularly, so you'll be tempted to come back often to see what the current amuse bouche ($4.50) or dip of the day ($5) is. Plus, at 7pm, live music kicks off almost every night.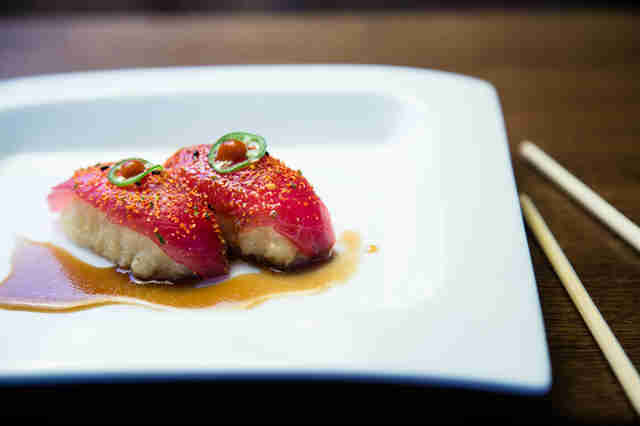 LoDo & Centennial
The happy hour menu here has more options than most other places' full menus, and the hours make catching these deals easy (Monday-Saturday, 3-6:30pm; Friday-Saturday 10:30pm-midnight; Sunday, 12-8pm). So if you like choices -- and sushi -- this is your spot. Martinis in every variety imaginable are $6 each, along with several cheap sake options, like $3.50 sake bombs.

Lincoln Park
Two happy hours equal twice the fun. Every day from 4-6pm and 10pm-12am, Interstate serves up discounted food and drinks in the Santa Fe Arts District, so you can hit 'em up early, scope out some galleries, then come back for a nightcap. And bring your friends, too: you can grab a cooler of cold ones -- that's five cans (yes, served in an actual mini-cooler) for $9. Hungry? Of course you are. All the happy hour food here is under $4. Try the lap dog, a mini bratwurst with house-made giardiniera for only $2, or share some bacon popcorn for $3.
Highland
Another Denver favorite from Justin Cucci, Linger, Ophelia's sister restaurant, kills it when it comes to happy hour (Monday-Friday, 4-6:30pm). The coffin-shaped menus pay homage to the building's past as Olinger Mortuary, but there's nothing creepy about what you can get here. $4 craft beers from breweries like Upslope and Station 26 will quench your thirst along with a selection of wine ($6/glass), and specialty cocktails ($5) like the gin-based, Thai basil-laced New Saigon. But the real bonus is the huge selection of small plates for $5 that show off what Linger does best: elevated, street food-inspired eats.

Jax Fish House & Oyster Bar LoDo & Glendale
Yes, Denver is far from the ocean, But that doesn't stop us from having amazing seafood -- much of which can be found at Jax. During happy hour (4-6pm daily), you can start your night with an oyster shooter (an East Coast oyster, vodka, and Bloody Mary mix for $3) before moving on to cocktails like the cucumber lemon press ($5). Then, fill up with food specials that include chicken & crawfish gumbo ($4), peel & eat shrimp ($6), and oysters for $1.50 each.
Capitol Hill
Frank Bonnano brought a small restaurant empire to Denver, opening place after place that we love (Luca, Bones, Mizuna). But when it come to happy hour, we head over to this low-key spot with Mediterranean-inspired eats. Offered from open-6pm Tuesday-Sunday and all day on Mondays, happy hour here features a variety of dips and sliders for $3 each, and $2.50 lettuce wraps. What we really love, though, is that most of the drink specials (which are also available from 11pm-close) involve both a beer and a shot. Cheers!
Union Station
Rioja's chef, Jennifer Jasinski, was the winner of the James Beard Foundation Award for Best Chef Southwest in 2013, and is a 2016 semifinalist for outstanding chef. If you haven't been here yet, what are you waiting for? "A great special," you mutter. Done. Head in Monday-Friday from 4-6pm for "Snack and Sips," Rioja's take on happy hour. It's only available in the bar, but you won't care where you're sitting once you're settled in and sampling four uniquely created snacks each paired with a wine or spirit for $15. Each week offers new flavors and pairings, so this late-afternoon stop will never be boring.

City Park West
Every day from 3-6pm, you can order up items like Humboldt's much-lauded crispy broccoli ($4), or a ham & cheese sandwich gone fancy with speck, pecorino, and mostarda jam ($6). And don't worry, there are plenty of drinks on special to wash down your meal, as well, like $4.50 craft beers, a selection of wines by the glass, and cocktails like the Orange is the New Grey ($6), an Earl Grey tea-spiked concoction.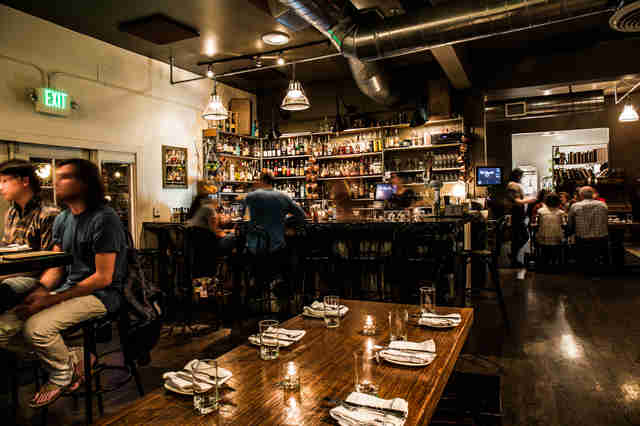 Five Points
The Populist has managed to transcend trendiness, becoming a favorite for both neighborhood regulars and those searching for a memorable meal. We'd come here for the gin & house-made tonic alone ($6), but thankfully, there's a lot more than that being offered during happy hour (Tuesday-Saturday, 5-7pm). Keep it simple with a Genesee lager and salt & vinegar popcorn ($2 each), or up your game with a glass of the rosé of the day and bi bim bap croquettes ($6 each).

Golden Triangle
This semi-hidden spot tucked away off Broadway is well-known to those in the neighborhood. But even if you don't live near Charcoal, the trek over for happy hour (Thursday-Monday, 4-6pm; all night Tuesday-Wednesday) is more than worth the effort. With Scandinavian-inspired eats, you'll find unique options here, like the $6 Swedish meatballs with lingonberries (way better than IKEA's), and the grilled sausage of the day ($5). Add in $4 beers and $5 wine & premium well liquor, and you have the makings of a fabulous evening ahead.

Ballpark
A happy hour that goes 'til 8pm? Yup, we're sold. Monday-Friday, 5-8pm, Fado offers half-off well drinks, martinis, and wine, along with $15 bottomless Odell pints. (And you thought bottomless was only for brunch.) With all that boozy goodness, food is essential, so it's a good thing there are $5 small plates, like a mini fish & chips cup, or Guinness BBQ wings, to round out the specials here.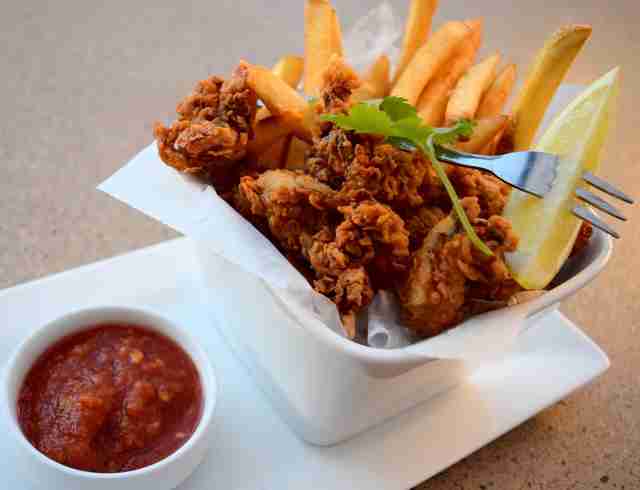 Lowry
Another place that's giving you access to all day happy hour (on Mondays, the most necessary day) is North County. Its specials also run Tuesday-Saturday, 3-6pm and 9pm-close, plus it adds daily specials into the mix, so there are tons of ways to get great discounts here. Start with one of the adult sodas, which are made and bottled in-house, for $2 off. Then, dive into an array of seafood, like the charcoal-grilled oysters ($2 each), or order up something more substantial, like the carne asada fries ($9) to share.

Kinga's Lounge City Park West
This place may be known more as a late-night stop along a very blurry Colfax bar crawl. But popping in for happy hour (available Monday-Friday, 4-7pm, and Saturday-Sunday, 3-6pm) will leave you craving the $5 Polish appetizers (like pierogi) on the regular. Burgers are also $5 during happy hour. And once you've filled up on cheap eats, order up a shot of one of their house-infused vodkas for $4 -- or hell, maybe just settle in for the night and go for a carafe (11 shots) for $25.

Capitol Hill
With four solid hours of happy hour haziness (Monday-Friday, 3-7pm) and a rooftop patio, this Irish-themed bar is an ideal warm-weather hangout. Its menu of $5 small plates is packed with comfort foods like the Corner of Colfax (its version of a Sloppy Joe) and fried pickles, along with some lighter options, like the wedge salad and house-made hummus. Drink specials are available during the regular happy hour, as well as on Saturdays 'til 5pm, and all day on Sundays, making it almost too easy to take advantage of the $3 well, $4 wines, and $1-off drafts.
Central Business District
Available every day from 2:30-6pm, Panzano gives you a solid three and a half hours of cheap drinking that's worth leaving work extra early for... especially when you can score specialty cocktails like Dear Rosemary, with rosemary-infused gin, limoncello, and lavender bitters for $6. Food comes in the form of small plates priced from $5-$8, and includes everything from local goat cheese with truffle honey & crostini, to porchetta di coniglio, a​ boneless rabbit roast wrapped in pancetta, over creamy polenta, and topped with hunter sauce... in other words, not your typical burger & fries.

City Park & Highland
The sign here reads simply, "Tacos, Tequila, Whiskey," and what more could you want? Wait, you want $2 beers and sliders to go along with that $4 coin style margarita? Fine. And chipotle deviled eggs and a house-made boozy soda for $3 each? Yeah, you can have that. Score these deals and more all day on Mondays (yay!) and 3-6pm the rest of the week.

Speer
Avoid the inevitable brunch rush that swarms this place, and instead, catch the magic Monday-Friday 5-6:30pm happy hour. Hit the counter to grab the "Nosh and 'Tails" menu, and score speciality cocktails for $6, wines for $7, and draft beer for $4, all while sampling a rotating menu of specially created dishes like kale pesto raviolo ($5) or grilled salmon with roasted asparagus, toasted pistachios, and ginger vinaigrette ($6).
Sign up here for our daily Denver email and be the first to get all the food/drink/fun in town.
Molly Martin is a freelance writer in Denver, CO, who likes her booze cheap & strong. Follow her @mollydbu on Twitter and Instagram to keep up with her happy-hour adventures.