Our Local Beer Expert Tells You the Best Fall Brews Coming to Denver This October
Courtesy of Ratio Beerworks
Courtesy of Ratio Beerworks
It doesn't matter how you feel about pumpkin beers. The masses have spoken and the frothy gourd-flavored seasonals are here to stay. However, many breweries aren't stopping there, and have created unique (and limited) variations of IPAs and Märzens (aka Oktoberfest-style beers) that are perfect autumnal substitutes if kegs of pumpkin beer aren't your thing.
So we tapped Drew Watson, local beer guru and co-owner/founder of Hops & Pie, to wax poetic on his favorite beers hitting the shelves this autumn -- many of which won't be around come November!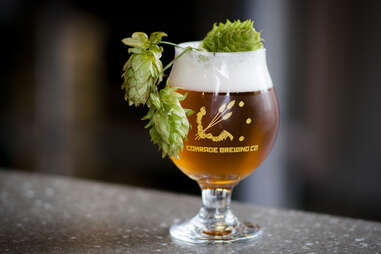 Superdamp Fresh Hop IPA
7%
Comrade Brewing
"It's just so sticky and fresh," Watson says of Comrade's beloved Superpower IPA made with organic hops from Paonia that are thrown into the brewing process within 24 hours of harvest (making this a wet hop beer). This process gives Superdamp an incredibly hoppy smell/flavor that IPA lovers will be drawn to.
Fresh Hop Juicy Banger IPA
6.7%
Station 26
The brewers refer to their mass of wet, Colorado-grown Cascade and Chinook hops as a "hop bomb" and the resulting fresh brew is what Watson can only describe as phenomenal. "It's one of the tastiest IPAs I've had." It's moderately bitter, but is an easier drinker than you'd expect for a 6.7ABV brew.
More Like Bore-O-Phyll IPA
6.7%
Call to Arms
Call to Arms has made an IPA that's both wet hopped and dry hopped. The result is an extremely flavorful beverage with, naturally, a hint of chlorophyll. It's also made using the hop flower's best petals, giving you a hoppy aroma -- as well as notes of citrus and pine.
Well Oiled Machine IPA
6.5%
Comrade Brewing
This is Comrade's Putsch black IPA in a wet hops extravaganza that's only available on tap. In spite of its blackness, the brew has a distinctly citrus aroma and is accented by roasted German specialty malts and flaked rye.
Pumpkin Porter
5.7%
Strange Craft
Pumpkin-y with overtones of toffee and burnt chocolate, Strange Craft's Pumpkin Porter holds a special place for Watson. The brewery used it to make the house beer at Hops & Pie in the early days and would roast pumpkins for its fall brew in Watson's pizza oven. These days Pumpkin Porter bombers can be found in stores all over the Front Range, and the pumpkins are now roasted in an industrial-sized convection oven.
Stay Gold Oktoberfest
5.3%
Ratio Beerworks
When it comes to the clean and roasty style of a good Märzen, Watson had this to say: "There is a lot of mediocrity out there. They have to be well-vetted before we put them on. And this one is lovely." Ratio models its recipe from classic Bavarian Märzen, aiming not for spicy and heavy, but for "quenchable" and "malt-forward." The result is a golden beer with a medium body that sits great in an Oktoberfest liter.
Imperial Pumpkin
9%
Dry Dock
Sporting a Halloween-friendly label complete with a skeleton pirate and sinister Jack-o'-lanterns, Watson places Dry Dock's pumpkin beers on his "always reliable" list, particularly this high-alcohol variety rich in cinnamon, ginger, nutmeg, and cloves, which gives the brew a particularly spicy fragrance that mutes some of the pumpkin taste, so what you're getting isn't too overwhelming on the palate.
Pumpkin ale
7.7%
Upslope
Watson isn't the only beer enthusiast to name Upslope's limited fall release as a rare standout. The Boulder brewery's recipe features freshly harvested baby bear pumpkins specially grown at neighboring Munson Farms and is the only Colorado beer to have won a gold medal at the Great American Beer Festival (2011). The end product is an ale with hints of nutmeg and pumpkin that won't overpower the taste buds.
Rumpkin
18%
Avery
That is not a typo. This heavy-hitter really does clock in at 18%. Made with locally grown Boulder pumpkins, the Rumpkin gets its spicy oak flavor from six months of aging in rum barrels. Watson's got one rule for it: "Here's the thing. A lot of pumpkin beers come out in July or August. It's become a race to hit the shelves for a lot of companies," Watson says. "But I won't even pour one until mid-October. I want to drink that stuff when I'm wearing a hooded sweatshirt and a beanie."
Sign up here for our daily Denver email and be the first to get all the food/drink/fun in town.
Shauna Farnell is a freelance writer living in Denver. Follow her on Twitter @shaunafarnell.