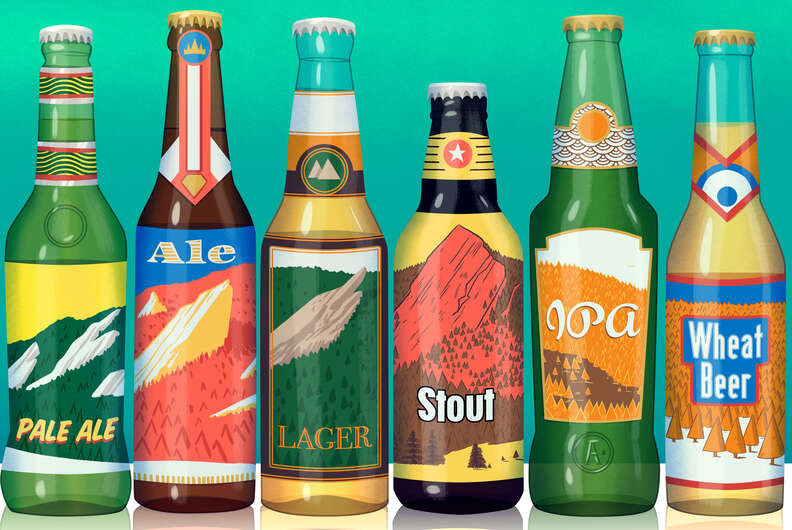 It may seem a bit bizarre that a town that's home to the Brewer's Association -- the trade group that represents most of the craft breweries in America, and produces the yearly Great American Beer Festival in Denver -- doesn't have more than 20 breweries. But Boulder isn't your average town. However, when you factor in that only 100,000 people live within the city limits, and Boulder's surrounded by a plethora of taprooms in places like Fort Collins and Denver, things begin to make a little more sense.
And so it goes, as the thirsty citizens of the People's Republic know all too well, the breweries here range from legendary ones that helped kick off the craft beer revolution to upstarts helping push the boundaries of what craft beer is today. Here are our favorite breweries in Boulder right now.
(Editor's note: This list does not include the venerable Mountain Sun chain of pubs since they also exist outside of Boulder -- this is a Boulder-only brewery roundup).
Avery Brewing Co.
Gunbarrel
It was announced back in April that Founders Brewing and Spanish beermaker Mahou San Miguel acquired 70% of the beloved brewery that started pouring back in 1993. Regardless, the beer has always been some of the best statewide. From its coveted barrel-aged releases to the bevy of rotating, taproom-only beers (doppelbocks! Berliner weisses! Other styles lesser brewers would surely screw up!) that are certainly worth the short trek from Downtown Boulder to Gunbarrel, Avery remains a fixture in the local brewing scene. And while the beer is obviously the top reason to swing by, the food should be a close second. The BBQ plate and barbacoa tacos are sure to satisfy carnivores, while the seitan shepherd's pie is appropriately hearty and perfect for the meat averse.
Key beers: The Reverend, El Gose
East Boulder
Most of the breweries you'll scroll through distribute a good chunk of their beers to liquor stores and restaurants around the state. Wild Woods does not. While you can find Ponderosa Porter and Treeline IPA in 22 ounce bombers, the majority of the beers are only available in the taproom. And said taproom is tucked in the back of an industrial park, but is decked out in so much wood it feels a bit like a cabin in the woods stocked with excellent beer. The year-round standout brews include S'mores Stout -- a roasty, chocolatey pint practically designed to satisfy on a snow day -- and BerryPatch Wheat, a strawberry-filled taste of summer. Before you go, check the brewery's calendar and time your visit when small-batch cask beers and barrel-aged brews are released.
Key beers: S'mores Stout, Treeline IPA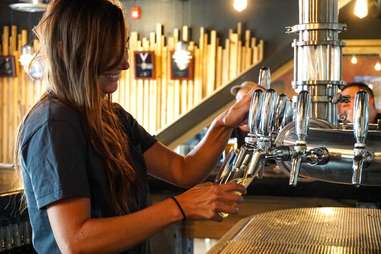 North Boulder
No one bats an eye now, but a brewery that only packages in cans was a calling card back in those heady days of 2008. Upslope has grown and improved its product since that time, winning GABF medals at a near yearly clip. The beermaker excels at everyday IPAs, but has never been afraid to craft approachable, quaffable brews with unconventional ingredients like Thai basil, black tea, and spruce tips. Swing by the Lee Hill taproom to fill up on empanadas (or anything from the rotating selection of food trucks parked outside), and if you time it right, a can of barrel-aged liquid perfection from the aptly named Lee Hill series. If you're in the mood for something lighter, you can always grab a can of Upslope's hard seltzer, another move that would be unthinkable in 2008.
Key beers: Brown Ale, Thai Style White IPA
Gunbarrel
In some ways, F&G is not playing around. It recently won a Gold Medal at GABF for its creamy, chocolatey Oatmeal Milk Stout. In other ways, it kind of is. There's those adorable, illustrated old-timey toys on its cans and actual old-timey toys in its taproom that you can waste away the night with -- everything from skittles and nok hockey, to classic games like Battleship and new-school party games created by another Boulderite. The family game night vibe is not accidental -- the brewery was founded by a father and son team who don't take themselves too seriously. But you can't forget why you're there: the beer. While the styles veer towards the standard offerings at most taprooms (cream ales, saisons, fruit beers), keep your eyes peeled for limited releases that push boundaries, including a recent lactose-free milkshake-style (?!) DIPA in collaboration with Uhl's Brewing made with pineapple, vanilla, and a boatload of hops.
Key beers: Oatmeal Milk Stout, Maltshake Series Brews
Arapahoe Ridge
It's safe to say this is the only brewery in town where the brewmaster is also so obsessed with ice cream, he has a scoop shop next door. If anything, it proves Ian Clark just likes to make stuff. That philosophy shines through in his beer, which includes 14 rotating brews of varying styles that've never been force carbonated with CO2. Highlights include the GABF medal-winning Loch Wee Scotch Ale and the lemony, refreshing Citrum IPA. But, again, this is a guy who likes experimenting, so be open to drinking anything that pairs well with what you order from the brewpub's menu. Fill up on small plates like the roasted cauliflower with yellow curry or any of the sourdough pizzas -- the namesake pie is made with an IPA tomato sauce. After a few beers and a slice or two, we dare you not to leave the shopping center without a waffle cone.
Key beers: Beezel, Citrum IPA
East Boulder
If you're going to name a brewery VisionQuest and make the same boring ass IPA everyone's had a million times, that'd be a real wasted opportunity. We're happy to announce that no such opportunity was wasted here. The same folks behind the Boulder Fermentation Supply shop next door decided to brew their own beer, and with eye-popping results. If Avery and Boulder Beer are the town's "old guard", VisionQuest is the shiny new thing, with sours like Space Jam made with raspberries, boysenberries, and zero fear of a cease and desist from LeBron; a marginally boozy Citrus Kombucha with grapefruit, lemon peel, and blood orange; and plenty of saisons, kolsches, and stouts too -- more approachable beers for those not totally into sours. Grab a board game, play a game of pinball or two, and chill in an industrial park with a weird, wild ale. Welcome to Boulder.
Key beers: Space Jam, Dark Alley
Transit Village
Not many breweries in America can celebrate 40 years in the beer business. But 10+ years before the OG Boulder brewery Avery opened its doors, there was Boulder Beer. And while you can still buy its cans in stores, paying a visit to the pub is key to discovering what this enduring brewery is all about. Live music, trivia nights, and plenty of daily food/drink specials (bottomless beermosas on the weekend, taco Tuesday deals, etc.) are why Boulderites keep coming back. Sure, you can order a New England-style IPA (Due East) or its classic golden ale (Buffalo Gold), but when the temps dip in Boulder and the snow begins to fall, there's nothing like the Shake Chocolate Porter to keep you warm. As an added bonus, it's one of the few breweries with a serious menu, from in-house smoked meats to bison burgers and fried chicken sandwiches. Here's to another 40, Boulder Beer Co!
Key beers: Shake Chocolate Porter, Hazed & Infused
Sign up here for our daily Denver email and be the first to get all the food/drink/fun in town.
Lee Breslouer is a writer and editor in Colorado. He takes photos of beer, coffee, and junk food at @LeeBreslouer.