Being the biggest city in a state that's ranked number one in gross beer production (as in "total", not like... gross) in the entire US, Denver's prodigious breweries occasionally have to take things a step further if they're going to stand out. How? By letting you get a taste of the action right at the source -- these are Mile High's best taprooms.
Recommended Video
The Mexican-Style Grasshopper Tacos You Have to Try When You're in South Beach
The Beer:  OMFM&B are crafting malt-forward beers using house-roasted malt from Alamosa, which yeilds six to eight suds on tap, including seasonal changes like the crowd/brewer favorite, Chinook Red Ale.
The Vibe: The dudes behind Mutual wanted the taproom "they would hang out in", and apparently they wanted to hang out in a slightly divey, modern-industrial grey-walled space, because that's exactly what they do -- You'll see 'em in here all the time.
The Value: Their pours are $5-6 and tasters are at $1. Pretty solid.
The Beer: The beer beasts at TRVE take your generic base brews and crank them up to 11 by adding their own tweaks -- they're pouring suds like Hellion (session ale loaded w/ oats), Diotima (saison given a kick w/ Chinese smoked tea) and the wonderful Wanderlust (a Belgo-American pale ale fusion) in their their eight-tap tasting room.
The Vibe: Black walls, dark, heavy wood tables, and Deicide blaring through their speakers... TRVE is the heavy-metal, beer-fueled Valhalla.
The Value: 3oz tasters of the good stuff are only a buck and pints are moderately priced.
The Beer: The folks at Black Shirt Brewing make red beers ("Red Shirt Brewing" was already taken), and while that may seem limiting, they brew everything from IPAs to porters to saisons by adding their unique amber and red tweaks. Recent expansions have allowed BSB to start bottling and canning their house favorites.
The Vibe: The red door that pays homage to the beer brewed inside is the only color you'll see once you enter BSB's inviting RiNo taproom. The tables are industrial, the walls are gray and the brewers wear black shirts (go figure).
The Value: $2.50 for half pours and $5 to add the other half. $14 for their growler refills.
The Beer: The folks at Former Future are all about going out with the old and in with the new (or maybe the other way around?). Head-honch James Howat is a former homebrewer who's using his "science background" to re-create recipes from the 1800s (a New World cream ale, a chocolate milk stout, a single-strain yeast saison, etc.). They're currently operating with five beers on tap, but plan on holding four core beers and four rotating seasonal suds in the imminent future.
The Vibe: You may notice the bar you're resting your elbows on is made from polished, reclaimed Cessna airplane wings. Now that you've noticed, get your elbows off the table!
The Value: Moderately priced pours.
The Beer: This less-than-a-year-old brewery is running with seven of the possible twenty taps they house (talk about untapped potential! Get it??), but they've started out strong with high-octane numbers like First Descent -- an old-style ale that throws 13% ABV in your face. If you don't feel like getting housed on two beers, they also offer more session-style pours, like saisons and American IPAs.
The Vibe: A couple of mountaineering buddies got together and started a brewery and taproom big enough to house a mountain. With an ever-changing food truck schedule and taps being added weekly, you'll need the extra space for your expanding beer gut.
The Value: Beers start at $6 a brew.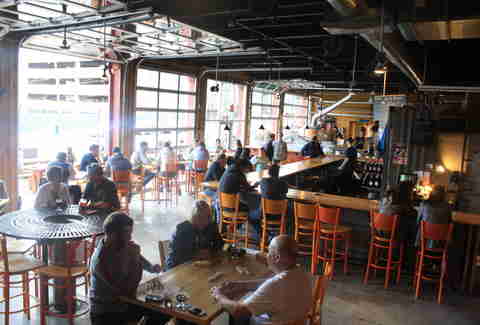 The Beer: Suggest that they brew their next batch of beer with Skittles and M&M's, and the hopheads at DBC just might do it (seriously though, don't suggest that). Throwing unique flavors into classically styled beers, DBC has been able to craft a wide selection on a seasonally changing tap list; pumpkin-style ales in the Winter, kaffir lime wheat beers in the warmer months (so every other month in Denver?) and the GABF medal-winning Graham Cracker Porter everyday.
The Vibe: Located along Platte St., DBC will be one of the largest, most cleanly laid out taprooms you'll come across. It's big enough for everyone, even for your four-legged compadres.
The Value: The suds range from $5-7. They also dish out some warm , giant, and cheap pretzels for ballast.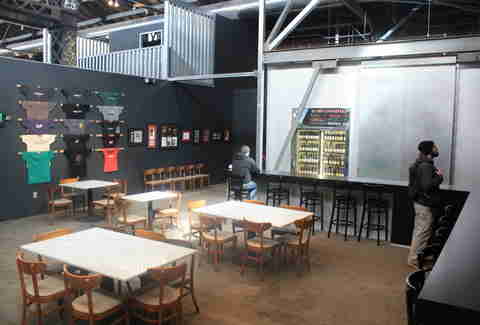 The Beer: Crooked Stave specializes in sour and bitter beers that often have varying high notes of citrus, like those in their Wild Wild Bret series. They also don't mind doing some cool collabs with other craft breweries, as in their Ferus Fluxus (or "Wild Flow") series. 
The Vibe: Located in the seriously cool and hyper-edgy The Source building, this brewery is tucked in the back. They go for a simple, straightforward approach to their taproom to counter their complex, atypical brews.
The Value: Full glasses peak at $10 while tasters range from $2-4.
Sign up here for our daily Denver email and be the first to get all the food/drink/fun in town.