In Denver there are literally hundreds of shops where you can grab everything from a simple cup of joe to handcrafted lattes with house-made syrups and everything in between. Everyone has a go-to spot for a different reason. And those reasons might be a little different these days. You're probably not posting up with your laptop for an all day work session anywhere but your house, and many spots are only open for to-go service. But when it comes to getting your caffeine fix, there are definitely some essential Mile High go-to's so next time that coffee-craving hits, these are the spots you need to hit up.
Baker & Wheat Ridge
Both locations of Bardo offer homey vibes, tasty lattes of both the coffee and tea variety, and both are open for socially distant in-house seating as well as pickup. The Baker location has free lot parking so you don't need to mess with meters, and they're currently doing delivery so you don't even need to leave the house. If you do decide to stay for a bit, both locations have Wi-Fi, plus you also get access to a color printer. The big bonus: They're open daily until midnight for anyone whose productivity really kicks in after dark.
Capitol Hill
From the plants growing on the walls to the geometric designs on the bar, this coffee house has modern decor down. Come for the bright, welcoming atmosphere, stay for the craft coffee and -- bonus -- some amazing cocktails. Pair your caffeinated or boozy beverage with a cheese plate and some smoked bacon pate -- they've also added online ordering so pickup is a zero stress situation.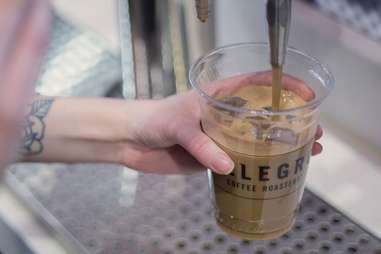 Berkeley
This spot's been all about sustainable practices since before that term was commonplace. For over 40 years, they've been committed to partnering with farmers that are environmentally conscious and their approach just keeps on evolving. On top of that, the space is open and bright, the Internet is strong, the music's kept at a work-friendly volume, and the parking is free so it's a nice place to grab an espresso and light lunch if you need a break from the home office.
Five Points
Tired of taking your lunch break in your own kitchen? This spot with stellar food, and coffee is back open for dining in by reservation only. The coffee is from local roaster Boxcar, but the real draw here remains the fact that you can get a solid cup and super satisfying eats. Pick from small or large plates like the sourdough waffles or the amped up breakfast sandwich with ham (or avocado), sriracha mayo, eggs, local arugula, and house-made tomato chutney on a brioche bun. Pickup and delivery -- by bicycle! -- is also available.
Highland & RiNo
Each month, this spot features coffee from a different roaster that excels in three pillars: quality, sustainability, and community. This rotating, curated approach is unique and keeps the experience fresh. You can also opt for other specialty selections like CBD coffee, Japanese iced coffee, local kombucha on tap, and eats from community partners like La Fillette and Rebel Bread. They're currently open for to-go only and are not accepting cash at this time.
Elyria Swansea
This is more than a coffee shop. It's also a nonprofit that provides youth access to apprenticeships, giving them the chance to develop business and leadership skills to help them make moves as they take on adulting. The space is a former Jiffy Lube, so they've got that repurposed look down. Prodigy also houses a bike library where you can become a member and then gain access to some wheels. You can dine-in here again both inside and on their patio, and they've got some new food options too, including handheld waffles and breakfast burritos from Preito's. Skip the cash though -- they're accepting cards and Apple Pay only.
Dairy Block & Sunnyside
What started in 2011 as a backyard garage roasting operation is now a U.S. Roaster Championship winner with two cafe locations in Denver. Whether you go for an oat milk latte or drip coffee, you can be assured that you're going to get the best quality around. Both locations are to-go only for now, and they're offering order ahead options for curbside pickup so you can be 100% safe while grabbing that cold brew limeade (perfect for summer) or seasonal lavender rosemary latte.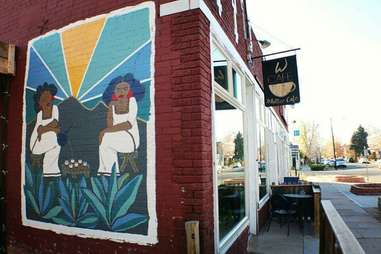 Whittier
Located in (and named after) one of Denver's lesser-known neighborhoods, this cafe is all about bringing together the community that surrounds it -- although, now they're doing that in social distancing-friendly ways. A diverse crowd, local art, and a completely unpretentious ambiance make this a place that's perfect for getting out of the house and sipping on your favorite beverage in a sunny spot on the patio.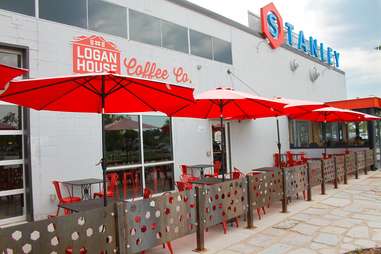 Aurora
The flagship location of Logan House (which originally started as a home delivery coffee service) is located in the Stanley Marketplace. That means a visit here also gives you the chance to support other local businesses in this community hub. Pop over to one of the restaurants for a lunch break, do some shopping, grab a bottle of wine for later, and maybe even sneak in a haircut, manicure, or workout without ever having to leave the building.
Highland
We could also use a little dose of calm these days, right? You'll find that here, thanks to their simple clean design with plenty of natural light, high-quality coffee, and a selection of grocery essentials (read: snacks). Method is an ideal escape from these oh-so-strange times, whether you opt to stick around for a few or just swing by for a pick-me-up to-go.
Washington Park West
This is not your shiny new, sleek, photo-ready coffee shop. Which is a really great thing if your speed is more cozy, neighborhood go-to. This is a shop made for regulars, where you can settle into a patio spot (inside seating is currently not available) with your favorite mismatched mug. Plus, you've got easy access to Wash Park if you need a quick break in the sunshine. And if you happen to catch the lavender marshmallow maté latte on special, order it.
Clayton
If the words "in-house" and "scratch made" get you excited, then this is your spot. No detail goes overlooked here, starting with the coffee, of course. They roast in house using green beans sourced from around the world, which means they have a pretty regular rotation of new selections for you to try. Their food comes with that same attention to details, and the entire kitchen is gluten free. They're only open for carryout right now, and you can order ahead for a simple and satisfying to-go experience.
Sign up here for our daily Denver email and be the first to get all the food/drink/fun in town.
Molly Martin is a freelance writer in Denver, Colorado who likes her green tea hot, her wifi signal strong, and her chair cozy. Follow her on Twitter and Instagram for more of her Mile High favorites.