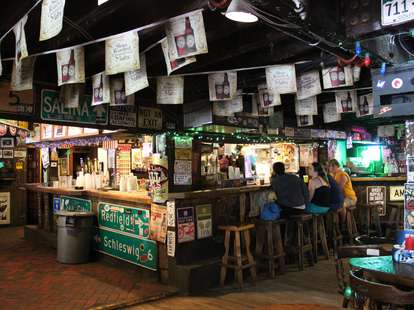 Drinking in Denver is always a fine choice (well, most of the time), but sometimes you aren't IN Denver. Sometimes you're elsewhere in Colorado, but what are you going to do, STOP drinking? Clearly that isn't an option. Luckily, these 12 excellent Colorado bars* outside Denver are very much options.
*For the purposes of this exercise, we're focused on bars, not breweries or brewpubs, which are nonetheless also good places to drink.
Evergreen
The Western-style saloon sits on the main street in Downtown Evergreen and definitely captures the throwback vibe with swinging saloon doors, brass cash registers, and wooden barstools. It's a welcoming (yet occasionally rowdy) place to hunker down and knock back a brew. There's live music from Tues-Sun, burgers courtesy of Rocky Mountain Natural Meats, and a cocktail menu that's as straightforward as it gets: wells, calls, and top-shelf.

Fort Collins
The Trailhead has large TVs, trivia, good food, and cheap drinks. There's not much more a college town bar needs, but wait -- there are $2 PBRs all day, every day! With happy hour from 11am-7pm daily, it's hard to miss out on such great drink deals.
Boulder
Definitively NOT named for your worldview after drinking here, Bitter Bar stands out among many fine Boulder establishments with its clean and creative cocktails. Oh, and also with its happy hour from 5-8pm Monday through Friday that features $5 classics like the Negroni and Silver Coin margarita. They have three cocktails readily on tap (like the gin, Domaine de Canton & lavender Kiss the Sky) as well as their house-made tonic. Eats-wise, this isn't exactly where you go to make a meal, but they do have cheese, charcuterie, and other nibble-worthy fare to keep you going.

Fort Collins
A serious beer bar in a serious beer town, The Mayor takes its name from a nickname one of the owners acquired in the real estate game before he realized opening a bar with 100 beers on tap would be much more fun. The tap list is appropriately Colorado-heavy (with plenty of fine offerings from elsewhere), while the menu's packing everything from green chili burgers to artichoke fritters to Buckeyes (aka chocolate-dipped peanut butter balls).

Fort Collins
This East Coast-style deli is half sandwich haven, half brewpub. This little local joint was started by CSU business students back in 1988 and has been serving up great sandwiches since. The bar always has craft brews on tap and delicious Bloody Marys made with pickle juice.
Durango
Known as the "Cheers" of Durango, this basement bar is usually filled with college students and other people who wish they were still in college. Throw on some tunes on the solid jukebox and take your pick from more than 100 beers, 38 of them on tap. When in Durango, why not go to the place where everybody knows your name? Okay, they probably don't, but they have Guinness BBQ ribs so who cares?

Keystone
Sitting at the base of Keystone Mountain, this is the kind of place you hit after a day on the slopes to devour an enormous, beefy burger, indulge in a few pints from an excellent tap list (made even more excellent during happy hour), and feel yourself getting warmer inside. There are also plenty of flat-screens in case you missed out on any critical sports happenings while in mid-ski.
Aspen
This classy bar has a modern ski-town charm with a strong focus on quality cocktails. Their drink menu is more of a cocktail bible with a HUGE selection, like drinks made with house-infused spirits, and even punch bowls filled with exotic libations. Live music's frequently happening, which is nice because, for real, you could be here a while navigating the 42-page menu.

Aspen
Tequila lovers can choose from more than 120 mezcals to enjoy, which may leave them more inclined towards (but less capable of) partaking in the tango and salsa going down every Saturday night. If a fresh-squeezed margarita isn't your thing, there is plenty of other top-notch cocktail action. The food menu's definitely a bit Aspen-y, but if you aren't prepared to shell out for a steak, there's always black truffled lobster mac & cheese.
Steamboat Springs
Whether you're stopping in for some grub or want to grab a beer without taking off your skis, the aptly named Slopeside remains a go-to regardless of season. The location at the base of the mountain and the outside patio make this place ideal for the ski-in/ski-out experience. It doesn't hurt that they have two happy hours each day. It also doesn't hurt that they occasionally bust out an ice bar when the season's right.

Vail
This gem is hidden underground, but if you can find it, you shall be rewarded with great drink specials and king crab legs. The surf and turf definitely isn't typical bar food, but it's done well and it's also served in a laid-back, local atmosphere. If you're looking for something relaxed, affordable, and a little less Vail, The George is your spot.
Telluride
This quaint historic hotel houses the oldest bar in all of Telluride, which still has its original wooden bar and fixtures from 1895. Packed with pool tables, locals, and tourists from all over the world, this bar is worth your time no matter what season it is. Also attached to the hotel is the Chop House restaurant, which has gourmet dishes as well as a nitrogen wine bar.