Anyone who's ever heard of a lil' city called "Denver" knows it's a place that's spoiled rotten with breweries (around 150 to be exact). And while the past couple of years has seen the bubble begin to burst with -- gasp -- closures of a few, some might say that means only the strong can survive.
What follows is a list of notable Denver area beer makers for the here and now. Whether they're brand spankin' new or are doing something remarkable, each and every one deserves a visit sooner than later.
Recommended Video
The 'Game of Thrones' Pop-Up Bar Is Now Open in Washington, DC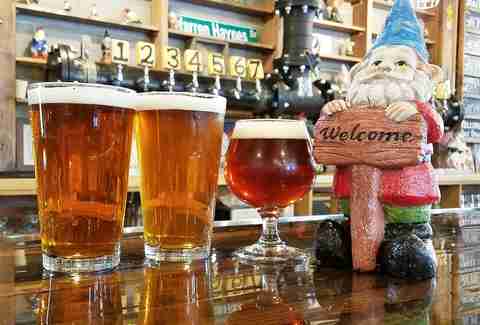 Berkeley
In-house ales and over 40 sandwich options, soundtracked by the Grateful Dead
The Gnome took its sweet time opening up, but it's been worth the wait. There's a sandwich shop, brewery, bar and a Grateful Dead listening party all together, all under one roof. You want food? There are 48 varieties of enormous sandwiches, including ones that utilize East Coast transplant-pleasing Boars Head, Taylor Ham, and Rosenberg's bagels. How about that beer? There are guest taps, sure, but do yourself a favor and order the stellar house brown, a mellow, rich take on the style.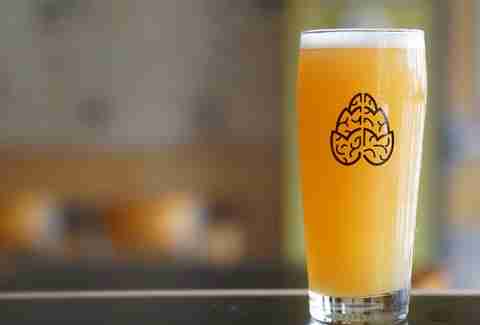 Congress Park
Powerful, brainy brews in a friendly, local spot
Cerebral takes a, well, scholarly approach to its beer making, and most of the beers are not for the faint of heart. Saisons, sours, double IPAs and dark stouts populate the menu and a lot of the best ones -- like its house IPA, Rare Trait -- pack a mean punch. Luckily, Cerebral is a consummate neighborhood brewery, with much of its clientele walking over to take advantage of its daily food trucks, free pretzels, and strong WiFi connection. You can think while you drink at Cerebral... it'll just all fall to pieces by your third glass.
West Highland
An Egyptian-themed O.G. is resurrected and better than ever
On a recent visit to Oasis, I got to chatting with the fellow next to me and he started talking about how, as a child in Colorado, he always remembered Oasis's well-designed, Egypt-centric beer labels. And I was like, "Same!" Even though we couldn't drink it at the time, many youths of the '90s remember well Oasis beers in the fridge. And, now, Oasis is back. Re-launched in November, the sleek space in the belly of an old church is a must-see. And the beers? The old recipes have returned -- as have some new ones -- and you'd be wise to try the Capstone E.S.B. and Tut Brown Ale.
Five Points
Teutonic tipples housed in a cavernous amusement park for adults
If the name didn't give it away, Bierstadt specializes in German lagers. There's a crisp pils, crushable helles and a malty dunkel. And while Bierstadt's beers -- and the corresponding glassware -- are becoming easier to find across the Front Range, you'll want to make a trip to its production spot housed inside the mammoth facility it shares with C Squared Ciders (yep, ciders) and the Rackhouse (food). It's kinda like a playground for adults, complete with games -- video and otherwise -- and Bierstadt's extremely rad, traditional German brewing equipment.
Five Points
The Fort Collins legend moves into Denver's hippest hood
Wait, how can a Fort Collins brewery crack this list? Well, because the venerated Odell has staked ground on Larimer Street. And when one of the best breweries in the world -- NAY, universe -- lands in Denver, it's worth shouting about. It's new, intimate taproom boasts lots of Odell standards (90 Shilling, Easy Street Wheat and so forth) but what makes it a destination is its small batch one-offs like big IPAs and tart sours. Need another reason to visit? Check out the impressive patio.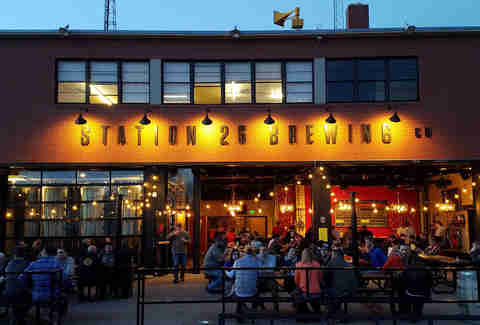 Northeast Park Hill
Juicy Banger's birthplace boasts one of the best patios in town
Station 26 has been around for a while, you say. What makes it so special now, you ask? Because they're finally canning Juicy Banger! Awww yeahhh. The game-changing, hazy IPA is a lot easier to nab across the state, now, but you should still visit its home base -- housed in a former firehouse -- for a fresh glass. Once there, you'll find that Station 26 has its own food truck and that same, expansive, sundrenched patio. If you want a destination date, make it the second Sunday of every month for the bluegrass brunch.
Baker
The idiosyncratic brewers: now with even more metal
Indeed, TRVE is no newbie, either. So, why go right now? Because Denver's heavy metal brewery has added, well, even more metal. This tattooed crew is canning now. So, when you come into the Broadway taproom to bang your head, now there are even more options to bring home. Regular visits are advisable, whether for its weekley one-off keg or old faves like Stout O))) or the New England-style pale, Scorn.
Five Points
Coors Field's brewery, back to what made it great in the first place
Not only is a visit to the brewery inside of Coors Field required for every Rockies game, there's even more reason to do so now. Since the debut of Blue Moon's RiNo location in 2016, the brewers at the Sandlot now have more freedom to brew their own batches. That means the reintroduction of Belly Slide Wit (the original iteration of Blue Moon) and a focus on its original reason for being: German-style lagers. Not to be missed this season is a lager commemorating the 25th anniversary of the baseball team.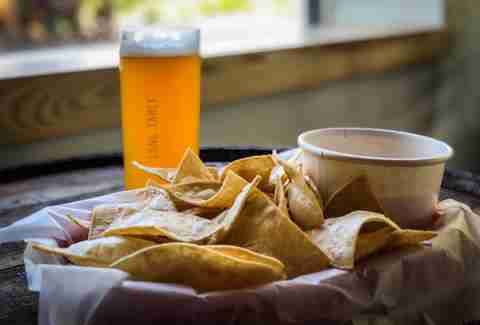 North Park Hill
High five some dads as you quaff a wide spectrum of nice beers
Launching a brewery is no easy task, not least of all because maintaining some level of consistency early on is a rough task. Long Table has its shit together, though, and most of its beers a eminently drinkable, perhaps most notably a smooth English bitter. It's stroller city, here, as you might imagine in this stretch of Park Hill but that doesn't mean most of the dads aren't ready to party in the taproom or out on the shaded patio.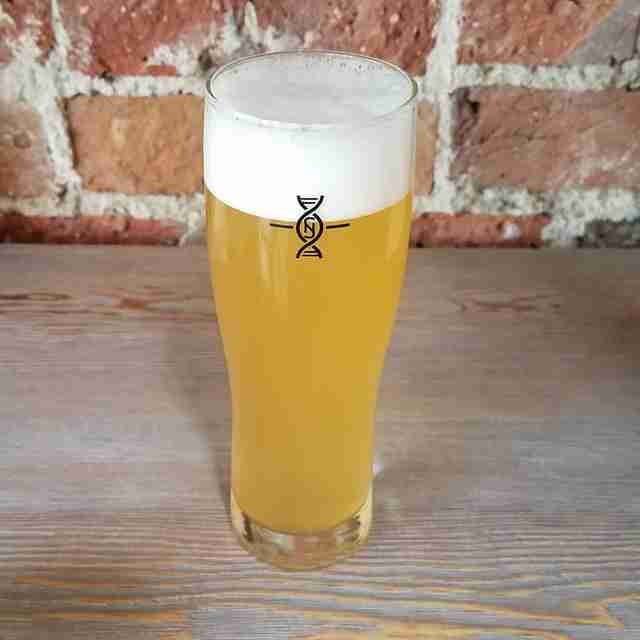 Baker
Small batches and a small space are a recipe for success
The just-opened Novel Strand is starting small. It's hours only range from Thursday through Sunday and shares its space with the Queen City Coffee Collective. Its debut menu features a handful of beers, including an IPA, a stout, and a wit. Its taproom is cozy. And it's all quite, well, novel. Why? Because overexpansion and overreach have doomed many a Colorado brewery (and many to come). But here's to a long go for this solid neighborhood joint.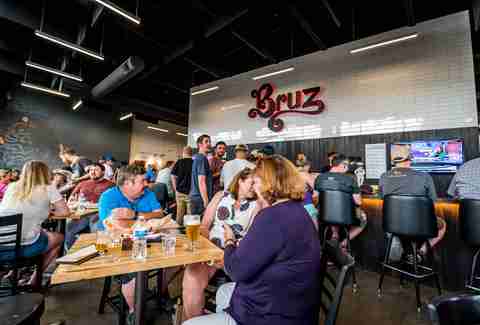 Adams County
Ballsy brews that'd make any Belgian blush
Bruz is a little off the beaten path but that works just fine for its M.O., crafting big, bold Belgian beers. The spot is large and polished, much like its beers. Skip the wimpy stuff and head right in for the Valor golden ale and the King Quadrupel. Both are brimming with complexity... and alcohol. Come to think of it, save a lil' extra money for an Uber or Lyft when you visit.
Jefferson Park
Come for the beer, stay for the food
When you step into Briar Common, it feels a little bit more like a restaurant than a brewery. That's because there's a full bar and it's cranking out a fancy schmancy menu stewarded by DJ Nagle, who cut his teeth at well-respected Denver eateries like Humboldt: Farm Fish Wine and Blue Island Oyster Bar. (Whatever you do at Briar Common, get the deviled eggs.) The beers are on point, too. Start with the house beer, a pale ale that balances hoppiness and maltiness like a boss.
Sign up here for our daily Denver email and be the first to get all the food/drink/fun in town.