It can be easy to get caught up in all the "new" happening in Denver these days. Have you eaten at those new restaurants? Seen a show at that new venue? Sipped the mezcal paloma with house-infused cardamom shrub at that new bar? And as new Denver emerges, we need to come together to appreciate and protect one of our most prized establishments: the dive bar.
Though dirt cheap drinks and bathroom graffiti are a perfect pair, they're getting rarer and rarer in the Mile High. But it doesn't have to be like that. We can do better. We can settle in to a stool at these essential Denver dives and go all in on every drink special, greasy plate of food, and bar game you can find. And by god, we will.
LoDo
The jazziest dive in town
In the middle of LoDo's bro-centric scene is "the Pec," a late night institution lauded for jazz and strong drinks since it opened the day after prohibition was repealed in 1933. Since then, it's seen the likes of Frank Sinatra, Mick Jagger, and Bill Clinton, along with a whole lot of locals who keep on coming for the live music and cocktails from the cash-only bar. Nowadays, there's usually a small cover to get in, but it's more than worth the price to experience this legendary venue. And while you should probably skip the Mexican fare served up in the kitchen, do go for their signature shot: tequila + creme de mint (complete with an edible grasshopper in honor of their name which translates to "the hill of grasshopper").
Capitol Hill
The quintessential Colfax destination
Over its 60+ years as a Colfax staple, this bar's seen a lot. Even Bob Dylan spent time bellying up to the bar, which is just one story you might hear if you strike up a conversation with any of the regulars who frequent this spot from 8am-2am daily -- which you definitely should. Bottom line: the drinks are cheap, the jukebox is cheaper, and the creepy clown painting is iconic.
Washington Park West
Home of the best, cheapest bar burger special
Not only can you get into all the regular divey hijinks here (we're talking shuffleboard, giant Jenga, darts, etc.), their kitchen also happens to serve some ridiculous deals. There are other great bar burgers in town, but Candlelight's $4.00 burger ($4.50 if you add cheese) that's available during select hours on Sundays and Mondays is literally a greasy homage to the simplistic burger we all grew up with. Pair one of those with a conversation with the somehow always-friendly staff and any of their daily $4 booze specials and you just might find yourself becoming a regular at this south Denver staple.
Edgewater
It's got the best view. Seriously.
Ok, sure. "It's got a great view" isn't something you typically hear about a dive bar. Nor is it something you typically look for in a dive. But that doesn't mean it's not a nice perk. 'Cause when you're downing $2.50 brown paper bag mystery shots, a patio with a waterfront view can quickly become a welcome escape from the appropriately dim interior. Beyond hitting many of the dive bar essentials (cash-only bar, solid jukebox selection, pool table, well worn upholstery on the booths), the prices are just as throwback as the vibes. I mean, $8 pitchers, anyone?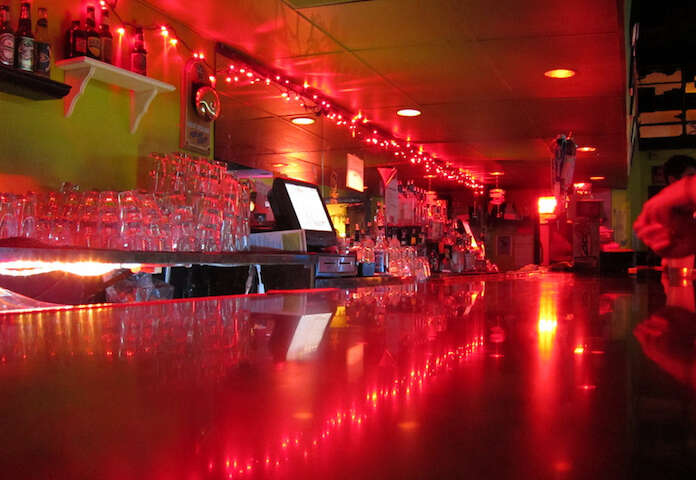 South Broadway
The go-to dive for live music
Not to be mistaken with the Dive Inn (something that happens often, warn your tipsy friends that you're trying to meet up with), this South Broadway staple is famous for being an intimate music venue. A show here is similar to having your favorite band playing right in your house (except they can't trash it after). If you need a couple of other reasons to go (aside from the awesome live music), the drinks are cheap and Sputnik is cookin' up some damn good food right next door.
Platt Park
The only spot in Denver where you can drink on a boat
This Broadway go-to known for its all day, everyday drink specials -- including a list of $4 shots -- hasn't quite been around long enough to acquire the amount of old-school dust and grime found at other Denver dives. But there are plenty of games to keep you busy while you drink, including ping pong, pool, foosball, and arcade classics. And they also serve up some decent, booze-absorbing Tex-Mex. Oh yeah, about that boat. Nothing says "successful dive bar adventure" quite like a tale about the time you did shots in the captain's seat with someone who claimed to be related to John Elway (we cannot confirm nor deny the validity of this story).
Five Points
The new spot that's keeping old Denver alive
When Phil's Place closed in October 2018, it was a somber moment as the city mourned the loss of yet another low-key neighborhood fave in an area of town that's quickly become the center of trendiness. But instead of the building being scrapped or remodeled beyond recognition, it was taken over by a team of women who have continued to honor the memory of Phil's with minimal changes (save the name) and a commitment to remaining a "embassy" of sorts for those remaining longtime locals of the neighborhood. Cheap drink specials remain, as do the beloved Mexican recipes from former owner Junie Garcia (which include green chile and fried tacos). And while you can now opt to order a $10 Old Fashioned if you're feeling a little extra snazzy, you can also simply spend your time sipped a Montucky's Cold Snack on the patio out back, fully content.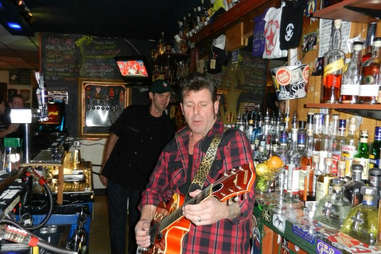 LoDo
A LoDo oasis for your dive bar needs
Yes, The Pec is just a block away, but these are dives of different kinds -- the Pec's got jazz and history on its side, and Star Bar, well, it's where you go when you just want a strong drink. Period. The bartenders are also wayyy more knowledgeable than your average dive bar drink slingers so while you can totally just get a 7 and 7, you can also chat them up about craft beer or opt for an Old Fashioned with respectable results. In addition to their wide array of Colorado craft beers and tasty cocktails, they offer karaoke on Tuesday and Thursday nights, skeeball, and an outdoor bar/lounge area equipped with adult slushies.
Five Points
A sticky-floored haven in the middle of Downtown
If you like your dives dirty, then this will be your new favorite spot. Despite Denver's unrelenting evolution toward shiny, new hangouts with cocktails that cost double digits, this low-key institution remains a not-at-all glistening beacon in an otherwise empty parking lot on 21st and Champa (with a sign above the door that simply reads "Bar Bar"). As a handwritten sign above the bar will tell you, this spot is cash only, but you don't need a lot of dough to score a generously boozy cocktail or a $2 PBR. Bonus points for the pool tables in the back and the random live music you'll find despite the fact that there's no stage in sight.
Baker
The hidden-in-plain-sight gem
This is the kind of place you (yes, you) have probably walked by a million times on your way to Punch Bowl Social or Illegal Pete's and somehow, never noticed. But step inside and you'll find a world of dive bar wonder run by a guy named Barry, whose family has been in the Denver bar business for decades. The service can be...sassy, but in that way that makes you feel like you've accomplished something every time you get a drink. And said drinks are cheap, as they should be at any respectable dive. Plus, if you hit a certain high score (the details of which are as blurry as nights at Barry's) on the skeeball machine, you can even snag free drinks.
Sign up here for our daily Denver email and be the first to get all the food/drink/fun in town.
Molly Martin is a freelance writer in Denver, Colorado who will kick your ass at shuffleboard (after a few vodka tonics). Follow her boozy adventures @mollydbu on Twitter and Instagram.