The 10 Fall beers any booze-loving Coloradan must drink
With so many new beers released for Fall, it's tough to know what'll be good and what'll be so bad you'll use it to brush your teeth with, Ke$ha-style. To stop you from ever having anything in common with Ke$ha, we asked five local beer experts to tell us what you should be drinking this Fall.
PJ Hoberman, Denver Off The Wagon
TRVE Brewing's Diotima (Saison/Farmhouse Ale, 5.70% ABV)
PJ says: "TRVE's Diotima is fantastic. It's a gentle transition from the hot days of August into the ridiculously bipolar weather of the Fall in Denver. The malty, smoky, Lapsong tea brew is just what I want right this second. And it's on tap again next week. Like most of TRVE's beers, there's no style guideline to follow here. It's just good beer."
Great Divide's Rumble IPA (American IPA, 7.10% ABV)
PJ says: "I'd also pick Great Divide's Rumble IPA. This beer carries some amazing flavors from aging the beer in oak and the heavy-handed malt additions. I want to drink this while still wearing shorts, but with a big Yeti hoodie on, because I'm an idiot and it dropped 20 degrees and now I'm freezing but still hanging out on the patio at Great Divide."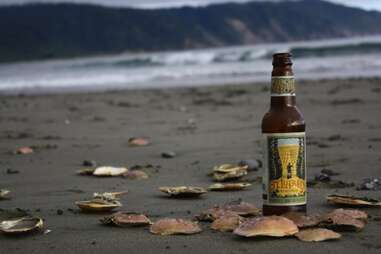 Charlie Berger, Co-Owner of Denver Beer Company
Odell's St Lupulin (American Pale Ale, 6.50% ABV)
Charlie says: "Odell's St Lupulin is such a crisp, clean, resinous, hoppy beer. Right down my alley."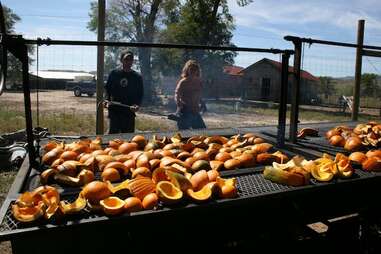 Bristol Brewing's Venetucci Pumpkin Ale (Pumpkin Ale, 5.60% ABV)
Charlie says: "For me, Venetucci Pumpkin reminds me that craft beer is so much more than just the beer. It is about community, and giving back. They give 100% of the profits back to the community farm that they source the pumpkins from. It is a wonderful pumpkin brew to sip as the nights get crisp and the sun goes down earlier and earlier."
Dave Butler, Fermentedly Challenged
Telluride Brewing Company's Face Down Brown Ale (American Brown Ale, 5.7% ABV)
Dave says: "With the coming of Fall, tastes start changing over to darker-style beers. Telluride Brewing has come up with a medal-winning brew that has a medium body, rich aroma, and tastes of chocolate, toffee, and coffee, and a bitter finish like an IPA. Not your average brown ale -- this one will surprise you. It's dark, but not too heavy. If you're not a fan of brown ales, this one will change your mind."
Grimm Brothers Brewhouse's Fearless Youth (Munich Dunkel Lager, 5.30% ABV)
Dave says: "For me, Fall and dunkels just seem to go together. This German-style lager has a rich hop aroma mixed with roasted sweet malts. The Fearless Youth has great body, light roast, and a hint of breadiness. This brew also has a creamy smoothness and is easy drinking."
Eric Gorski, The Denver Post
Upslope Brewing's Pumpkin Ale (Pumpkin Ale, 7.70% ABV)
Eric says: "Look no further than Boulder for your pumpkin ale fix. Upslope uses freshly harvested organic baby bear pumpkins from Munson Farms and a blend of spices from Savory Spice Shop. It won Great American Beer Festival Gold in 2011."
Verboten Brewing's Angry Banjo (Cream Ale, 5.80% ABV)
Eric says: "I tried Josh Granz's delicious interpretation of a Kentucky Common at the recent Fermentation Festival in Denver. It's a dark cream ale made with chocolate and caramel malts and flaked rice. The Kentucky Common is said to be one of only two beer styles indigenous to the United States, the California Common being the other."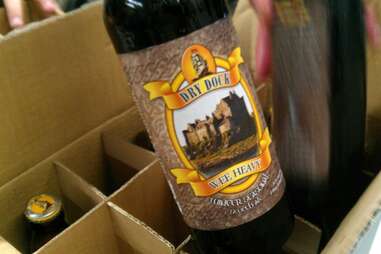 Brian O'Connell, Founder of Renegade Brewing Company
Dry Dock Brewing's Wee Heavy (Scotch Ale/Wee Heavy, 9.50% ABV)
Brian says: "Here's one of my favorite Fall beers: it's a Scotch Ale with a great color for Fall and a malty body that pairs with Fall foods like pumpkin or apple pie."
Renegade Brewing's Hammer and Sickle (Russian Imperial Stout, 9.00% ABV)
Brian says: "This beer has been a tap room favorite since the beginning and is going to be Renegade's newest canned beer. It's perfect for changing seasons. Instead of getting sad about colder weather, celebrate it with a heavy stout. This one has a roasty body and a dark chocolate finish that goes well with falling leaves and those early snowflakes. The beer is available now in our tap room and the Renegade Publik House, and will be available in cans starting late October."