You swiped right, they swiped right, and now it's time for the big date, or maybe some drinks (drinks are good!), and then later on, possibly -- well, let's not get TOO far ahead of ourselves. First you need to pick a bar, but luckily we've rounded up the 13 best first date bars in Denver for you already. You're welcome!
LoHi
We can't fathom what you'd have to do to screw up an evening at this artsy, moody ode to 1920s Paris: from the first absinthe drip to the last bite of fromage, Z Cuisine's adjacent bar was made for living la vie sexy.
Uptown
Will there be a second date? Ace is the place to find out. A round of ping-pong should offer all kinds of insights into your physical compatibility. A Scorpion Bowl for two will help establish your rapport. And a plate of fortune cookies just might show you what lies ahead (in bed).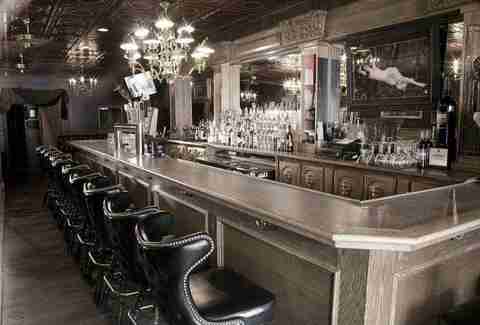 Congress Park
Actually, all three of Leigh Jones' and Margaret Moore's brainchildren -- the other two being Inga's Alpine Lounge and The Horseshoe Lounge -- are a good bet for a good time. They've all got the same winning combination of retro ambiance, laid-back attitude, a generous happy hour, and bar snacks nobody can deny. But this one, with its railroad-era antique look, is the most romantic of the bunch, and the jukebox is loaded with '80s tunes -- so if you're shy, you can let a power ballad express what you're feeling. (Or just wait until the boilermakers kick in.)
LoHi
Compared to the see-and-be-seen dining room, the bar at this smart neighborhood fave, overlooking the lights of downtown, is a little snug -- which means you've got all the excuses you need to get cozy over snappy seasonal cocktails or a bottle of wine from one of the city's more exploration-worthy lists. If all goes well, the two of you can move on to dinner, starting with foie gras, a guaranteed aphrodisiac in Chef Matt Selby's hands. If all goes wrong, you can move on to the enormous whiskey selection by yourself... but still get the foie. Unlike your date, it won't disappoint.
LoDo
Close-up views of the skyline on one side, Union Station's historic Great Hall on the other. Marble here, slick upholstery there. Beaux Arts light fixtures overhead, candlelight down below, flickering on crystal and silver. The Crawford Hotel's mezzanine lounge hearkens back to a golden age when men were guys and women were dolls and the cocktails were stiff but the banter was loose and juicy -- and if yours is witty enough, there just might be a suite available upstairs where the repartee can continue in private.
LoDo
Okay, if that's rushing things a little, you could move the conversation over to The Oxford Hotel's crimson-glowing Art Deco lounge a half-block away -- or start there, for that matter. Opening the day after Prohibition, it too has an aura to make you feel like Nick flirting with Nora over six martinis at once in The Thin Man. But don't order six martinis at once, because you are not the lead character in a classic caper (which is, however, an excellent resource for one-liners).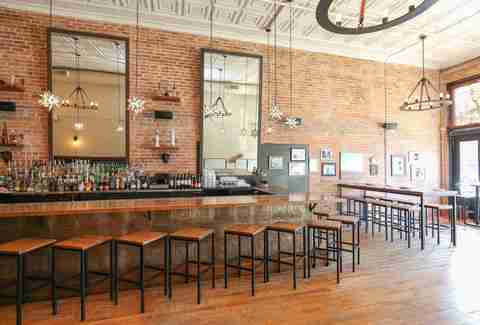 Baker
This Latin American punto caliente made our list of Best New Restaurants 2014, but the best seats in the casa are at the long bar, where the stools are nice and close together yet the surrounding buzz helps keep your tête-à-tête from getting too intense. So, by the way, does the sangria -- pretty sure nothing too hardcore has ever happened over fruity drinks.
RiNo
If your date claims to know of a cooler bar in a cooler setting, with cooler people offering a cooler selection of craft beers and cocktails alongside a geekier wine list, then he/she is a) lying or b) a magical creature with access to lands beyond time. Because in the here and now, this is pretty much the place to be.
LoHi
We'd reserve most of Denver's speakeasy-style cocktail bars for a second or third date, since they tend to require a modicum of commitment (you don't just breeze in and out of Williams & Graham). Colt & Gray's underground lounge is an exception, however, emitting more of a party vibe than an air of seclusion. Plus there's something kind of erotic about the fact that the restaurant's own butchering and meat-curing facility operates just down the hallway. So before you take a sip of your bartender's choices or grower Champagne, be sure to raise a toast to good salami.
RiNo
With its half-hidden location and rustic-industrial atmosphere, its bluegrass lineup, and, of course, its terrific hard ciders, this little taproom is so damn charming that it basically serves as a litmus test: anyone who isn't hooked probably can't be trusted with human feelings. Of course, if neither of you like it, congrats... you deserve each other.
LoHi
At this suave, twinkling wine-and-cheese bar, says co-owner Karin Lawler, "we see a lot of first dates"; in fact, one couple not only started out here, they got engaged and married here, too. You can't argue with a track record like that. Especially if your mouth is full of melted cheese: on Wednesday nights, all-you-can-eat raclette for two comes with bread, salami, and dessert for $40.
Downtown
Cobblers, crustas, blazers, fizzes, knickerbockers: if nothing else is going right tonight, at least you'll have some fun poring over the well-annotated menu at this urbane 34-seat newcomer, where the focus is on pre-Prohibition cocktails. And you'll have some fun drinking one too, while pondering the way-cool 38-star American flag behind the bar, commemorating Colorado's statehood. And then drinking another one, maybe a gin & wormwood tonic this time, while nibbling on some popcorn. And... hey, looks like things are going okay after all.
Capitol Hill
You'd think all of us here at Thrillist were dating Frank Bonanno, given how often his ventures pop up in lists of our favorite things. In our defense, he's got 10 of them, so it almost can't be helped. And honestly, Vesper's an effortless choice for that first rendezvous. It's the sort of place where the mood shifts from mellow to festive and back again so smoothly you don't really notice -- you just feel like a part of it all. And that kind of confidence will be nice to have at date's end, when you realize just how heavy on garlic and onions the snacks you two shared here were.
Sign up here for our daily Denver email and be the first to get all the food/drink/fun in town.