To break away from the happy hour crowd in a hard drinking town like Denver, you've got to go above and beyond above and beyond. Naturally, we wanted to narrow it down. So to pinpoint the best of the best, we gathered the data and took extremely scientific factors into account: duration, frequency, quantity and quality of both the food & drink selection, value relative to regular prices, and naturally, the X-factor: vibe. These 12 places either meet all of our happy-hour criteria or compensate with some element too unusual to ignore. And bonus points if they happen to be just slightly off-the-radar.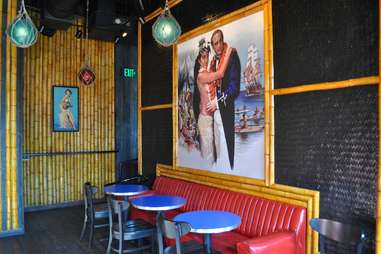 Baker
When: Tuesday-Saturday, 5-7pm
A Polynesian escape in the middle of Denver, Adrift is the spot to go when you're craving some beachy ambiance and an excuse to wear your best Hawaiian shirt. It gets extra points for offering specials till 7pm and while they're not the cheapest deals in town, they do bring that island vibe. Get $2 off their specialty cocktails (which come complete with tropical garnishes), a lineup of $7 cocktails like a classic daiquiri, and food options that range from snack (go for the $4 volcano fries served with Sriracha aioli or $3 Spam masubi) to larger portions like the chicken lettuce wraps for $8.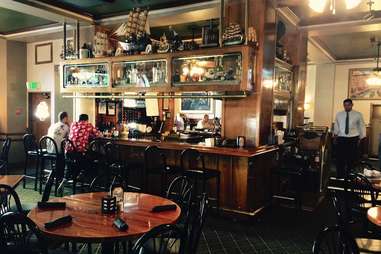 Capitol Hill
When: 4-6pm Tuesday-Friday, 2-6pm Saturday & Sunday, all night on Monday
Once the home of a beloved dive bar called Lancer Lounge, restaurateur Frank Bonnano bought the place in 2012. It got a new name and some updated features, but nothing too fresh. In other words, it's still divey enough, but with the added bonus of some really great cocktails on tap and food coming out of the kitchen. Get a solid sampling during happy hour when those on tap drinks are $5, wells are $3.50, beer-and-a-shot options start at $5, and martinis are two for $10. On the food side, the $3 snacks have a Middle Eastern edge with four types of sliders including gyro and falafel and fries with a side of harissa aioli.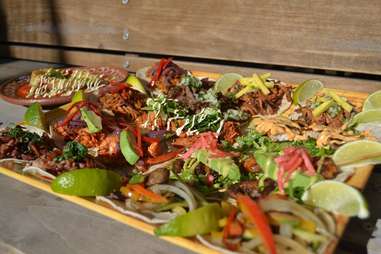 Uptown
When: 4-6pm Sunday-Thursday, 2-6pm Friday & Saturday
It's a guaranteed good time at this 17th Avenue favorite that's home to Asian-inspired eats and ping pong for all. You'll be looking for any excuse to leave work early so you can have more time to enjoy $6 highballs made with Ace's house made soda, beer deals that include $2.50 Coors and Coors Light, and some seriously addictive food options including $1 tiger wings. The best deal though, especially for an early dinner, is the Lucky $11 which includes your choice of ramen and your choice of house wine, Sapporo, or sake.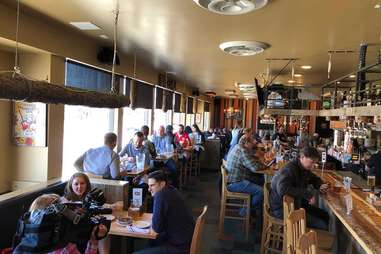 Rosedale
When: Monday-Friday, 4-6pm
The move? Fried chicken and craft beer, obviously. Post Brewing beers are on special -- 16oz drafts of Top Rope or Howdy are $4 (or go for a pitcher or bucket of cans). Wine is just $4 a glass too, and there are $5 wells and select $6 cocktails if you prefer something a little stronger to pair with food like $4 fried chicken biscuits loaded with honey butter, $1 deviled eggs topped with crispy chicken skin, and Nashville hot fried drumsticks for $2 a piece.
RiNo
When: 5-7pm Tuesday-Saturday, All day Monday
When it comes to seafood specials, it really doesn't get better than $1 oysters. And that's exactly what you'll get at this spot that specializes in, well, exactly what it sounds like. The happy hour window is generous to say the least and we wouldn't blame you kicking back and going for all the one-buck bivalves you can handle. Pair them with one of their mules for $6 and some more bites -- the grilled oysters are cooked right in front of you over an open flame before being slathered in garlic or devil butter for $2.50. And even though this is a seafood joint, the smoky bologna slider ($4) is not to be looked over.
University
When: 3-6pm daily
A college neighborhood deserves college-budget friendly deals and that's exactly what Spanky's serves up, although you definitely don't have to have a tuition bill to take advantage. Along with $3 wells they offer the classic beer (a 16-ounce Coors) and shot combo for $5.99. Since you can't fill up on cheap drinks alone, they also have some killer food deals including a $5 burger and six wings for $6 (try the hot honey). And a bonus for beer lovers in the neighborhood: You can join their new Mug Club for $45 which gets you a draft beer everyday of the year plus $1 off your second one. There's also a spiffy new mug in it for ya.
Speer
When: 3pm–6pm and 9pm–close daily
With both an afternoon and late night chance for these specials, Angelo's should be in your regular rotation. Their drink specials are pretty standard -- $1 off draft beers, $2 off wine, and $4 wells, but the food deals are where it's at. They're also in the oyster game with $1 raw and $2 grilled options, or score an entire Italian meal on the cheap, like an 8" one topping pizza for $6 and a salad (house, caesar, or spinach) for $5.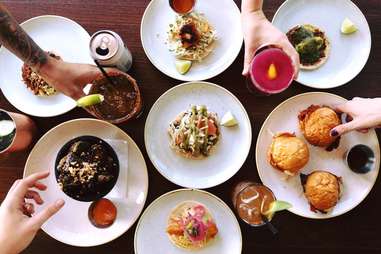 City Park
When: 3-6pm Tuesday-Sunday, all night on Monday
This sister restaurant of Fish N Beer has an equally straightforward name and equally awesome happy hour. For $5 you can work your way through drink options that include palomas, margs, and their housemade boozy sodas. Pair your tequila fix with one of the best happy hour bites in town: crispy, salty chicken chicharrones with salsa casera ($3). They've also got deals on a lineup of sliders ($3-$4), chipotle deviled eggs (three for $3), fries smothered in cheese and "sloppy jose" meat ($5), and nachos (starting at $6) if you're up for something more filling. And if you're not near City Park, they do have two other locations in the Highlands and Governor's Park.
Highland
When: 3-6pm Tuesday-Sunday
Owner Linda Hampsten Fox brings special touches to everything The Bindery puts out, from the pastries with flaky folds of dough to the dinner menu that doesn't shy away from the unexpected (smoked rabbit pie with mustard gelato). Happy hour -- or as it's called here, blu hour, is no different. The offerings are simple and a little pricey, but it's an ideal way to get a taste of what this kitchen can do while enjoying a cocktail du jour or a glass of red, white, or rose (all $7). The standouts: lamb albondigas ($8), potato, chorizo, and manchego croquettes with saffron aioli ($7) and thyme baby back ribs ($9).
Union Station
When: 3-6pm daily
If you want a fine dining experience without the crushing tab, head to this sister restaurant of the Boulder's award-winning Frasca. It's only available in the lounge, but you won't really care where you're sitting when you start working your way through the selection of cicchetti, or small bites, that are only $3-$4 each. Start with tartine with ricotta, English peas, and lardo & frittatine (delightful little balls of fried pasta that are similar to arancini). You can go bigger, too, with a handful of more substantial food picks including cacio e pepe ($12). There are wine and beer specials, too, but the two cocktail offerings, a Negroni or Venetian spritz for $6 each are where you should be heading.
Cherry Creek
When: 2-6pm everyday
It's got "oyster" in the name so obviously that's part of the draw (as is the 4 hour window to score these deals), but there's more to this happy hour than bivalves. In fact, the sheer number of happy hour food options help boost this to one of the best -- they even include a mini lobster roll for $10.99 and several seafood tacos starting at $4.99. Drink specials include a slew of cocktails for $6.99 each, select $3.99 pints, and 40% off wine by the glass. But back to the oysters. You can go raw ($1.69) or roasted ($2.99) but the real pro move is the vodka oyster shooter for $4.99.
Lowry
When: 2-6pm and 9pm-close daily
Its sister restaurant next door, North County, also boasts a solid happy hour lineup if you're in the mood for Baja-style Mexican, but this newer addition to the neighborhood, with its classy retro vibes, makes it feel like you're being transported to another time. Plus they offer late night happy hour options so you can have a nightcap -- and possibly catch the live piano player. Cocktails like the vodka-spiked cucumber cooler and the bourbon-forward Kentucky buck are $8. Pair those refreshments with classic yet classy comfort food picks like chicken tenders and shoestring fries ($10) or warm Cheddar herb biscuits ($5) and you can happily skip dinner, if you want.
Sign up here for our daily Denver email and be the first to get all the food/drink/fun in town.
Molly Martin is a freelance writer in Denver, Colorado who loves researching happy hours. Follow her Mile High adventures on Twitter and Instagram.