To break away from the usual happy hour crowd in a hard drinking town like Denver, you've got to go above and beyond above and beyond. So to pinpoint the best of the best, we gathered the data and took extremely scientific factors into account: duration, frequency, quantity and quality of both the food & drink selection, value relative to regular prices, and vibe. These 11 places either meet all of our happy-hour criteria or compensate with some element too unusual to ignore; so much the better if they happen to be just slightly off-the-radar.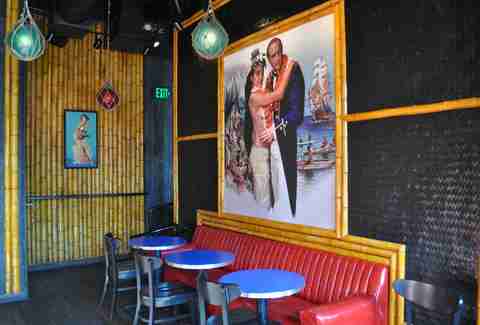 Baker
Adrift Tiki Bar & Grill (address and info)
When: Tuesday-Saturday, 4-6pm
Since being purchased by the same group that owns Little Man, Denver's only Tiki bar has gotten even more enticing. It still oozes Polynesian-cool inside and out on its two patios, but the revamped drink and food offerings would be reason enough to come even without the beachy ambiance. During their Ohana happy hour, you can take advantage of drink deals like $5 island cocktails (go for the daiquiri) and an array of bites including the gochujang-spiked Pele wings for $1/each and tender $2 guava BBQ baby back ribs. Show up wearing your best beach-themed attire and you'll also get a free chi-chi (a macadamia nut-based frozen vodka cocktail) with any happy hour purchase.
Berkeley
Cafe Brazil (address and info)
When: Tuesday-Friday, 5:00-6:30pm; Saturday, 9-10:30pm
The hours are short, the selection limited, the discounts marginal. But the tradeoffs are totally charming. For one thing, the staff of this much-adored South American fixture couldn't be more gracious, even during Saturday night happy hour (a rarity in itself). For another, your first round comes with free tapas, and they're fantastic, especially the textbook tortilla española. Finally, on Tuesdays, you can even score a free caipirinha -- that is, if you're willing to do a one-minute dance for the bartender. Which of course you are.
Capitol Hill
Charlie Brown's Bar & Grill (address and info)
When: Daily, 4pm-6:30pm and 10:30pm-12:30am
Here you'll find two-for-one deals on already-cheap drinks. Equally cheap grub and lots of it. Sing-alongs in the piano bar. A smoking patio, where there's a free pig roast every Friday in summer (replaced by free wings the rest of the year). Oh, and the aura of onetime patron Jack Kerouac. This place may be old-school, but it never gets old.
Cherry Creek
Hasu Asian Bistro & Sushi (address and info)
When: Daily, 2:30-5pm
It's a little silly to expect a restaurant with some of the best Chinese food in town to make superb sushi too. But Hasu does. So then it's a little greedy to expect to get everything on their menu at a discount all afternoon. But that's exactly what you'll get -- 30% off your total bill, to be exact. Not sure what you did to deserve that.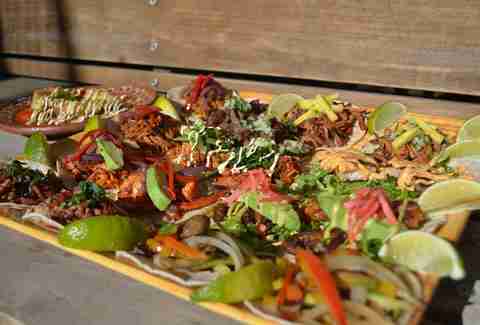 Downtown
Machete Tequilas + Tacos (address and info)
When: Monday-Friday, 2pm-7pm
From the CBD to LoDo, you'll stumble across your share of swanky happy hours. Edging into Ballpark, you'll hit on some of the cheapest. But guaranteed you're not going to find one that's as good for as long as Machete's. The killer tacos rock all the harder when they're $1-2 bucks less than usual for five hours straight, paired with margarita and beer specials. And here's what's mas loco: the Cherry Creek flagship's happy hour runs even longer, from 11am-6pm on weekdays and all day Sunday.
LoHi
Linger (address and info)
When: Tuesday-Friday, 4pm-6:30pm
We searched lo and hi (hehehehe) for someplace less obvious, but we just kept circling back to Denver's favorite former mortuary -- and so does everybody else. That's because what the happy hour lacks in length, it makes up for in strength, with an assortment of cocktails and truly creative small plates that, at $5 a pop, seem too good to be true; ditto the $6/glass wines and $4 craft beers. As for atmosphere, it doesn't get better than vintage wallpaper, Lite-Brite bar tops, and a rooftop deck -- unless, that is, you can't even squeeze your way through the mob to soak it all up.
RiNo/Five Points
Dunbar Kitchen & Tap House (address and info)
When: Daily, 2:30pm-6:30pm; all day on Mondays
Yes, many of the best restaurants in town are in RiNo, and yes, many of them host wildly popular happy hours. But they tend to be short, with limited offerings. You want both quality and quantity -- and you'll get it at this easygoing neighborhood favorite. All afternoon, you can get a selection of 10 Colorado craft brews for $3.50 a pint, while surprisingly decent wines by the glass are half or nearly half off. As for the snack selection, it's really just an extension of the equally well-priced appetizer section on the regular menu, so feel free to mix and match.
Washington Park
Homegrown Tap & Dough (address and info)
When: Monday-Thursday, 3-6pm
Pizza and beer are this Park Burger sibling's bread and butter, so deals on pints and pies come as no surprise. In fact, you can score a select pitcher and one topping pie from 5-10pm on Mondays. Regular happy hour offerings include $3.50 well cocktails and $1 off all drafts to keep your thirst quenched as you fill up on food like a $7 8" specialty pie (we're partial to the Croque -- white sauce with ham, eggs, and potato chips) and $2 meatball and chicken parm sliders.
Uptown
Humboldt Farm-Fish-Wine (address and info)
When it is: Daily, 3pm-6pm
On 17th Ave, the happy-hour stakes are sky-high. If we could give a four-way tie with Ace, The BSide, and P17, we would. But this contemporary-American haunt just squeaks past for one key reason: consistency. From the choice martinis to grown-up refreshments like $4 steak tartare (what) to the efficient delivery, the whole experience is as smooth as pearl, no matter how packed the place gets. And speaking of pearls: $1 oysters all Sunday 'til they're gone.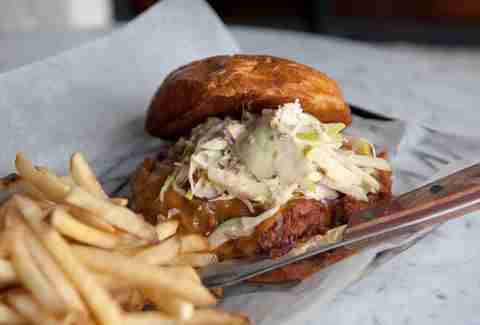 Lowry
North County (address and info) 
When: All day on Mondays; Tuesday-Saturday, 3-6pm & 9pm-close
What you're getting: A good reason to skip dinner because the happy hour food here isn't just your typical round up of snacks. Instead, you'll find deals on menu items of all sizes, from $3 al pastor tacos and $2 charcoal grilled oysters to the oh-so-satisfying carne asada fries or huge mound of mucho mucho nachos for $10 each. And did we mention you also get $2 off their house made adult sodas among a bevy of other drink specials? Cheers.
Rosedale
The Post Chicken & Beer (address and info) 
When: Monday-Friday, 4-6pm
The move? Fried chicken and craft beer from the new Denver outpost of this Lafayette and Longmont favorite. Of course, Post Brewing beers are on special -- get $2 off drafts, cans are just $3, or mix and match 5 cans for $13. Wine is just $3 a glass too, and there are $4 wells and $5 cocktails if you prefer something a little stronger to pair with food choices like $4 fried chicken biscuits, $0.75 wings, and $1 deviled eggs topped with crispy chicken skin (of course).
Sign up here for our daily Denver email and be the first to get all the food/drink/fun in town.