It's been a few years since a professional sports team from the Mile High City has hoisted a championship trophy, and yet Denver remains a passionate base for athletic action. Fans who have moved to town from all over the world congregate next to natives clad in orange or purple (and, hey, the Nuggets are looking pretty good this year). 
The following watering holes cater to all manner of game-watching, whether it's for March Madness or the big game on Sunday. Don your lucky item, sidle up next to some strangers, and order a bucket or four.
Capitol Hill, North Capitol
Despite its blazed-up moniker, Stoney's is totally serious about at least one thing: sports. Its OG Cap Hill location on Lincoln is staggering large, with room after room of TVs, fried food, and huge plastic cups full of suds. The second location Uptown is more lowkey, but the emphasis is on "more" here. It's still shoulder-to-shoulder packed on football weekends. Pro-tip: Get the chicken fingers at either spot. They're dank.
Union Station
The SC is as old-school as it comes. The spot, just a (Hall of Famer!) Larry Walker-throw away from Coors Field, is celebrating its 25th anniversary this year and we're pretty sure they haven't changed as much as a barstool since opening day. And that's just swell by us. In the ever-changing landscape that is LoDo, it's comforting to have a dependable stalwart: one with cheap drinks (there's a Friday night power hour with $1 beers and wells…in 2020), suitable fare, free popcorn, and every goddamn game under the sun on giant televisions.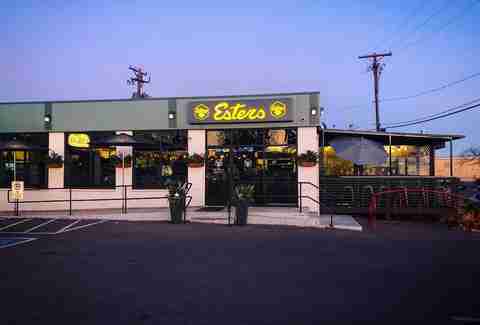 Virginia Village, South Park Hill
Esters has an admirable formula and has made it work in two neighborhoods, nearly taking over the surrounding area as the go-to spot for, well, just about everything: amazing pizza (many of which are named after Phish songs), dank brews, a family-friendly atmosphere, and a killer brunch menu. And about those sports. Esters comes correct, with Sunday being as lively as anywhere else in town. The TV set-up at the latest location in Park Hill is particularly impressive and engrossing.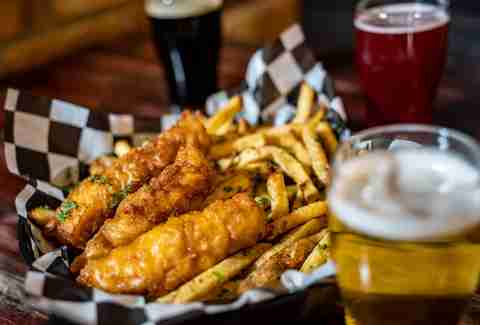 Cole
Patio, patio, patio: That's what this beer garden formerly known as Jake's has going for it. And it's what sets it apart from most of the other spots in the area. Besides that 4,000 square foot crown jewel, RBG boasts over 60 beers on tap, a full bar, daily food and drink specials, and 12 TVs.
Hale
The College, as it is affectionately known, has been slinging beers on its corner of Eighth Avenue since 1958. As the neighborhood around it has morphed -- the latest sprouting is currently in the works across the street; the behemoth goes by the name of 9th & Colorado -- College Inn has stayed (mostly) the same. Cheap drinks and daily specials dot the blackboard as regulars look upward to the sports on the many TVs. The spot does have a new menu, however, with pizza making its debut and the solidification of a weekend brunch. If you're feeling nostalgic, though, go for some of the best green chile served in town.
Highland
This tavern tucked in next door to its sister bar, Williams & Graham, may not have the most TVs on this list, but it makes a good case for being the most unique, um, "sports" bar on this list. As the pigskin gets tossed around on the big screens behind the bar, metal or punk is sure to be blaring on the speakers. There's a daily happy hour -- including all day on Sunday -- and a long list of craft cocktails. Occidental also sets itself apart with a funky mishmash of a food menu: items run from tamales to cheese curds and kimchi tater tots.
Five Points
In the wake of Three Lions closure, the Bulldog has become the place to watch soccer in Denver. And, lo, the 2020 Euros beckon in June. Outside of that, you can find any big sporting event on the big screens -- like, say, the Super Bowl -- as you take in the pub's eclectic menu, happy hour and daily drink specials. 
City Park West
While Colfax may miss its dedicated soccer pub, this latest iteration keeps some of the old Three Lions feel -- namely the huge space -- and couples it with a more mainstream selection of sports (ya know, like football, basketball and baseball). And you'll get sports on the TVs as far as the eye can see, as well as a hefty roster of heady beers. The menu is chock full of standard American sports bar standards -- wings, flatbreads, burgers -- which, well, pair nicely sports and, ahem, brews.
Union Station
When you walk into the long & narrow Society, the first thing you'll notice is: TVs! Lots of 'em. We're talking three projectors, 28 flat screens, four sound zones, all major sports packages and the capacity for 16 different games at once. Whoosh. And if you're looking for anything else, they've got a full menu of food and a five-hour-long happy hour. That should do the trick.
Five Points
BST holds a special place in the heart of any Denver-bred sports fan -- especially Rockies fans. Located just a few blocks from Coors Field, Blake Street has been beckoning the sporting minded since 2003. It's a huge space at 18,000 square feet which means: plenty of TVs, bar games, food and beer. Blake Street is run less like a restaurant and more like a Ford-inspired assembly line, which is fine by us. Keep it coming.
Cherry Creek
We've heard tell that there are walls at Choppers behind all of its televisions, but we cannot confirm. The venerable institution is named after former Nuggets trainer, Robert "Chopper" Traviglini, who renovated the old Rick's Cafe in 1996 with his partners. Sports are deep in the walls here. Besides just about any game on the sun being broadcast across the visual array, the Chopper's menu is wide-ranging, its happy hour lengthy.
Speer
The regulars who frequent "the" Spot may be a little miffed to be included on this list. Why? Because it's an under-the-radar neighborhood gem. Size is relative, here, with the smallish joint packing in as many people, taps and TVs as can be. The congenial vibe and cramped surroundings make any game a hoot; the twice-daily happy hours and brunch drink specials don't hurt, either.
Highland, West Colfax, Tech Center
Tap & Burger out here coming for that Colorado sports bar monopoly crown once unshakably held by the Tavern's various outposts. Now with three locations, T&B sticks with a tried-and-true formula: juicy burgers; a massive stable of beers on tap; and sports on big ol' TVs. The spots also have daily "Tappy Hours" -- all day on Monday -- with plenty of food specials. In short: Watch your back Tavern.
Sign up here for our daily Denver email and be the first to get all the food/drink/fun in town.