A BRUpub with microBRUed beer previously made in a garage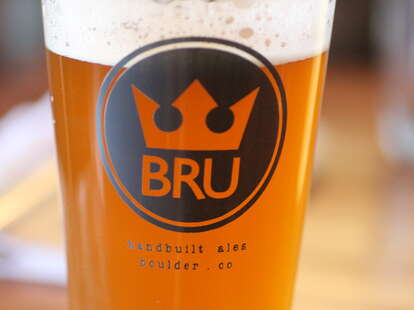 The garage is where bands gather to practice, where dads accidentally saw off parts of their bodies go to build stuff, and where the exec chef/ head brewer of the new Boulder brewpub BRU once crafted award-winning beers for a nanobrewery of the same name. Now, he's brewing his crazy-good suds in an Arapahoe Rd space, and pairing those beers perfectly with "urban American" cuisine.
Nearly everything in the cozy space was hand built by the owner and his kitchen crew, including the barn door that separates the dining space from the brewery. That door is often kept open, suggesting the owner must also have been born in a barn.
Now able to brew nearly triple what he did in his garage, BRU's pouring 10 taps of powerful, high ABV'd selections, like the Citrum IPA with notes of fresh lemon zest, an Obitus American Brown Ale, a sour cherry-tinged Arium Dubbel, and a Beezel Belgian Golden Strong Ale that clocks in at 9.3%.
The chef previously did a long stint at Centro, and he shows his continued affection for Latin cuisine with these roasted pork albondigas in a carrot-jalapeno broth.
A salad plated like an avant-garde clock, the Turnip Truck features turnip creme caramel, fennel, and crackers.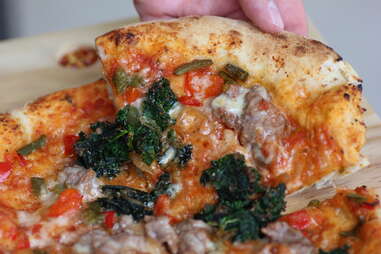 One of five sourdough pizzas on the menu, the BRU is topped with an IPA tomato sauce, sausage, and kale.
This coriander-cured hanger steak shares a plate with a charred onion malfatti hash (it's similar to gnocchi, texture-wise), and is topped by an olive mojo.
BRU's crispy pork banh mi sammie is overflowing with pickled cucumber, kimchi, shaved daikon, lemon aioli, and rooster sauce -- a topping that, like the best garage bands, is something to crow about.