Opening Day deals, boozy dinners, and run for your health (sort of)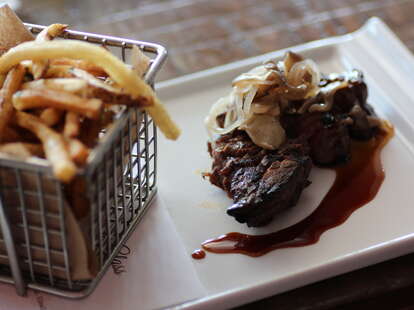 Thursday
The world's largest Connect Four tourney goes down at Stoney's at 530p, and $20 covers entry, a beer, and apps.
Friday


Celebrate the weekend early by stuffing your gullet full of Central's new lunch: crab mac & cheese, chicken and waffles, and a sensational Boxcar burger.


It's Opening Day, and there might be no better pre-game than at The Corner Office, which offers two Sabrett dogs topped with Japanese mustard, park fu, Kewpie mayo, and a draft beer for just $7.
Saturday

Lotus continues a triumphant three-night stand at the Boulder Theater, pumping out dance-worthy grooves. You must supply the groove-worthy dances.

Dine at Bonanno's noodle joint Bones, where dinner just got a much-needed seasonal refresh, with cold dishes like a kimchi trio (cucumber/daikon, pearl onion, carrot/scallion), and soba noodles with bigeye tuna soba/Togarashi spiced peanuts.
Sunday

From noon-7p, head to The Oriental Theater for a boozefest celebrating the end of Prohibition with unlimited sips of 150+ different CO craft beers. Or bring a huge cup and have one enormous sip of all of them combined.

Waddle like the wind on a five or 10k at 10a with new running club bRUNch, and then undo all the positive effects of running by drinking two mimosas and eating a huge, all-inclusive brunch at Jonesy's EatBar.
Monday


Root Down hosts a four-course Breckenridge Brewery beer dinner with stuff like ESB-brined CO fried chicken, and curried CO lamb leg. Now that's (broken) home cookin'!