It's no secret that Colorado makes some of the most essential beers in America, and therefore, the world. After all, Colorado was getting deep into craft beer back when the rest of the country didn't even know what it was. Such a robust history makes it a difficult task to figure out which of Colorado's many fine brewing outfits reigns supreme -- a task fit for SCIENCE!
The Thrillist Beer Appreciation Team (TBAT for short) developed a top-secret, patent-pending formula for ranking breweries (actually it's not that secret, get the details below). Weighing such factors as performances on RateBeer and Beer Advocate, beer competition medals, and other accolades, the formula declared these to be the finest breweries in all the state.*
*To be considered for the list, the brewery in question must qualify as a craft brewery and must also distribute its products in bottles and/or cans, so that everyone can get some!
9 (tie). Tommyknocker, 21pts
Founded: 1994, Idaho Springs
Probably the only brewery where the root beer is just as famous as the beer, Tommyknocker is a hometown favorite, considering the town only has 1,800 people in it. The beers were made famous by all the weekend warriors coming back from a day of skiing to eat some great food, chill, and knock a few back. This place has been entertaining people since 1859, making it one of the oldest local breweries in the state.
Key Beers: Butt Head Bock, Prospector Porter, Jack Whacker Wheat Ale
9 (tie). Ska Brewing, 21pts
Founded: 1995, Durango
Focusing mainly on canned beers (they won't be the only ones on this list), Ska remains true to their roots by staying small (21,000 barrels/year) and making a variety of supremely well-executed brews. They aren't afraid to use hops, and lots of them -- both of their IPAs and their ESB Ale are known for being favorites among people who favor a bitter bite to their brews.
Key Beers: Steel Toe Stout, Buster Nut Brown Ale, Modus Hoperandi
8. Left Hand, 24pts
Founded: 1993, Longmont
Named after the chief of a local Native American tribe that Wintered in the area (smart move), Left Hand has seen nothing but positive developments since they brewed their first batch out of a homebrew kit. The most successful (and risky) move for them was when they released their Milk Stout Nitro in a bottle, which made heads pop off at GABF in 2011. Since then, they've started releasing two more nitro beers that fans can take home with them… in 26 different states.
Key Beers: Sawtooth Ale, Milk Stout, Fade to Black, Vol. 1
7. Steamworks Brewing Co., 27pts
Founded: 1996, Durango
A favorite hangout spot for Durango locals, Steamworks specializes in German-style beers that are so good they'll made you want to whip out those lederhosen that-you-totally-dont-have-in-your-closet. Swing through next time you're in that hood to check out their delicious gastropub, and then wash it all down with a delicious Schwarzbier. Or pick up some cans if you can't be bothered to travel too far.
Key Beers: Slam Dunkel, What in the Helles?, Colorado Kolsch
6. Oskar Blues Brewery, 28 pts
Founded: 1997, Longmont
Who needs glass when you can put everything in a can? Literally, everything. That's the revolution that Oskar Blues started when they released Dale's Pale Ale, which has won all kinds of awards for not only being in a can, but for being just that damn good. In fact, all of their beers can be found exclusively in cans or resealable aluminum containers, and at 141,000 barrels, that makes them the largest craft brewery to ditch the glass stuff.
Key Beers: Mama's Little Yella Pils, G'Knight Imperial Red Ale, Dale's Pale Ale
5. Dry Dock Brewing Co., 48pts
Founded: 2005, Aurora
What's the best thing that you can add to your home-brew store? That's right, an actual brewery. Thats what owners Kevin DeLange and Kevin Kellogg began when they envisioned Dry Dock. Little did they know that merely four years later they would be winning Small Brewing Company of the Year at GABF with beers like their Amber Ale and totally delicious, "don't call it a chick beer" Apricot Blonde.
Key Beers: HMS Victory ESB, Hefeweizen, Apricot Blonde
4. Avery Brewing Company, 49pts
Founded: 1993, Boulder
Like any good entrepreneur, Adam Avery noticed a market was being created before anyone else did. So when he saw Colorado residents beginning to experiment with all sorts of beers, he created Avery and began making brews at all ends of the boozy spectrum. Avery batches all kinds of year-rounders from light and refreshing brews, to dark, full-bodied quads that you'll want to sip slowly, lest your night end early.
Key Beers: The Kaiser, Hog Heaven, Avery IPA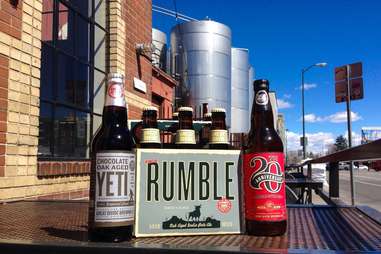 3. Great Divide, 50pts
Founded: 1994, Denver
Just like Hulk Hogan, GD beers are known for being strong (but not for weird sex-tape incidents). More than half of their beers come with an ABV north of 7%, and their muscle beer, Old Ruffian, has a tipping point of 10.2%. Making beers that're so boozy highly drinkable is an art -- one which Great Divide has mastered thoroughly.
Key Beers: Yeti (and all its barrel-aged offshoots), Denver Pale Ale, Old Ruffian
2. Odell Brewing Company, 58pts
Founded: 1989, Fort Collins
What better to do with an old 1915 grain elevator than to turn it into a badass brewery? The founders of Odell had this vision back in the '80s (before it became cool). Since then, the brewery has expanded twice, increasing its capability to 45,000 barrels of deliciousness that find their way to 11 states across the country, plus Great Britian and Ireland.
Key Beers: 5 Barrel Pale Ale, Friek, Easy Street Wheat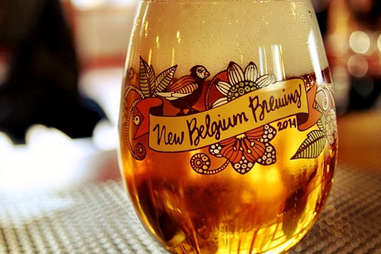 1. New Belgium Brewing Company, 60pts
Founded: 1991, Fort Collins
Far from your ordinary brewery, NBB was founded by Jeff Lebesch in 1991 after he gained inspiration on a bike tour through Belgium. Although he was made fun of for the fat tires he had on his bike, no one is laughing at him now that he is gaining fat stacks -- the company had over $180 million in sales last year. NBB is also known for being 100% employee owned, and getting 90% of their power from the wind. Too bad your house can't say the same. From their flagship standbys to their ever-interesting Lips of Faith releases, they keep growing for a reason.
Key Beers: Somersault, Abbey Belgian Ale, Fat Tire
APPENDIX
Here's how we awarded the points:
Awards for individual beers
Each beer in the Beer Advocate 250 or RateBeer 100: 3pts
Medals in The Great American Beer Festival or World Beer Cup since 2004: 3pts Gold, 2pts Silver, 1pt Bronze
Recognition for breweries overall
Prominent outlets have published Best Breweries in America lists of different lengths, so we awarded 10 points for a top-10 finish, 9 points for an 11-20 finish, and so forth (no list is longer than 100) for appearances on recent best brewery lists from RateBeer, Paste, and The Daily Meal.