That's 14 breweries worth driving to aside from the ones on our list of Colorado's 10 Best Craft Breweries, that is. (And also aside from the outliers featured here, and here). After all, the point here is to expand your beer horizons, and with this list of  destination taprooms, we're totally steering you in the right direction. But not literally -- since these places are all at least 30 minutes away, you're gonna need someone else to be your designated driver.
Glenwood Springs
Distance from Denver: 157 miles, 3.5 hours
Remember how embarrassed you were when you finally heard about that amazing band whose secret shows all the cool kids were going to already? If not, you're about to. In this scenario, ex-AC Golden golden boy Troy Casey, a master of barrel-made, bottle-conditioned farmhouse ales showcasing local fruit, is the band; his once-a-month openings to the public are the shows. And you'd best hightail it up to the next release party if you want to maintain your last shred of sudster cred. Start following the brewery on social media yesterday for details.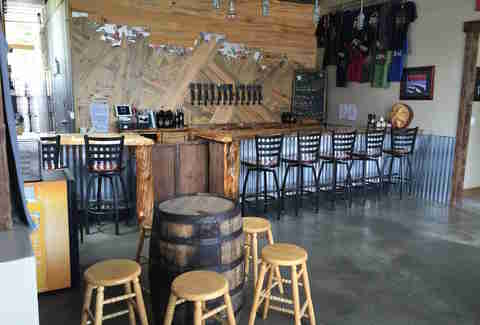 Breckenridge
Distance from Denver: 78 miles, about 90 minutes  
It's decorated with reclaimed pinewood and ski-lift rope. It's super-duper pup-friendly. It has a pinball machine and hosts regular potlucks. It's a home away from home for Breck locals, in short, and the feel-good vibe only intensifies with a sampler of the beers. On day one (it opened in mid-2014), Jason Ford and David Axelrod struck gold with their coconut porter and five-chile pale ale, but they keep their 12 taps flowing with plenty of other solid hits, from Belgian classics to seasonals like the chocolate pumpkin pie stout.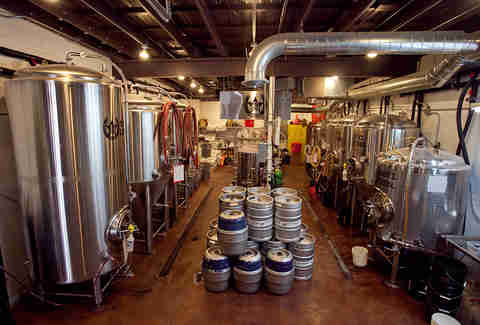 Berthoud
Distance from Denver: 45 miles, 60-75 minutes
Drawing its theme (and its name) from the stables that once stood here, this small-town sensation exudes home-on-the-range charm, hosting community potlucks, string bands, and an annual Hops & Harley benefit for rescue dogs. The beers, pulled from a bank of 10 taps with horseshoe-shaped handles, likewise namecheck the building's Wild West past, think Rail Ryeder or Aces and Eights. But the nostalgia ends there: on-trend sophistication marks brews like the sour golden Vaquero, aged in tequila barrels over makrut lime leaves, and the pink grapefruit-and-peppercorn Calamity Jane.
Louisville
Distance from Denver: 20 miles, 30 minutes
A garagiste way before it was cool, Tom Horst now oversees a legit two-level operation. But with 13 taps to play on, he hasn't lost the anything-goes, can-do enthusiasm of his homebrewing days. Barrel-fermented cream ale? Sure. Argentine-style golden? Why not? Helles inspired by a 100-year-old local newspaper clipping? That too. The taproom's unfinished-yet-lived-in feel only adds to the sense that you're just spontaneously hanging out with 10 or 20 other brand-new buddies, brought together by the power of good beer.
 
Edwards
Distance from Denver: 110 miles, about two hours
You don't really have to make the slog to Anchor Brewing alum Kevin Selvy's Vail Valley venture. For one thing, chances are every other bar on your block is pouring Lava Lake Wit or Horseshoes & Hand Grenades American ESB right this second; for another, a Denver satellite is in the works for fall. But that doesn't mean you wouldn't have a blast if you headed on up with your buds and your dogs to lounge around the cheerfully rugged taproom, knocking back onsite exclusives infused with foraged fir needles or Palisade peaches alongside Korean tacos or Hawaiian nachos from the brewery's own food truck.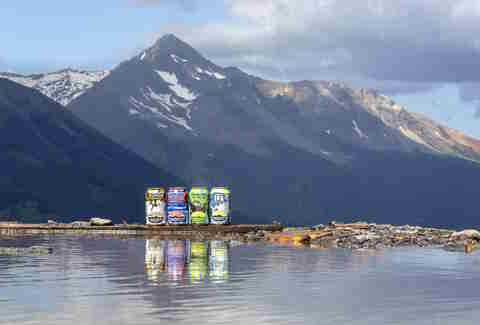 Telluride
Distance from Denver: 330 miles, seven hours
OK, Telluride isn't a day trip unless your other car is a plane, but logistics schmogistics for ski bums and suds buffs, right? Surrounded by aspen-covered peaks, this place looks like an old-timey general store on the outside; on the inside, it's a sprawling production facility with a standing room-only tasting area/Grateful Dead shrine smack in the midst of the tanks -- co-owner Tommy Thacher says that you can sit on a keg if you want, but watch out or "you might get sprayed by a hose." Said kegs are filled with brews that besides being delicious, pay comic homage to powder culture, from the Smoke Shack Porter to the smash-hit Face Down Brown, which will also be your nickname if you overdo it.
Poncha Springs
Distance from Denver: 142 miles, 2.5 to three hours
Could be the Berliner Weisse, with its lemon yogurt tang; the toast-and-honey deliciousness of the Apis IV; the multilayered 7437 double IPA; or some barrel-aged collaboration with a local distillery -- but something here will knock you out. With former Tommyknocker brewer Christian Koch at the controls and an unusually handsome rustic-industrial taproom, Elevation has shown as much polish as pluck from the get-go. (Plus it's only about two miles from Amicas Pizza & Microbrewery, where you can soak up the alcohol with, well, more alcohol, but also hefty wood-fired pies.)
 
Boulder
Distance from Denver: 30+ miles, 45-60 minutes
From Coors onward, Colorado brewers have bragged about the purity of Rocky Mountain agua. Not Jamie Wells, who has garnered a cult following with his uncompromisingly Anglocentric repertoire -- which starts with Burtonized water to replicate that of a famed beer hub in England. As a one-man outfit, Wells is all about quality over quantity, at any given time filling six to nine taps with powerful-yet-finessed IPAs, ESBs, stouts, and so on; good thing you in turn are all about substance over style, because the setting has all the ambiance you'd expect from an industrial-park warehouse.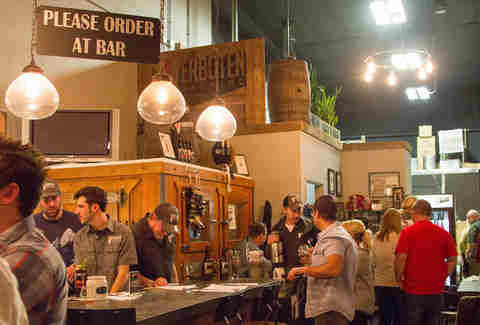 Loveland
Distance from Denver: 50 miles, about one hour
Everybody loves a rebel, especially where German regimes are involved, so the name of this warmly lit, living-roomy spot is meant as an FU to Deutschlander beer purity laws, which means that the owners pretty much brew what they want, when they want, from the deep, dark Chicory Midnight Espresso stout to the juicy In Love With Summer, a strawberry-rhubarb wheat. Because, what else, freedom.
Fort Collins
Distance from Denver: 60 miles, 75-90 minutes
In the beginning, this GABF darling focused solely on saisons. Owners Brad Lincoln and Gordon Schuck have since extended their output to other Belgian styles as well, but ye olde farmhouse ales remain their calling card, here brewed with apricots or single-hopped, there infused with cocoa nibs or chiles. When you kick back over a flight of tulip glasses in their cute little trademark-green digs, occupying an old house with a sunny backyard, while snacking on a cheese plate and catching some live tunes, be sure to use the hashtag #livingthedream, because you are.
Lafayette
Distance from Denver: 24 miles, 30+ minutes
You know how brewers are all, "Oh, we take our beer seriously, but we don't take ourselves seriously"? Well, these Brett- and barrel-loving guys aren't even lying. Not only is the atmosphere totally chill one day, and party central the next, but the ever-changing roster of 12 or so brews revels in all things geeky/quirky/punk rock -- be it a dragon-fruit sour called Chainsaw the Princess of Karate, or an experimental-hopped IPA dubbed Bad Guy With an Agenda. Hell, the comic book-inspired label artwork alone is worth a visit.
 
Colorado Springs
Distance from Denver: 70 miles, 75-90 minutes
Co-founded by now-governor John Hickenlooper in a historic red-brick building more than 20 years ago, this Springs fixture may be the Wynkoop-Breckenridge group's most underrated holding. With a rooftop patio, an upstairs pool hall, and a full-service kitchen turning out pub plates like lamb-belly tacos and smoked clam mac & cheese, it boasts way more bells and whistles than your average spot; more importantly, it's got a seasoned pro in head brewer Alan Stiles, who nails the standards while converting skeptics with connoisseurial stuff like red sours, goses, and barrel-aged barleywines.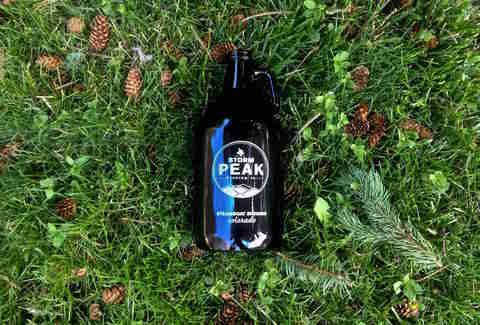 Steamboat Springs
Distance from Denver: 155 miles, three to 3.5 hours
You could confuse the picnic table-lined, garage-like space for 100 other breweries you've visited, while the relatively small selection of beers, heavy on IPAs and stouts, favors nuance rather than novelty. But that's all the more reason this newish Steamboat stomping ground feels like the real deal. We're not promising it's a classic in the making, but we're saying there's only one way for you to find out. (Oh, and grab a burger at Bistro C.V. while you're at it.)
 
Boulder
Distance from Denver: 27-32 miles, 40-60 minutes
How Boulder is this craft-canning pioneer, run by eco-minded outdoors enthusiasts? So Boulder that it has two taprooms on either side of town (hence the distance range), each pouring a slightly different lineup and featuring different snacks, so you can ride your bike back and forth sampling orange chocolate stout and Thai-style IPA, peppercorn saison and sage-rosemary patersbier, Maria Empanada pastries and Shopey's bánh mì until you drop, sloshed and sciatica-addled.
Sign up here for our daily Denver email and be the first to get all the food/drink/fun in town.