From the dankest of dive bars to swanky hotel hideaways, and pretty much everything in between, you've got your pick of escape hatches in case of emergency this Christmas. And yes, political stalemates with your misinformed uncle Bill who's on his fifth brandy Alexander definitely count as emergencies.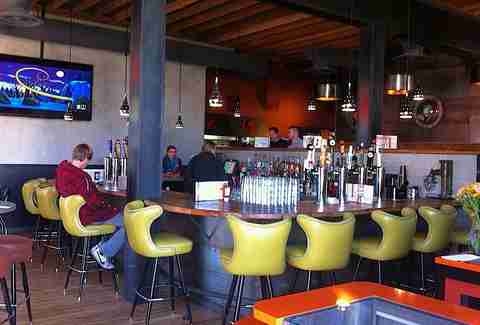 City Park West (& other locations)
If all you want for Christmas is a shot and a slice, Bad Santa's got your back: this trio of rocketman-and-ranchhand-themed neo-saloons is swinging its doors open at 2pm. (Onsite pizzeria Fat Sully's starts slinging pies come 4pm.)
 
Congress Park
As you'll see, all four of Leigh Jones and company's beloved, retro-toned watering holes are opening from 7pm to 12am, albeit with limited menus: this one, inspired by a vintage club car, is also a fine bet for a first date. (But probably not on Christmas night. That might be kind of sad.)
 
Uptown
A little country-and-western, a little metal, a lot come as you are to drink, drink, and be merry. (7pm)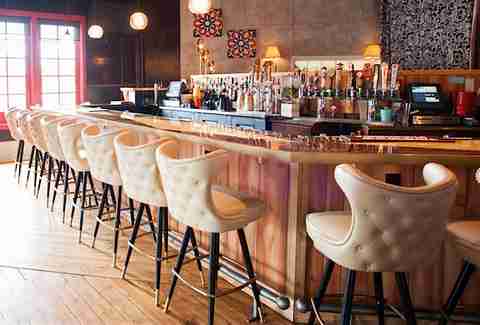 Washington Virginia Vale
In case you forgot to book that resort vacation to Innsbruck, this ringer for a ski lodge hopping with mid-century European playboys will be at your service with Bond-themed cocktails as of 7pm.
 
Berkeley
Do enough mystery shots at the Rosa Mia Inn redux and the next thing you know it'll be January 1st.
 
Wash Park West
Come on, of course this juke joint's open. Does it even ever close?
Central Platte Valley
From 8am to 8pm, everybody's favorite eco-friendly, hip-hop-and-pot-themed coffeehouse and build-your-own cocktail bar will be serving up cold-brew Manhattans and spiked Bulletproofs along with the usual Wu Tang tots and TV dinners. Arrive before 4pm to score some hangover helpers from next-door sibling Habit Doughnut Dispensary to boot.
 
Capitol Hill
Forget the ghost of Christmas past -- you can kick it with the spirit of Jack Kerouac at this mid-century Beat haunt. Come for the two-for-one happy hour in its singalong piano lounge, stay for the other two-for-one happy hour on its heated smoking patio. Dig into some prime rib in between.
 
Downtown
On a normal day, The Brown Palace's magnifico man cave swarms with captains of industry toasting to their own fabulous fortune with $100 snifters of Cognac and Dominican robustos. So you can only imagine how they roll at Yuletide.
Downtown
Paying homage to the most hallowed Christmas tradition of all, The Curtis's naughty workplace-themed rendezvous is hosting a kosher Chinese dinner. Only this one's better, because you get to pound martinis with that pepper steak and fried rice instead of Manischewitz.   
 
LoDo
Christmas wouldn't be Christmas without liquor. Which means that the one true Christmas isn't December 25th at all but December 5th, Repeal Day -- and that this Art Deco time capsule, whose doors opened not 24 hours after Prohibition ended in 1933, is the closest thing we've got to Bethlehem.
 
Golden Triangle
Bebop, brunch, and bottomless booze: bingo. (9:30am-2pm)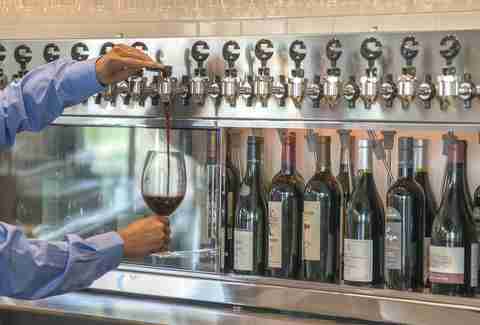 Auraria
You know the students in the MSU-Denver hospitality department who run this place are all fresh-faced and eager to please, so bring them some cheer by showing up to partake of their holiday happy hour, complete with $6 Christmas Cosmos. (4pm-10pm)  
 
Platt Park
All the hijinks you'd expect from a bar with a motorboat in the middle of it are bound to ensue here tonight -- including, possibly, a neighborhood potluck (details TBD).
Central Business District
If everybody served Boulevardiers and Wagyu burgers topped with truffles and foie for Christmas instead of, like, ham loaf and glögg, no one would ever have to lie to their moms about why they can't stay for dinner.
Central Business District
Where better to drop all that gifted coin than in the lounge at the Ritz-Carlton's steakhouse? Especially considering its namesake might as well be "Santa" as far as Broncos country's concerned.
 
LoDo
When it isn't overrun with coeds who think they're slumming it in their dad's Nirvana T-shirt -- and it won't be tonight -- this here's one of the chillest and cheapest music clubs in town.
 
Downtown
You can go bowling, play pool, and drink beer any time -- why do it on the one day you're supposed to spend with your family? Oh, riiiight. (5pm)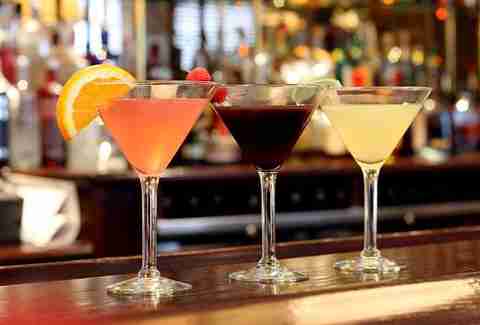 LoDo
If you're looking to lie low, hit this throwback to the days of Scotch and sirloin -- no one will find you in the last century. (2pm-9pm)
 
Capitol Hill
Earlier this year, a bartender here administered first aid to a guy who got stabbed in the neck right out front. If that isn't peace on earth and goodwill to men in action, what is?
 
Congress Park
What girl wouldn't want you to whisk her away from her weird relatives to a bar that welcomes her with a shot and a single rose? Besides, amid the goofball tchotchkes and family photos covering every available surface, this place looks like Christmas exploded all over it on a regular day. (5pm)
Ballpark
With all the knuckleheads who landed this place on our list of bad-decision bars stuck at grandma's, you can knock back those pickle and pepperoncini shots in peace and quiet like an adult for once. (7pm)
 
Congress Park
We're not saying you should spend your holiday crushing pitchers of pisswater and fajita platters. But you could.
Cherry Creek
You know what's better than a white Christmas spent sipping eggnog around the fireplace? A sunny one spent sipping custom bloodies from a DIY holiday-brunch bar around a courtyard fire pit like the one at the JW Marriott. Duh.
 
Baker
Because a pint of Czech lager and a platter of schnitzel was probably at the top of your wish list anyway. (5pm)
 
Baker
Schlitz and Lost Lake, check; obscure We Jam Econo soundtrack, check; sometimes-working photo booth, check. The vegan-friendly kitchen will be dark tonight, but all the other amenities that made this Denver's original hipster hang await. (7pm)
 
Cheesman Park
Add this to every other Colfax dive on our list, and you've got the makings of one long Christmas crawl you'll never forget. Or never remember. (7pm)
 
LoDo
Can't you go one single day without beer and a burger? No? Okay then. This Union Station suds hub will hook you up proper. (4pm)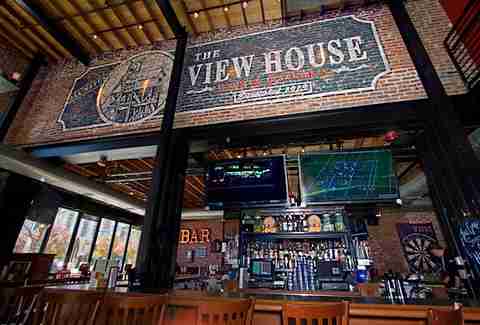 Ballpark (& Other Locations)
Both branches occupy thousands of square feet across multiple levels, so if you can't leave your kinfolk at home alone, at least you can "accidentally" play hide-and-seek with them for awhile. (5pm)
 
LoHi
The single most-celebrated cocktail haunt in the city is demonstrating its legendary reputation for hospitality by opening its doors tonight. This really is a merry Christmas. (6pm)
Sign up here for our daily Denver email and be the first to get all the food/drink/fun in town.
Ruth Tobias thinks every day spent with a cocktail in her hand is Christmas. Follow her @Denveater to see what she's drinking now.