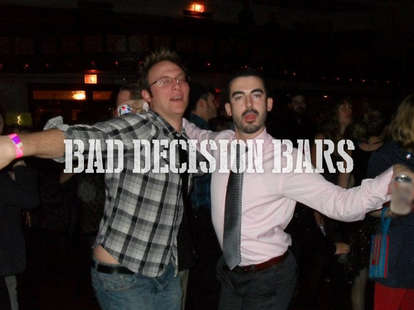 We've all been there, "there" being that bar where modest intentions of enjoying a pint or two invariably evolve into a bleary-eyed exit hours later, possibly missing a shoe and having acquired some girl's scarf. Was her name Jessica? It might have been Jessica. Check your phone. Wait, WHERE IS YOUR PHONE?!
Here are Mile High's best choices for making the worst decisions: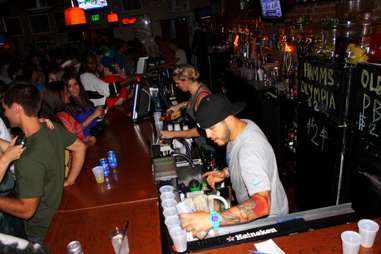 LoDo
Looking for a nice, relaxing evening that involves grinding on the bouncer's girlfriend right after finishing that 13th Pickle Shot, then slipping out to the back patio to avoid him/ relieve yourself in front of a bachelorette party rather than wait in that bathroom line (again), only to come back inside to find your buddy serving you a shot of tequila with a scorpion floating in it? Welcome to The Retro Room, which is called "The Blackout Room" in some circles for a reason.
Five Points
You'll arrive following an existential conversation with a homeless man who really just wanted you to buy him something from the food cart out front. You'll leave after making the mistake of referring to that army of tattooed, jean short-wearing, bike riding, mustachioed dudes as "hipsters".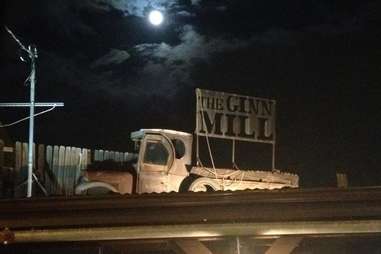 LoDo
DId you go to the Ginn Mill last night? Let's see... your phone has several texts from "Alliyson tramp stamp", you have a ticket for relieving yourself in the alley behind Herb's, and somehow there is popcorn in the pockets of every single article of clothing you wore last night. Yep, you were at The Ginn Mill.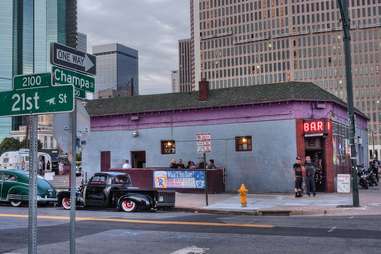 Five Points
Chances are good that the guy on the corner holding a sign is the same guy that you were shotgunning beers in the bathroom with, then continued to split a pack of Marlboro Reds with, then... wait, did you just agree to become roomies? You can't hear anything over the grunge band playing 17 inches away from you, and you were just nodding your head.
Capitol Hill
$2 you-call-its make Tuesday nights an acceptable time to party for the first time since you left college, and make Wednesday mornings an ideal time to task "why is my Phone covered in taco sauce" for the first time since ever.
Glendale
An intelligent, responsible person would continue on to the Super Target to stock up on chips and dip for the game Sunday. You are not that person. Instead you prefer to stock up on lap dances from girls named Chastity, tequila shots, and chili cheese fries, because nothing could go wrong ordering chili cheese fries at a strip club. Don't worry, there's a motel across the street from which you can admire your solitary car in the parking lot the next morning as you question your life's direction.
Sign up here for our daily Denver email and be the first to get all the food/drink/fun in town.