Sure summer's almost over (hope you've been knocking items off your bucket list!), but that just means it's almost the start of our second-favorite season... football. Oh, and it's almost the start of the MLB playoffs too, but it's not like you have to worry about that around here. What you do have to worry about is finding a sweet place to watch the game, which is why we've rounded up Denver's 13 best sports bars. You're welcome...
Five Points
BST's got 60 HD TVs, so you can bet on being able to catch any game here, or get your own game on at the Underground Social, Blake Street's basement game room where you'll find entertainment in the form of darts, skee-ball, foosball, and more. Still not convinced? Try the green chili which kicks up the heat just enough and is perfect with a pitcher of cold beer.
Lodo
No matter how the Rockies are playing (let's not talk about that), the area around Coors Field is a hub for Denver sports bars. You can spend all night bar-hopping in Lodo, but don't skip this classic behemoth of a bar that's been serving up game-day beer and eats since the Rockies' first game in 1995. A huge rooftop patio, tons of specials, and a location that can't be beat make this a mandatory stop for any sports fan.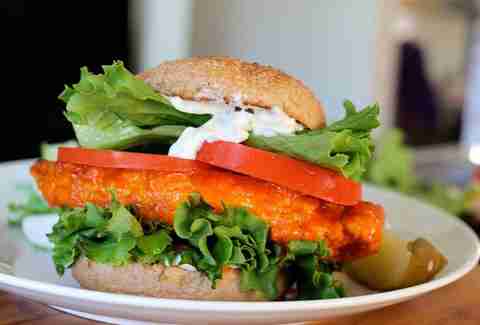 Aurora
Aurora often gets treated like Denver's black-sheep cousin, but don't be afraid to leave the city limits and explore the Mile High's next-door neighbor, you might be surprised by what you find... like Gibby's, a bar that's been open for over a decade, where you can catch the game on big HD TVs, play games like shuffleboard, and take advantage of ridiculously cheap food specials like Chicken Tuesdays, when you can score a  fresh, juicy Buffalo chicken sandwich for just $5. There's even a bonus backyard that's home to two sand volleyball courts, horseshoes, fire pits, and frequent beer pong tournaments.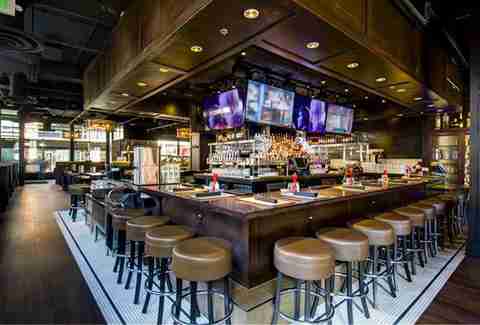 Union Station
Head to the heart of Downtown to find this expansive bar that's got 52 beers on tap (enough to keep you busy 'til the Super Bowl), and a state-of-the-art audio and video system so you won't miss any of the action. The Thirsty Lion's also got some game-day deals planned for the 2015-16 season, including the chance to win Broncos tickets.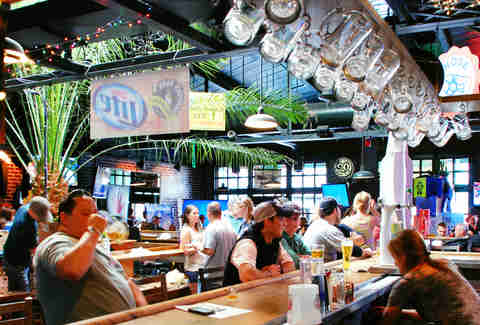 Speer
In 2016, this neighborhood staple will celebrate its 40th anniversary -- a sure sign that this bar is doing something right. Maybe it's the infamous happy hour deals that last 'til 7pm (they're available late night from 10pm-1am, too) and include two-for-one wells, drafts, Long Islands, margaritas, and house wines. But beyond the cheap booze, Govnr's has got that certain we've-got-our-act-together attitude that only comes after decades of experience, meaning you get to enjoy a beer and the game with no BS on the side.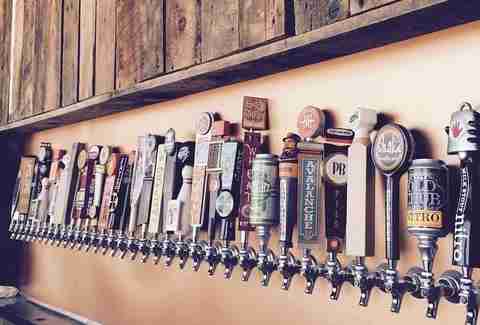 Lodo
Another popular Lodo spot for sports with a large rooftop patio, Hayter's is the place to go if you like a little party with your game-watching. Regular DJs mean there's plenty of energy here, and this bar has got the most beer pong tables in Lodo so you can get in on some friendly competition of your own.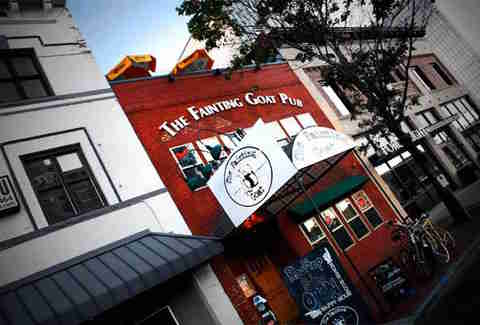 The Golden Triangle
This place is three stories of good times waiting to be had with darts, pool, plenty of TVs, a rooftop bar and patio, and food that's far better than most bar fare. With an Irish-inspired edge, you can munch on dishes like Irish nachos while catching the game -- and if you're lucky, you'll also catch happy hour for $5 snacks and cheap drink deals.
Virginia Village
Denver's got a lot of trendy up-and-coming neighborhoods. Virginia Village isn't one of those. It's mostly a quiet, residential neighborhood where options for going out once only included a handful of dive bars. But now, Ester's is reviving the neighborhood one beer cocktail at a time. Of course the huge craft beer selection, plus a back room that's made for game time thanks to a separate bar and plenty of TVs (including two 80" screens), don't hurt either.
Southeast
Sports bars aren't really known for their food, but at the Cherry Cricket, you can get one of the best burgers in town while you cheer on your team. This place is more than just another bar with TVs and greasy eats, it's a Denver institution. So come early, grab a table, and settle in for some Mile High good times.
Multiple locations
No matter which location you head to, the Tavern always always has high energy on game day with drink specials, a big outdoor patio, and a rooftop bar and lounge where you'll always have a great view of the action. Plus, with so many locations, you won't even need to leave your neighborhood to get in on the party.
Five Points
Are you a whiskey drinker? Then this should be your first and only stop on game day. Over 90 whiskeys that you can sample in flights and cocktails, plus homestyle eats like the seriously addictive pork wings, will have you coming back to this post-Prohibition-inspired bar week after week. And don't forget to say hi to Bartholomew, the bar's buffalo (head) mascot that guards the stairway to the rooftop patio.
RiNo
RiNo is home to some of the newest, trendiest spots in Denver, but if you want to catch a game, Jake's is a haven for anyone looking to escape the often overly popular outposts in the area. The wings are a must-order, and the recently made-over patio brings even more TVs just in time for football season.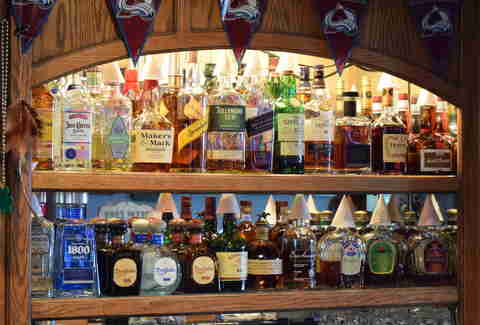 Aurora
There's no need to head Downtown for a good time on game day when this neighborhood favorite is around. Noonan's is a pretension-free zone where the staff is all about making sure you're having a good time. Officially, it's the bar that serves Heather Ridge Golf Course, but for those in the know, it's a go-to for nights out thanks to regular theme nights (luau poker night, or karaoke, anyone?) and killer food and drink specials.
Sign up here for our daily Denver email and be the first to get all the food/drink/fun in town.
Molly Martin is a Denver-based freelance writer who has a passionate love for the Broncos... and real maple syrup (?). Follow @mollydbu on Instagram and Twitter.