Nearly 20 breweries have opened in the greater Denver area over the past 12 months, and although that's fewer than in the past couple of years, it's still a hell of a lot more than most cities will ever see. Armed with this information, we enlisted the help of some of the city's foremost beer experts in ranking them, from pretty damn good to really damn good; here are their top six picks...
Recommended Video
The Mexican-Style Grasshopper Tacos You Have to Try When You're in South Beach

Congress Park
Brandon Proff has witnessed the unrelenting passion and prowess of the guys behind this slick, science lab-inspired taproom, and so far he loves what he's seeing: "Sean [Buchan] and Chris [Washenberger] ran the Denver Homebrew Club out of [Our Mutual Friend Brewery] for the past few years, and their ability to teach people about the science of beer, as well as how it translates to brewing at home, is awesome. They've definitely opened their doors firing on all cylinders, and the beer is proof of it." His go-to is the Rare Trait IPA, but if that's not your thing, order up a glass of the oatmeal milk stout Dark Galaxie.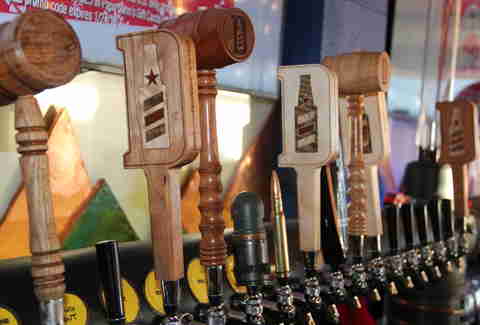 Overland
Tucked covertly on the south side of town, this sunny and spacious beer paradise "has a surprising number of styles on tap for a new brewery; there's definitely a beer for every geek," says John Jordan. "And the staff's friendly and knowledgeable." John grabs the Bus Stout for its "strong toffee aroma and nice malty flavor with hints of espresso and chocolate, which finishes clean and dry, with minimal bitterness." Emily Hutto, meanwhile, is all about the "nice handle on hop usage," as exemplified by the Electric Silk Oatmeal IPA.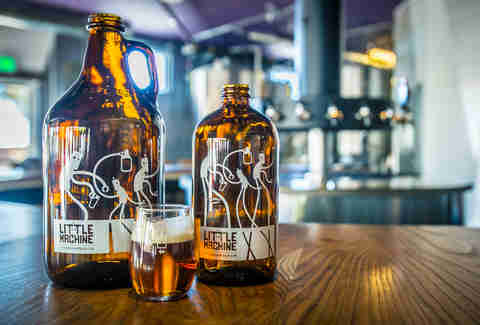 Jefferson Park
"Brett [Williams], Mike [Dunkly], and Ben [Chenard] put together a great neighborhood brewery and a menu of solid beers on day one. That's something that most new breweries hope for, but very few accomplish," says Justin Baccary, who would tell you to order the B.B. Rodriguez Coffee Double Brown. Hutto, on the other hand, is drawn to the Colorado Stock Ale (as well as the "amazing space," which boasts a futuristic, this-where-the-Iron-Giant-would-drink vibe).
Berkeley
"Given their backgrounds at Avery Brewing, I had high expectations for these guys, and they exceeded them," says Baccary. "CTA puts out consistently excellent beer across a wide range of styles. Because I'm around beer so much, sometimes I get tired of over-the-top beers and just want something simple -- and Clintonian Pale Ale really hits the spot!" James Howat's also stoked on the "highly flavorful, balanced, and technically excellent" brews at this homey, pub-like spot that dons a very GoT-inspired sigil: "I appreciate that they're doing a fair amount of lagers and quite a few complex, yet easy-drinking styles that many others aren't attempting. For me, they're worth a trip across town."
Five Points
Spangalang is a jazz-themed taproom, which in and of itself is funky… or uh, jazzy! It came in at a ridiculously close second and, in fact, it was nearly a tie. Patrick Crawford spills the beans: "The guys at Spangalang have such a passion for beer, and it shows in the quality of their brews. I think their Night Walker imperial stout is awesome; it was definitely one of my favorite beers in 2015." Crawford's partner, Charlie Berger, echoes that sentiment: "The Mild High is just my style -- a sessionable beer with a full, rich flavor that makes me want to hang with my buddies and order another." No wonder Proff, who favors the Tripel Risotto Milanese, calls it "the brewery that brewers go to to drink. I know I can go there and never be bored with the beer or the company."
RiNo
You wouldn't expect punk rockers to open a brewery with a slew of options for everyone, but that's exactly what the trio of music-industry refugees behind Ratio has gone and done. Tom Horst states he's "enjoyed every beer I've tried there -- they're all solid and well-made." Howat seconds the notion, pointing to its lighter, more sessionable styles as "perfect for drinking with a group while playing yard games on their patio." And Hutto credits German-taught Jason zumBrunnen with "world-class saisons that are really stepping up Colorado's farmhouse game," singling out the Dear You French saison as indisputable evidence.
Sign up here for our daily Denver email and be the first to get all the food/drink/fun in town.
   
Ruth Tobias may or may not have been drinking the entire time she spent writing this story. Find out if she's slurring yet @Denveater.