One of the nation's best bartenders brings his cocktails to Mile High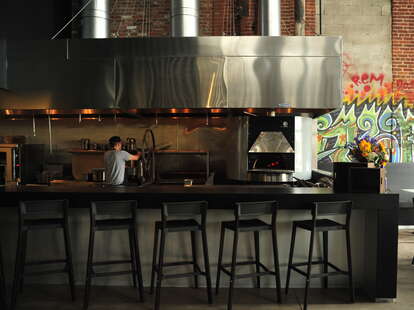 The Source is both a magazine about hip-hop and a massive, RiNo-based "epicurean marketplace" with Acorn, a sibling resto to the ever-popular Boulder eatery OAK. They're finally pouring Denver their innovative cocktails, and whipping up shared plates from an oak-fired oven. It's not a stretch to say that both are very into beef.
The building's from the 1880s, and has been rehauled and crammed full of awesome new restos and shops that're opening up over the rest of September and October. It's also got a much grittier feel than its more upscale Boulder sibling OAK at Fourteenth, though it's tough to find anything in Boulder that can be described as "gritty".
The man behind the bar (and these cocktails), Bryan Dayton, once was named "Most Inspired Bartender" by GQ, and he proves them right with cocktails like Eastern Thoughts, made with Hibiki (a Japanese whisky), Braulio Amaro, chai, honey, egg whites, and nutmeg.
Don't be afraid of the dark, despite what Nickelodeon says all the foreign sounding ingredients in the Immortal Marigold. Sure, Chichicapa (a pricey mezcal), Muscovado (a brown sugar), and walnut bitters aren't typical cocktail fare, but that's why you need to get your butt over there.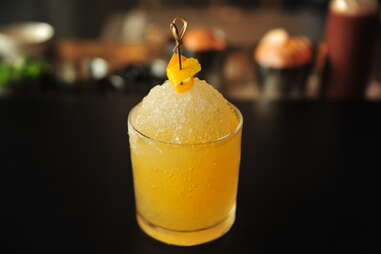 The SOAS is the best thing to happen to crushed ice, as it adds to it Sapphire East, Grand Marnier, Luxardo, Angostura bitters, lime, and orange.
It might look like a vegetarian dish at first glance, but tucked under those bright orange Red Wagon Farm carrots are grilled shortribs and cheddar polenta that'll soak up all that booze real nice.
Acorn's lamb "shawarma" comes in a skillet pan piled high with shishito peppers, feta cheese, and watermelon, offering a fancier take on the street food classic.
The grilled Rocky Jr ½ chicken is made to be shared, as the sizable bird's served over a Gruyere and shallot bread pudding, along with wild mushroom gravy whipped potatoes. After eating this baby, your meal inside The Source'll be a wrap.