The cocktail scene in Mile High has never been stronger -- pun intended. Creative takes on classics like Old Fashioneds and martinis have been reinvented using fresh new garnishes, artisanal bitters and syrups, and bartenders who know how to mix drinks like dispensaries know how to sell you edibles. If you're looking for where to find Denver's best cocktail bars, your search is over.
LoDo
We'd be remiss not to mention Frank Bonanno's underground hideaway as one of the town's pioneering cocktail bars. Tucked in the underbelly of Larimer Square, the moody, elegant establishment has been serving up Prohibition-era cocktails since 2011. Named after Colorado gold miner William Green Russell, the joint is rooted in old-school sensibilities, but still appeals to the modern palate, thanks to its ever-changing seasonal menu and adaptable, inviting bartenders.
Uptown/Arvada
While Denver's favorite upscale diner (now diners, thanks to the recent Arvada outpost opening) is a tribute to some of the country's most beloved regional classics (lobster rolls! meatloaf! fried chicken!), Steuben's bar program is anything but quaint. Boasting a full menu of classics -- including severely underrated selections such as the Martinez and Blood & Sand -- Steuben's also features a loaded cocktail menu from which the staff will happily help you choose.
Highland
Any Denver drinker worth his or her salt knows and respects the hallowed grounds of 3160 Tejon St. Recognized as the Best American Cocktail Bar in 2015 by the Spirited Awards (basically, the Academy Awards of the spirits industry), this Prohibition-themed speakeasy, helmed by Sean Kenyon, set the bar high when it opened in 2011. Expect a menu of expertly crafted drinks that emphasize classic flavors with a twist.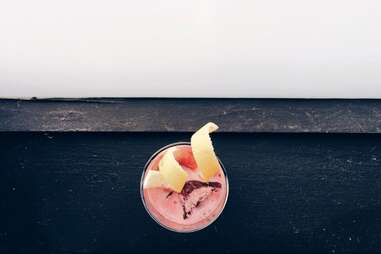 River North
Yet another newcomer to town, Bar Fausto comes courtesy of the team that brought you Crema and The Populist. And while the latter has a formidable bar program in its own right, cocktails are the name of the game at Bar Fausto. If you're looking for something unique, opt for the bar's list of no-frills originals, which eschew puns and witticism for a more convenient numerical system. Drinks rotate seasonally, but some have become permanent fixtures, including #4 -- a heavy sipper of E.H. Taylor bourbon, green Chartreuse, Cognac, and amaro.
Central Business District
Sure, some of the bartenders sport overalls and handlebar mustaches, and the menu is unapologetically rooted in the 19th century. But Union Lodge No. 1 is anything but stuffy. Instead, this 34-seat watering hole is comfortable, cozy, and, above all, authentic. Don't believe us? Order a Ramos Gin Fizz, marvel at its foamy head, and know that you're enjoying the drink the way it was intended to be served.
River North
Touted by many as one of Denver's perennial fine-dining destinations, Acorn is inarguably a trifecta of outstanding food, drinks, and service. However, we'll go out on a limb and say that Bryan Dalton's bar program is as equally impressive as the small plates that Steven Redzikowski's kitchen churns out. With a staff that thoroughly understands cocktail history, yet is willing to rewrite traditions, the space is consistently cool and collected, and, dare we say, a Denver institution by now.
LoDo
Serving up cocktails since before they were cool is The Cruise Room, located in Downtown's historic Oxford Hotel. Modeled after a lounge on the Queen Mary, the bar holds a special place in Denver's history, as it was opened one day after Prohibition was repealed in 1933. Order a Red Widow -- peach vodka, Champagne, St. Germain, and jalapeño -- and be sure to ask your bartender about the hotel's infamous ghost stories (one of which involves the bar itself).
Capitol Hill
Opened in late 2015, Black Eye Coffee's second location is one of many coffee-to-cocktail concepts opened in the past year or two. And what a concept it is. From its Art Deco-inspired décor to its creative cocktail programs, the inspired, intentional space makes it easy to transition from work to pleasure. Categorizing its cocktails from featherweight to heavyweight (and then some), the bar makes it easy for patrons to choose between flavors and forwardness. Torn between caffeine and booze? Opt for a boozy pour-over, which pairs single origin coffee with various spirits.
Highland
Yes, it's another speakeasy, but hear us out on this one. Unlike other iterations on this list, Ste. Ellie operates as a subterranean extension, yet independent entity, of Colt & Gray. While the upstairs eatery boasts a qualified bar program of its own, its sister restaurant takes the cake with its chic vibes and creative cocktails. "Repeat Offenders" such as the Left Shark -- a tropical concoction of rum, green Chartreuse, lime, grapefruit, pineapple, and coco creme -- truly showcase the bar's balance between professionalism and approachability.
River North
Bringing a touch of New Orleans to Mile High, Finn's Manor is sure to put a spell on you. The labyrinthine spot houses an expansive patio, an array of food-pod options, and a killer bar program. In addition to its curated international beer list, Finn's Manor boasts an impressive whiskey (and whisky) selection. Cocktails rotate, but offerings such as Finn's Fashioned -- which swaps the bourbon found in an Old Fashioned for Marie Duffau Napoleon Armagnac brandy -- exemplify the bar's ability to play with flavors, and do it right.
Highland
Although a newcomer to the Denver cocktail scene, The Way Back is led by a trio of industry vets -- Chad Michael George, Kade Gianinetti, and Jared Schwartz -- whose resumes include stints at Williams & Graham and Linger. The space is sleek and sexy, and the drinks are inspired and inventive. To wet your whistle, consider Carroll Gardens, a merging of the classic Brooklyn and Vieux Carre cocktails, or Counter Clockwork Orange, made with rum, orgeat, sweet potato purée, and lime.
Editor's note: an author of this article is employed by Green Russell, though rest assured Thrillist's other Denver denizens concur it belongs on this list regardless.
Sign up here for our daily Denver email and be the first to get all the food/drink/fun in town.
Trenton Reed is a full-time copywriter and freelance food writer who enjoys a cocktail or two. Follow @_trentonreed on Twitter and Instagram.