If there's one thing everyone knows about Utah, it's that they're really into clean living. And jazz. They can't get enough of that sweet, sweet jazz music. And in a strange twist of events, the people of Denver are reaping the benefits of Utah's super-strict liquor laws, as Salt Lake City's Epic Brewing is expanding beyond their Beehive State home by pouring their high-gravity beers into a new Five Points taproom.
The 14,000sqft space fits in nicely with the other warehouses in the area, though this one has a nice fireplace to cozy up to when it gets cold. The industrial-chic design'll give you the "I feel like I'm at home, but I'm still ready to party" feeling.
Escape to Colorado IPA
6.2% ABV
Epic's brew released only in Colorado, EtC's got a hoppy profile, but also "strong citrus and fruit flavors". Hop-lovers can also rejoice in the "pungent, dank side" of the beer.
Imperial Pumpkin Porter
6.2% ABV
One of many seasonal beers that'll eventually cycle through the taps, you should definitely be down with IPP (yeah, you know me), as it's not your grandpa's pumpkin beer. The Fall brew "features the beer as much as the pumpkin". And be sure to save room for this one, as it tastes "like a chocolate cake with pumpkin spices".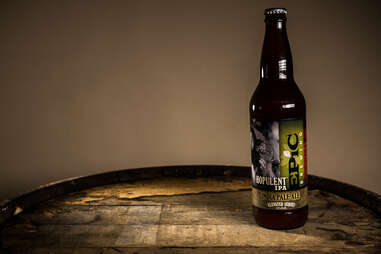 Hopulent IPA
8.5% ABV
The hop-forward double IPA is refreshing and smooth with notes of "citrus and passionfruit". Make sure to get it on nitro if really strong IPA's aren't your thing, as it'll tone down the carbonation, and make it go down extra easy.
Brainless on Cherries
10.4% ABV
This pretty-pouring ale comes across as "pretty balanced, very dry, and quite strong". The beer is made by taking their Brainless Golden Ale and aging it in red wine casks along with cherry puree.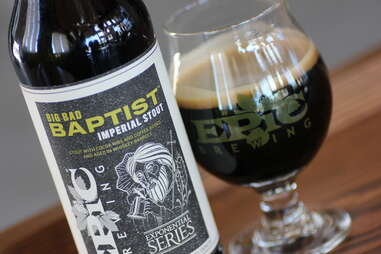 Big Bad Baptist Imperial Stout (order it on nitro!)
12.1% ABV
Epic's award winning Imperial Stout is aged in bourbon barrels and then infused with coffee (from Cranknstein in Fort Collins) and even chocolate. So "technically", it'd make a great gift for your girlfriend on Valentine's Day. But only if she likes beer.