Located on the corner of Blake and 20th, (seriously, if you don't know where the field is, then you don't live in Denver) Coors Field is close to some great bars. Like, across-the-street close. Like, a-baseball's/stone's-throw-away close. Since beers inside the field are quite pricey (just like those damn peanuts!), here are some suggested pre-game (or post-game!) stops for the quickly approaching home opener.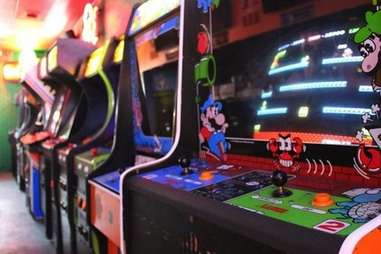 The 1up (click here for info and address)
If you're starting your pre-gaming early, this arcade-equipped bar has orange-juiced 40s of Olde English (dubbed Brass Monkeys), along with 14 other killer beers on tap. Also, those arcade games -- they house more than 25 of them, along with 15+ pinball machines, skeeball, and Jumbo Jenga, giving you a pretty good shot at winning SOMETHING, even if the Rockies don't hold up their end.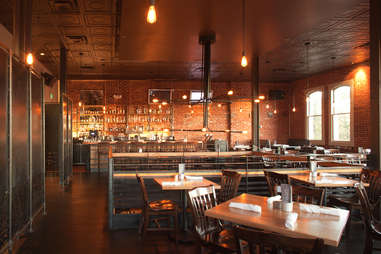 Euclid Hall (click here for info and address)
Yes, it's a little bit of a trek down to Euclid Hall off of 14th and Larimer, but it's worth it for the opportunity to lay a base with deliciousness like bruleed center-cut beef marrow bones, oh-so-many schnitzels, and oysters on the half shell, all backed by a fantastic beer list.
Nallen's Irish Pub (click here for info and address)
The Irish know drinking. The people of Denver know a bargain. $4 car bombs are a bargain, but if you happen to be drinking with anyone from Ireland, don't call them car bombs. Or maybe go for the $4 Jameson, which does the trick just as well.
The Retro Room (click here for info and address)
The Retro Room's variety of infused liquors will give the proper kickstart to your game-day tomfoolery, with varieties like pickle, peperoncini, and strawberry representing just a few of the flavors that cut the burn but leave the alcohol content high. Chase them with a classic game-day brew like Old Milwaukee or Schlitz.
Star Bar (click here for info and address)
With a dive bar vibe that's quite refreshing for the area, Star Bar's a great place to slow it down with a pour from one of their (also refreshing!) 14 beers on tap, which include Fate Brewing, Funkwerks, New Belgium, and Odell.
ViewHouse (click here for info and address)
Offering 360 degrees of ocular pleasure on their massive rooftop patios, View House is the choice venue for soaking up some skin-searing Colorado sun. It's also the choice to mow through the likes of prosciutto-wrapped mozzarella sticks, BBQ brisket-topped burgers, and pretzel-bunned bison bratwurst. It's also the choice for washing the above down with a beer-infused cocktail. It's a good choice.
Fado Irish Pub (click here for info and address)
Located across the street from Coors Field, Fado boasts a seriously spacious patio, and beer garden, and plenty of top-notch Irish pours. Also on tap are a bevy of local beers like Odell's 90 Shilling and IPA, along with some bottled brews from Great Divide, Oskar Blues, and Dry Dock. Shuffle via ped-bridge over 20th and you'll be sidling into your seat in no time.