There's not much that can top Denver's breweries, except maybe... um, Portland's and San Diego's breweries?! (Seriously, what lame website came up with that?!?!) Oh, and Denver's breweries that also serve food, obviously. So we rounded-up the 10 best Mile High area brewpubs*, and ranked 'em so you'll know which ones are worth a trip even if you don't... drink... beer. Sorry, that last part hurt just to type.
Golden Triangle
LowDown, highlights: the veggie sandwich (hummus, jicama, pumpkin seeds, more). The Taos pizza (green-chile pulled pork). The breakfast pizza (hot sauce for dipping). Funny food names ("Thai-curryous," "Ribs for her Pleasure"). Plus: Selfish pale ale. Rye porter. Black saison. Enough said. (PS: picnic tables, cornhole.)
Boulder
Admittedly, the kitchen's grasp doesn't always match its reach. But then, its reach is quite long; given a Pearl Street Mall location so prime the owners could just sit back and watch the cash stream in, West Flanders deserves a lot more credit than it gets for nailing most of its jumps. Picture if you will four types of mac and cheese, the best one skewing Creole with sausage and chicken pâté. And curry-caramel wings, à la Vietnamese ga kho. And the rosemary-scented house pork-mushroom burger on brioche. And spiced chocolate pudding with hazelnut brittle and coffee whipped cream. So bistro.
Boulder
Here, too, the Southern-tinged kitchen's still working out some kinks. But as we explained in our round-up of sweet spring openings, the new digs are so dazzling and the beer list so exquisite -- barrel-aged sours like the Eremita VIII with peaches and apricots will kiss your face off -- that the misses seem minor compared to the hits, among them a fat prime-rib dip with stout-braised onions.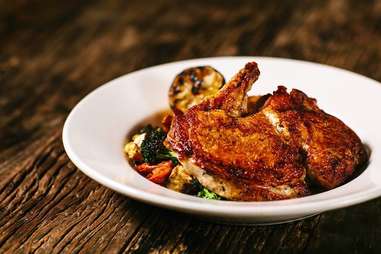 Boulder
Hippy-dippy as the Sun siblings are in spirit, they brew some shrewd beers (stouts in particular); they also dish out killer wings and veggie chili. But this place stands out as their yuppie alter ego, in a good way: while lining its taps with kegs from the Southern Sun just upstairs, it serves up smart, seasonal gastropubby plates like shaved-lamb sandwiches on ciabatta; bruschetta with roasted, sherried wild mushrooms, burrata, and almonds; and herb-roasted porchetta with carrot purée and corn relish.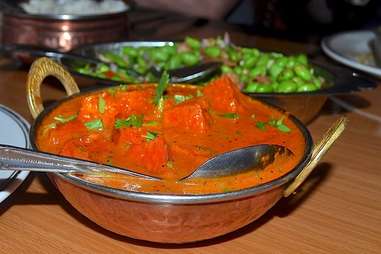 Arvada
Whoever first thought "I'm going to open a combination Indian/Tibetan restaurant and brewery inside a Victorian-era two-story... what could possibly go wrong?" should be your write-in pick for president, especially because they also named a beer Yakety Yak (Don't Talk Bock). Get the jalapeño ale to cut through rich comfort food you don't see every day, like momos and chole bhature (deep-fried naan with chickpeas and gravy), or go for the chai milk stout or brown-rice honey ale to balance out your vindaloo. And then go get the word out about this crazy dark-horse candidate you're backing.
Glendale
At nearly 50 years old, this local institution is nearly a picture-perfect English pub, not least because it's way too dark in here for pictures. Though B&B isn't all about tradition -- consider its jaw-droppingly cool selection of hard-to-find guest brews and unusual whiskeys, as well as its custom tableside whole-hop infusion -- the bacon horseradish cheeseburger, paired with the extra-porky green chile over mashed potatoes or cheese fries and a Man Beer or two, equals a classic Denver happy meal in our book. Plus: AYCE fish & chips "Fry-days," for real.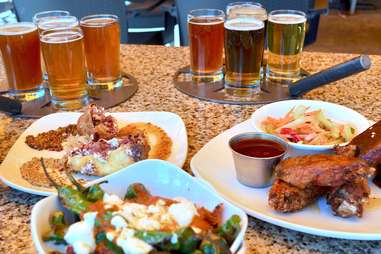 Boulder
Sprawling, shiny, and cheerfully modern, FATE is likely to strike hardcore taproom hoppers as a little suspicious. But it's owned by a Big Red F alum (more on that later), so the high polish is earned -- and it shows in the eats as well as in beers like the GABF-winning kölsch-style Laimas, and Vinum, a fragrant viognier-infused saison. Not that the menu is fancy or anything; in fact, the best bites are flagrantly trashy: think brunchtime breakfast nachos topped with scrambled eggs and home fries or backyard BBQ dip containing chopped burnt ends and bacon, baked beans, and mayo-based white barbecue sauce. And hot links. And cream cheese. And the seeds of your own post-binge regret.
Aurora
Fighting the good fight in a chain-choked suburban shopping mall, this breezy little pop-and-son operation is best known for its Dank IPA, but it pours some easy-to-love seasonals like lemongrass witbier and toffee porter too. What's more, dad and lad reserve all their spent grain for the unusually flavorful dough that distinguishes not only their pizzas -- and the bomb pizza rolls they logically call bombers -- but also garlic breadsticks and even baked jalapeño poppers.
Boulder
Weirdly, just across the street from FATE, yet another Big Red F graduate runs a brewpub with an all-caps name. The comparison ends there, however; Ian Clark's labor of love isn't glitzy but rather small and homey and chef-driven, as illustrated by beers flavored with dates or sumac or house-harvested honey, and dishes like shrimp tartare or tamarind-glazed meatballs with edamame hummus and pickled shiitakes. And his paired-dinner series is a next-level steal: for $50 tops (usually less), Clark prepares four or five courses that could include malted rye mushroom soup, headcheese with peach tempura, or wood-roasted turducken, for crying out loud. Really, you might actually cry out loud with gratitude.
Lafayette
We already walked you through the kicking fried chicken and swell beer; what more is there to say about the newest thoroughbred in the Big Red F stable? OK, there's this: start with the pimento-goat cheese dip and as many buttermilk cheddar biscuits with honey butter as you can hold down. Or try the catfish if you're not feeling poultry. Either way get green chile mac and creamed cabbage on the side, and save room for Key lime or cherry pie. Remember to thank us later.
*The fine print: yes, we're excited about the Farm House at Breckenridge Brewery too. But since it just opened and brewing operations on the premises haven't even begun, you can't really call it a brewpub yet.
And before you freak out about Oskar Blues, consider that its Longmont eatery is a mile away from the brewery (so you can't even pretend it's a brewpub), and its Lyons facility lies beyond what anyone could reasonably call the greater Denver area. We've got to draw the line somewhere, people.
Sign up here for our daily Denver email and be the first to get all the food/drink/fun in town.